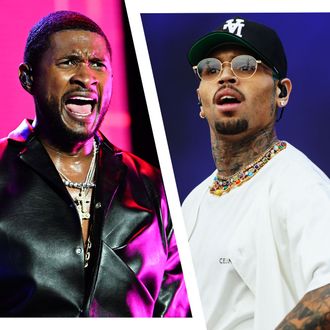 Photo-Illustration: Vulture. Photos: Candice Ward/Getty Images; Kaitlyn Morris/FilmMagic
Maybe they shouldn't be calling it Lovers & Friends Festival. Because just hours before Usher and Chris Brown were set to perform separate sets at the R&B and hip-hop event, the two appeared to get in a fight at a nearby Las Vegas roller rink. Hollywood Unlocked (yes, we know) first reported that Brown allegedly "jumped" Usher. Brown was celebrating his 34th birthday at the rink into the early hours of May 6, and he reportedly tried at one point to talk to singer-turned-actor Teyana Taylor, who was ignoring him. (Yes, both Usher and Taylor were caught celebrating repeat violent offender Chris Brown's birthday; they even sang to him.) TMZ later obtained a few seconds of video in which Brown appears to yell to a sitting Taylor before Usher steps in to try to calm him down. Per both outlets, this made Brown mad, and he left with his group. Usher followed — reportedly only after unlacing his skates first — and allegedly went to meet Brown & Co. behind some buses parked outside. Both outlets reported he left with a bloody nose.
As for what started the fight, TMZ went on to report it was over Brown's scrapped Michael Jackson tribute, which was originally planned for last year's American Music Awards. Brown reportedly blamed Taylor for the cancellation, for some reason, and he was confronting her about that. Yes, the AMAs were nearly six months ago; no, they couldn't at least fight over an important awards show like the Grammys.
Despite becoming haters & enemies, both Brown and Usher still took to the stage that night at Lovers & Friends. Per TMZ, neither showed signs of injury when they performed back to back. But Brown did seem to have more fight in him the next night, when TMZ caught him mid-altercation at the festival, where security appeared to get between Brown and some others. While the singer has yet to specifically address the Usher fight, he did claim he simply "INTERVENED" (caps his) in this one. "yall been geeked all weekend , y'all dragging it now," he wrote in an Instagram comment, explaining security was clearing the stage and he was trying to get to his kid. "so y'all can keep ya narrative." Wonder where we got it?