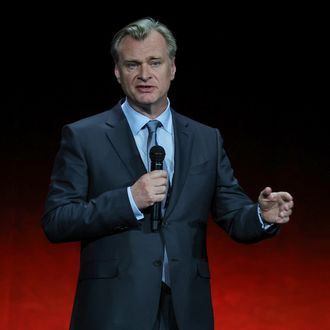 Photo: Ethan Miller/Getty Images
Christopher Nolan has confirmed that those doing a double feature of Oppenheimer and Barbie are in for a long one. "It's slightly longer than the longest we've done," Nolan told Total Film Magazine. "It's kissing three hours." Gross wording, but thanks for the heads-up.
Nolan is no stranger to a long run time. Interstellar flirted with three hours, at two hours and 49 minutes. Most of the Dark Knight trilogy was texting three hours, but still dating two and a half hours. Shady! Meanwhile, Martin Scorsese's Killers of the Flower Moon fully raw-dogs three hours — coming in at three hours, 26 minutes.
The lack of good ol'-fashioned 90-minute films has become something of a cri de coeur on Film Twitter. But Oppenheimer tells a complex story of nuclear brinksmanship, with the distinct possibility that all life could have been eradicated if the first atomic bomb exploded Earth's atmosphere. That feels like a long story to tell! Kiss three hours yourself when the film premieres July 21.