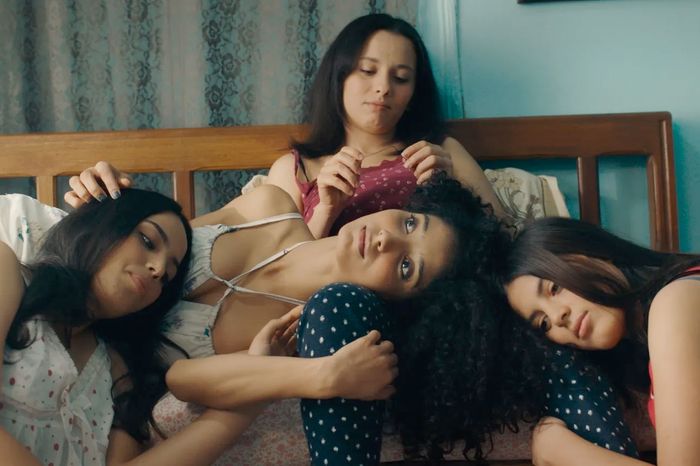 Kaouther Ben Hania's documentary 'Four Daughters,' in competition at the Cannes Film Festival.
Photo: Tanit Films
Does Cannes respect documentaries? No, not really. Nonfiction has been notoriously absent from the competition lineup in the past, and the ones that play in out-of-competition slots tend not to be very good. Frankly, it's a problem, and Cannes is not alone in this. Many of the major international festivals sideline documentaries or at least keep them at a respectful distance, away from the glamour and the photo-calls, consigned to sidebars that the press in turn ignores.
But things may be changing. Two well-regarded documentaries are in competition at Cannes this year, though neither has garnered the kind of buzz the festival's more star-studded movies tend to attract. Wang Bing's Youth, which I have not yet seen, is a nearly four-hour film that follows the lives of young textile workers in eastern China. It has received warm reviews, and Wang is a major filmmaker whose works of epic scale have made him a critical darling. (His bleakly devastating eight-hour documentary about the victims of China's reeducation camps, Dead Souls, premiered out of competition here in 2018.) It would certainly be perverse and maybe even wonderful if Ruben Östlund's jury gave the festival's top prize to a contemplative four-hour documentary.
Kaouther Ben Hania's Four Daughters may be a more plausible Palme contender. It's got a remarkable conceit, telling the story of Olfa Hamrouni, a Tunisian mother, and her four daughters by restaging scenes from their eventful, terrifying lives. Two of the girls play themselves; the other two are played by actresses, because, as Olfa says, they "were devoured by the wolves." What she actually means by that becomes clear over the course of the film (though Tunisians who remember this news item from recent history may know where the story goes), as we learn about Olfa's marriage, the abuse in her family, and how her daughters gradually embraced a form of militant, fundamentalist Islam that tore their family apart. An actress is hired to play Olfa during the more difficult scenes, and we see dryly funny and slyly terrifying footage of the real Olfa coaching her double on how to act.
In telling the story of Olfa and her daughters, Ben Hania (whose 2019 film The Man Who Sold His Skin was nominated for an Oscar) is also telling the tumultuous story of Tunisia in the wake of the Arab Spring, a promising movement that began in that country before spreading to the rest of North Africa and the Middle East. The picture's most fascinating moments come at the beginning as the director reveals the formal conceit of her approach, though I did feel myself getting a bit lost in its second half as it started to breeze quickly through recent history.
Four Daughters isn't among the most critically beloved films at the festival — those would probably be Jonathan Glazer's The Zone of Interest, Justine Triet's Anatomy of a Fall, and Aki Kaurismäki's Fallen Leaves, all from directors who have never won the Palme and one who is probably overdue for one — but it's worth remembering that critics don't hand out the Palmes, and the closing-night awards ceremony is usually filled with surprises. I've heard a lot of buzz from veteran festgoers that Four Daughters stands more of a chance than many realize. It is, after all, a title one can imagine different members of the jury embracing. Östlund could find himself drawn to its story of people in impossible situations, trapped by tradition and social pressure. The actors on the jury — Brie Larson, Paul Dano, and Denis Ménochet — could be drawn to its insights into performance and the blurring of lines between reality and fiction. The other writer-directors on the jury could be drawn to its structural daring; this film has an enormously high level of difficulty and it pulls it off well. All that said, I learned a long time ago not to try to predict Palme winners with too much confidence. This isn't the Oscars; it's nine people I've never met, collectively giving an award they've never given before.
Two documentaries have won the Palme d'Or in the past. The first was Jacques Cousteau and Louis Malle's The Silent World (1956), a movie Cousteau subsequently distanced himself from. The more recent was Michael Moore's Fahrenheit 9/11 (2004), a sloppily-put-together tract that won either because it coddled lefty festival sensibilities in a particularly contentious election year and/or (according to one conspiracy theory) because jury president Quentin Tarantino wanted to do a solid to the film's financier, Harvey Weinstein, who happened to be Tarantino's longtime producer. At any rate, that year's jury decided Fahrenheit 9/11 was better than Park Chan-wook's Oldboy and Wong Kar-wai's 2046. (Moore's Bowling for Columbine competed for the Palme in 2002 and would have made a far more worthy winner.) In its own way, the legacy of Fahrenheit 9/11 may actually be a reason to give the Palme to another documentary because Cannes would love for Moore's win to be buried.
But documentaries are more visible at this year's Cannes in general. Among the out-of-competition titles can be found Steve McQueen's Occupied City, a four-hour look (another one!) at the Nazi occupation of Amsterdam during World War II; Wim Wenders's Anselm, a 3-D documentary about the artist Anselm Kiefer; and Kleber Mendonça Filho's Portraits of Ghosts, a film about the old cinemas and cultural life of Recife, Brazil. These are all major auteurs, of course, which explains why Cannes would show their documentaries. (Wenders has another feature here as well, Perfect Days, a fiction film playing in competition.)
You can also find nonfiction thriving in some of the parallel sections. One of the best pictures I've seen here is Maciek Hamela's In the Rearview, a mesmerizing film that grew out of the Polish director's humanitarian work: It was shot entirely inside a van he drove to transport Ukrainian refugees to safety. Its subjects are Hamela's many passengers, each with a uniquely disturbing story to tell. It's the simplest of devices — a camera pointed at people who have the freedom to talk or not to talk — yet In the Rearview feels formally adventurous without ever being ostentatiously stylized. Hamela had spent months driving the refugees through a war zone when he decided to point a camera at them during the eight-hour trips to see what they had to say. He also needed some help driving, so he enlisted his director of photography as a driver first and a cameraman second.
In some ways, these films underline the problem for Cannes and documentaries. The festival likes ambitious stylistic swings and likely won't even look at a documentary unless it features some interesting formal or conceptual element alongside a worthwhile subject. That often means the documentaries that play Cannes wind up being more style than substance — with the rare exception of a film like In the Rearview or Shaunak Sen's All That Breathes, which screened out of competition at Cannes last year after premiering to raves at Sundance. (It was eventually nominated for an Oscar.) Still, your average very good Sundance documentary probably isn't going to cut it here, even if it's genuinely better than a lot of the stuff that is here. In the Rearview is screening in the independent, lower-profile ACID section (L'Association du Cinéma Indépendant pour sa Diffusion), which often features strong work by lesser-known and younger filmmakers who don't have the behind-the-scenes pull to get considered by the bigger Cannes sections.
"There is no other country in Europe, and probably the world, where you get so many documentary releases in cinemas and people actually go and watch them," says Hamela. "So it's kind of natural that there should be a documentary presence in Cannes." He predicts that presence will only grow but adds that it was a relief being in a smaller section; there would have been an uncomfortable cognitive dissonance if they'd had to do a grand red-carpet premiere and photo-call for a movie tackling a disturbing, ongoing real-world horror. In fact, Hamela and his team brought their own carpet to their ACID premiere at Cannes.
"We wanted to show that this is the carpet we want to stand on right here," he says. "It was a carpet given to us by a woman whose house was bombed and partially destroyed. Half of the carpet is gone. She gave it to us but said she needs it back."