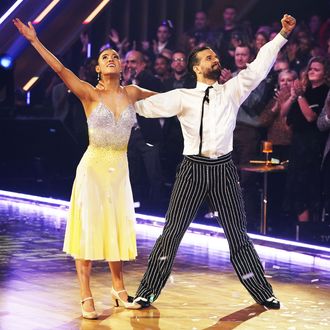 Photo: Eric McCandless/ABC
After a brief Disney+ detour last fall, Dancing With the Stars is set to return to its longtime home on ABC next season, Vulture has learned. The unexpected move ends a one-year experiment that saw the beloved reality competition rebranded as a Disney+ exclusive, boosting the streamer but denying the Alphabet network one of its more reliable performers. Now, however, Disney brass have decided it makes sense to meet audiences wherever they are: For its 32nd cycle, DWTS will once again air live on the ABC network while also continuing to stream live on Disney+.
It's a major about-face from Disney, which just one year ago made the case that DWTS needed to be a streaming exclusive in order to convince its audience to sign up for D+ and to increase weekly usage of the platform. But that was a philosophy dictated by execs at the now-defunct Disney Media and Entertainment Distribution (DMED) division, most of whom have been pushed out of the company in the months since Robert Iger returned as Disney CEO late last year. The creative leads at various Disney business units are once again calling the shots on how content gets distributed, and those suits have spoken: DWTS belongs on ABC. But because the show likely picked up some new streaming viewers last season, retaining a live feed on Disney+ should allow for a smooth transition of consumers. Those who watched on D+ last fall will still be able to do so next season, while folks cut off from their cha-cha-cha fix will once again be able to watch on ABC. In addition, episodes will be available to stream on-demand on Disney+ and next-day on Hulu (like all ABC content). All three platforms — ABC, Disney+, and Hulu — are expected to be included in the show's branding.
While ABC and Disney have yet to officially confirm their new plan, an announcement is expected soon. The move comes two weeks before Disney meets with advertisers to unveil its 2023–24 content slate. Having DWTS back on ABC gives the network more premium-ad inventory to sell in the up-front marketplace, and for Disney, it's also another way of monetizing the show (it was essentially a loss leader on D+). What's not clear yet is whether the Disney+ livestream of DWTS will carry the same advertiser inventory as that of the ABC version, or any ads at all. The show ran without commercials last season because at the time, D+ didn't carry ads. Since then, however, D+ has introduced a lower-priced ad tier.
As previously announced, Alfonso Ribeiro will be back as DWTS co-host next season, with Julianne Hough set to join him in the ballroom following the exit of Tyra Banks. Carrie Ann Inaba, Bruno Tonioli, and Derek Hough are also onboard to once again serve as judges. Len Goodman, who judged DWTS and U.K. predecessor Strictly Come Dancing from the first episodes of both series, passed away in April 2023 at the age of 78. DWTS is currently expected to air this fall and is produced by BBC Studios Los Angeles Productions.