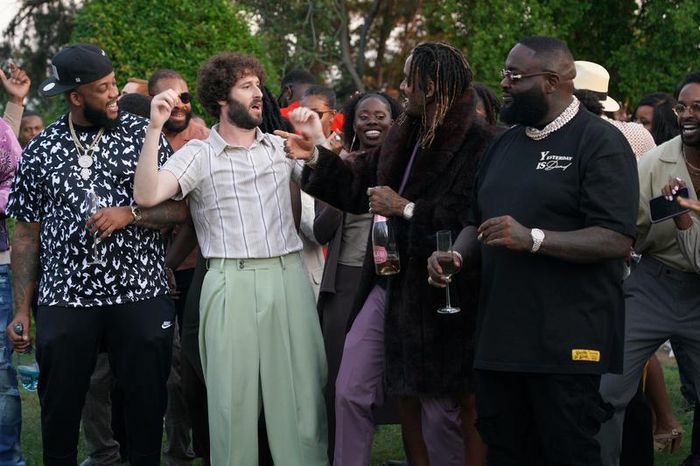 Photo: Copyright 2023, FX Networks. All rights reserved.
This article was featured in One Great Story, New York's reading recommendation newsletter. Sign up here to get it nightly.
In the third episode of the current season of Dave, "Hearsay," Dave, a.k.a Lil Dicky (Dave Burd), is on a tour stop in Atlanta, a city steeped in Black culture and the de facto hub for southern rap. When Dave gets robbed at gunpoint while wearing Rick Ross's $250,000 chain, his immediate impulse is to call the police to help get it back, failing to see the absurdity in involving law enforcement to help a Black entertainer (a rapper with Rick Ross's legal history, no less). His best friend and hype man GaTa wisely intervenes, contacting his network of local associates to retrieve Ross's stolen chain. GaTa locates the thieves (one of whom is Lil Gotit), who agree to trade the chain for a coveted Rick Ross verse. GaTa happens to have a Ross verse saved on a beat in his hard drive, but he needs the verse just as badly as the bandits do. Instead, GaTa sells them on a Lil Dicky verse. "Who the fuck is Lil Dicky?" they ask, dumbfounded. "Wait, are you Jack Harlow?"
The punch line draws from Dave's insecurities as an artist throughout Dave, a semi-autobiographical series co-created by rapper-comedian Dave Burd (who, in real life, also goes by the stage name "Lil Dicky" … confused yet?). The series is equal parts ensemble high jinks, cringe comedy, and pathos as Dave wrestles with the gauntlet of the music industry, a world where success is increasingly dictated by social-media analytics, personal branding, and transactional relationships. Despite going from a complete unknown to performing at the VMAs and embarking on a tour, Dave is continually frustrated over comparisons to other white rappers with fleeting mainstream fame and less serious critical consideration. Dave may approach music with the temperament of a court jester — his rap name is "literally a small-penis joke" and his album title was Penith, after all — but he balks at being compared on Spotify and by label executives to Jack Harlow's "egg-whites-only" Drake facsimile or the satirical rap trio Lonely Island.
Though varying widely in region, influence, and sound, rappers from Macklemore to Post Malone are commonly affixed with the same "white rapper" label. The term itself is a gimmick. What groups them as musicians isn't style, or even race, but a voyeuristic and reductive relationship with a Black genre. And yet, in "Hearsay," GaTa demonstrates how the gimmick is often used as an advantage in rap. "Check out his videos; they get millions of views," GaTa points out to the enterprising bandits. "You could go to jail for rap lyrics … but if you put a Lil Dicky verse on there, you're kind of protected. It could be a comedy, parody, whatever you want it to be; they ain't gonna use it against you in court." Dave grimaces, but he knows GaTa is right. Dave records a track and a skit and takes a photo mocking being held captive by his burglar-cum-collaborators. "They should never really judge us for this shit, your honor / That would be H-E-A-R say, why that's hearsay," he raps. The verse is tongue-in-cheek and self-deprecating, and it impresses his new collaborators. But most importantly, it gives the song a useful shtick to increase streams online and plausible deniability in court.  
There are several semi-autobiographical tensions the show plays up for comedic effect — the phallic anxiety that informs his romantic and musical tendencies, for example — but Dave's angst over whether to embrace comedic rap or strive to be taken seriously by peers is always present. He's insulted when people are impressed that he's "like a real rapper" but acknowledges that "white rappers sell more" and promotes the metrics of his "Somebody Suck Me" challenge in label meetings. Moments like this in Dave help illustrate how real-life white rappers have utilized their novelty to great effect, from Macklemore's sales boost after beating out Kendrick Lamar's Good Kid, m.A.A.D city at the 2014 Grammys to Post Malone's "Rockstar" dominating the Billboard charts for two straight months in 2017 to Jack Harlow's smattering of chart-topping hits over the last two years: "First Class," "What's Poppin," and "Industry Baby" as a featured artist. The industry is itching to laud the next great white hope that can succeed at dominating a Black genre, and labels continuously invest in artists that they believe have a shot at taking up the mantle. (There is a whole sordid history behind white fans' strained, fetishized relationship with rap music that has led to young white Americans being such a desirable demographic.) And yet, while white rappers' appeal to larger demographics helps them get in the right rooms and land coveted features, they'll never be viewed as more than a way to hack algorithms and music executives' attention spans.
Dicky's uneasiness in Dave stems from his inability to accept the white-rapper ceiling: the difficulty to be viewed as a serious artist to Black rappers, Black consumers, and other cultural custodians after all the young white fans have been secured. Take the third episode: The Atlanta visit juxtaposes Dave and GaTa's method of moving through the rap world in illuminating ways. While Dicky disdains GaTa's "fake it 'til you make it" approach to the industry, GaTa's natural rhythm syncs perfectly with Atlanta's flow in ways Dave can't understand. Dave is a notable outlier at every event — the strip club, the "Black brilliance brunch," while donning Ross's chain — yet his primary angst is focused on whether Killer Mike's vaguely phrased quote-tweet ("I don't know about this man") is why his Atlanta show isn't sold out. Atlanta's sensibilities, lived experiences, and cultural moments are shaped by Black life and entertainment, from crunk to snap to trap. Dave doesn't consider that, despite his increased fan base, Atlanta is a house built by Outkast, Goodie Mob, Lil Jon, and Gucci Mane — why would Lil Dicky's self-effacing whiteness appeal in the "Black mecca"? Or Black anything?
If Dave failed to grasp who his audience was before, there is no ignoring it in episode five, "The Storm," where he's confronted with the toxic side of his listeners as they body-shame one of his fans and interpret his lyrics as "someone who is proud to be white." And so Dave is at a crossroads: If he can't go beyond the white fans with strained, fetishized relationships with rap, and the devoted rap audiences in meccas like Atlanta will never bite, what is he to do? If we look outside the series and at reality, with the exception of Eminem (widely considered one of the best rappers of all time) and Mac Miller (who had successfully broken from the formulaic traps that befall many white rappers before his death cut his career short), many white rappers use the momentum to pivot to other ventures and capitalize on a consistent touring circuit. Jack Harlow is currently doing both as he tries his hand at movie stardom and a short Vegas residency after his universally maligned second studio album. And perhaps therein lies the smoking gun for why white rappers' careers live on borrowed time. To them, hip-hop is just a music genre, but to Black consumers, it is a culture rooted in the subversion of social norms built out of an oppressed existence. Every now and then, a white rapper will stumble onto the (incorrect) assumption that their status as a minority within the subculture — a rarity for white men — is a suitable enough hardship. In Harlow's newest album, Jackman, his frustration becomes palpable in the track "It Can't Be." "It must be my skin, I can't think of any other reason I win," he raps sardonically. "I can't think of an explanation, it can't be the years of work I put in."
The limitations of these rappers become all the more evident when they reveal just how unserious they are about the oppression of the Black Americans or the artistic merits within the hip-hop genre. "I have to search for a feeling that's real. It's different when you're not a street artist because a lot of street artists come from an environment that is constantly producing stuff you can make a movie about," Harlow said in Rolling Stone. "There's weight on a gun line, no matter how frivolously or nonchalant they say it." Post Malone's ruminations were even more abrupt in video remarks. "If you're looking for lyrics, if you're looking to cry, if you're looking to think about life, don't listen to hip-hop," he said. Way before he created Dave, Burd himself infamously heralded the plight of the white suburban rapper in his 2014 Vice interview. "Obviously it's very impressive when you go from nothing to something," he said. "But let's be realistic; sometimes people have nothing to lose and it's very easy to go for their dreams." How can white artists be embraced when they largely fail to grasp their Black listeners' inherent marginalization?
While Dave's version of Lil Dicky seems to confront all of these pain points, Burd's version of Lil Dicky in real life operates on trickier grounds. In a recent profile in The Hollywood Reporter, Burd defended his biggest hit, 2018's "Freaky Friday (feat. Chris Brown)," which centers him being able to inhabit a Black man's body, including saying "nigga" repeatedly (through Brown's voice) and having a Black man's penis. "I still love that song," he told THR. "It went to No. 1 in multiple nations, and without that song, I don't know that I could have made 'Earth,' where I raised, like, $3 million" to fight against climate change. He also dismissed much of the early criticisms of his mediocre white-privilege couplets as "elitist, hipster journalists who thought that it was their place to speak on behalf of hip-hop." Still, like his Dave character, he concedes that his predominantly white audience fails to see any nuance in his jocular rhyme schemes. "I'll get comments after the show, like, 'Man, you're better than the Black rappers,''' he says. "And I'm like, 'Whoa. What the fuck are you talking about?'"
In the fourth episode of season two, "Kareem Abdul-Jabbar," the NBA legend asks Dave, "Do you think you're a good person?" The rapper stumbles a bit in his rambling response, landing on, "The way that I can do the most good on earth is by becoming the biggest artist in the world, so I have to be selfish. It's my destiny or whatever." Kareem says it's the most creative excuse for being narcissistic he's ever heard. If Dave believes his selfishness and rap tourism is warranted for some greater good, IRL Burd never claims to be so altruistic. By Burd's own admission, rap stardom has never been his end goal, merely a means to showcase his comedic chops by becoming ubiquitous and landing a television deal. And thus is the blueprint for artists like Lil Dicky: While white rappers proclaim appreciation for hip-hop as a musical genre and cultural hub, history showcases that they use it as a launching pad to gain a fan base that views hip-hop as a transient space. The wariness they generate from rap's artists and cultural historians is just a by-product of seeing the formula crash and burn with nearly every new artist sent up to bat. The question that remains for the series is whether Dave plans to come to terms with the built-in failure point or go out on top (perhaps with Dave's own television deal, à la Jerry, the fictional sitcom in Seinfeld). With Burd at the helm, the answer to that is as opaque as his nude-colored Scroguard.