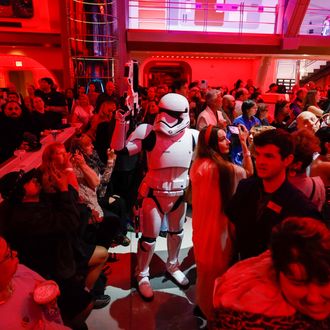 DeSantis wants stormtroopers in school bathrooms.
Photo: Allen J. Schaben/Los Angeles Times via Getty Images
Huh. That's weird. It turns out that a windowless hotel with no swimming pool that only allows guests to leave the grounds to go to one theme park for one afternoon — and can only be afforded by a tiny, wealthy, quickly exhaustible fraction of a company's larger fan base — was not a brilliant business plan? The gag of it all.
Walt Disney World's newest and highest-profile hotel, Star Wars: Galactic Starcruiser, will make its "final voyage" in September. Disney announced the news in an update on the hotel's website, writing, "We are so proud of all of the Cast Members and Imagineers who brought Star Wars: Galactic Starcruiser to life and look forward to delivering an excellent experience for Guests during the remaining voyages over the coming months. Thank you to our Guests and fans for making this experience so special." Bookings are temporarily paused to accommodate visitors with plans after the final window of September 28–30, but they will reopen on May 26 for people who wish to experience the Starcruiser before it's docked for good.
The uniquely immersive hotel experience, which was ambitious in its premise and ultimately divisive in its execution, opened in March 2022. Billed as a "revolutionary 2-night experience where you are the hero" and "the most immersive Star Wars story ever created," the Starcruiser is a hotel themed like a leisure spaceship in the Star Wars universe, functioning as a limited land cruise with set itineraries, meals, entertainment, and length of stay (two nights only).
What elevates the experience beyond the hotel's elaborate theme is a participatory element: Staff members are all in character, and guests are encouraged to take the side of the Rebel Alliance or First Order in a real white-hat, black-hat Westworld situation. Over the course of the "cruise," performers enact a plotline in which guests can participate through experiences like lightsaber training and trying to extract intel from characters walking around.
This all sounds like Star Wars–fan heaven, but at prices that reach $6,000 for a one-room, two-night stay for a family of four, it is simply untenable for a majority of potential visitors. While that rate includes meals and one-day park admission to Disney's Hollywood Studios (home of Star Wars: Galaxy's Edge park), $3,000 per night is extremely steep for a hotel that doesn't even offer basic amenities like a pool or bathrobes. And if you want to cosplay, which is presumably part of the immersion, it's going to cost a whole lot more. In contrast, a stay at the Waldorf Astoria Orlando, a true luxury resort, will run visitors around $450 per night during much of the year. Even if guest-satisfaction rates at the Starcruiser are high, the price and specificity of the experience makes the customer pool rather limited.
The resort had followed a pattern under former Disney CEO Bob Chapek of huge price hikes at the company's U.S. resorts and theme parks that vastly outpaced regular inflation. It especially stung that Disney focused so much of its resources on this exclusive immersive experience while remodeling its other, more affordable hotels to make them less immersive. Breaking the news of the Starcruiser's demise, theme-park reporter Scott Gustin tweeted, "Going forward, Disney says it will focus resources on opportunities that will be more accessible to a larger group of its fans."
Yet somehow, this isn't even technically the biggest news out of Disney today. The New York Times reports that the company has pulled the plug on Lake Nona Town Center, a nearly $1 billion Orlando office complex that would have brought thousands of jobs to the area. Many of these jobs would have been for Disney creatives relocated from California. Disney CEO Bob Iger and parks chairman Josh D'Amaro appear to have canceled Lake Nona in direct response to increasing antagonism from Florida governor Ron DeSantis. (Last month, the media giant sued the hard-right theocrat for "government retaliation.") This news comes one day after DeSantis signed a series of anti-LGBTQ+ bills that will deeply limit the personal rights and freedoms of minority groups and include a bill that allows the state to remove children from their homes if their parents provide them with access to gender-affirming care. Call him Ron DarthSantis.