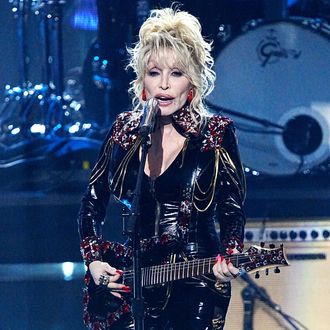 Let her rock.
Photo: Jeff Kravitz/FilmMagic
When Dolly Parton started talking about making a rock album, she wasn't messing around. That much is clear now that the country legend unveiled the track list for her album Rockstar, per Consequence, with some 30 tracks and more than 40 featured musicians, many of them legends in their own right. What do you mean she didn't belong in the Rock Hall? She got Paul McCartney and Ringo Starr, along with Peter Frampton and Mick Fleetwood, to do "Let It Be." She sang "(I Can't Get No) Satisfaction" with P!nk and Brandi Carlile. She did duets with Stevie Nicks, Elton John, Debbie Harry, Sting, Ann Wilson, Steve Perry, Joan Jett, and somehow many others still. Yes, she even did "Free Bird" — with slide guitar from the late Gary Rossington and archival vocals from the late Ronnie Van Zant, no less.
Parton laid out her wish list of collaborators in a few recent interviews — including Nicks (check), Chris Stapleton (check), and her goddaughter Miley Cyrus (check). The biggest names missing are Robert Plant and Jimmy Page — after Parton said she'd want to do "Stairway to Heaven" with the Led Zeppelin rockers. (She did get the next best thing: Lizzo and Sasha Flute!) And casting a wide net did lead to a few less-than-ideal collabs — like with Aerosmith's Steven Tyler, recently accused of sexually assaulting a teen in the 1970s, on a cover of "I Want You Back" and loudly noted anti-trans conservative Kid Rock on original song "Either Or."
The album has nine original songs, including the title track and lead single "World on Fire," and is out this Thursday, May 11. That's the same day Parton is set to co-host and perform at the Academy of Country Music Awards. Maybe she'll duet it with co-host Garth Brooks? In the meantime, find the full track list for Rockstar, out November 17, below.
1. "Rockstar" (special guest Richie Sambora)
2. "World on Fire"
3. "Every Breath You Take" (featuring Sting)
4. "Open Arms" (featuring Steve Perry)
5. "Magic Man" (featuring Ann Wilson with special guest Howard Leese)
6. "Long As I Can See the Light" (featuring John Fogerty)
7. "Either Or" (featuring Kid Rock)
8. "I Want You Back" (featuring Steven Tyler with special guest Warren Haynes)
9. "What Has Rock and Roll Ever Done for You" (featuring Stevie Nicks with special guest Waddy Wachtel)
10. "Purple Rain"
11. "Baby, I Love Your Way" (featuring Peter Frampton)
12. "I Hate Myself for Loving You" (featuring Joan Jett & the Blackhearts)
13. "Night Moves" (featuring Chris Stapleton)
14. "Wrecking Ball" (featuring Miley Cyrus)
15. "(I Can't Get No) Satisfaction" (featuring P!nk and Brandi Carlile)
16. "Keep On Loving You" (featuring Kevin Cronin)
17. "Heart of Glass" (featuring Debbie Harry)
18. "Don't Let the Sun Go Down on Me" (featuring Elton John)
19. "Tried to Rock and Roll Me" (featuring Melissa Etheridge)
20. "Stairway to Heaven" (featuring Lizzo)
21. "We Are the Champions"
22. "Bygones" (featuring Rob Halford with special guests Nikki Sixx and John 5)
23. "My Blue Tears" (featuring Simon Le Bon)
24. "What's Up?" (featuring Linda Perry)
25. "You're No Good" (featuring Emmylou Harris and Sheryl Crow)
26. "Heartbreaker" (featuring Pat Benatar and Neil Giraldo)
27. "Bittersweet" (featuring Michael McDonald)
28. "I Dreamed About Elvis" (featuring Ronnie McDowell with special guests the Jordanaires)
29. "Let It Be" (featuring Paul McCartney and Ringo Starr with special guests Peter Frampton and Mick Fleetwood)
30. "Free Bird" (featuring Ronnie Van Zant with special guests Gary Rossington and the Artimus Pyle Band)