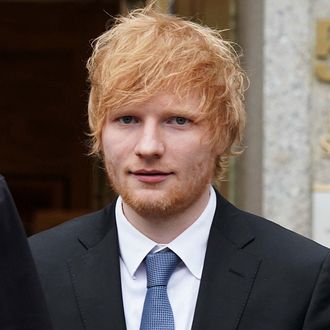 Ed Sheeran arrives at the Manhattan Federal Court to testify in his copyright infringement trial.
Photo: Catherine Nance/SOPA Images/Shutterstock
Ed Sheeran's faith in music is restored. The jury found the British singer-songwriter not guilty of copying Marvin Gaye's baby-making hit "Let's Get It On" for his Grammy Award–winning track "Thinking Out Loud." The heirs of the song's co-writer and composer, Ed Townsend, filed the lawsuit on July 11, 2017, claiming Sheeran unlawfully stole the song's "harmonic progressions" and "melodic and rhythmic elements" for his own use. "I am obviously very happy with the outcome of the case, and it looks like I won't have to retire from my day job after — but at the same time, I am unbelievably frustrated that baseless claims like this are allowed to go to court at all," he said in a lengthy statement given out in court, where he also confirmed he missed his "grandmother's funeral in Ireland.." "If the Jury had decided this matter the other way, we might as well say goodbye to the creative freedom of songwriters," the statement continues. "We need to be able to write our original music and engage in independent creation without worrying at every step of the way that such creativity will be wrongly called into question."
While on the stand, Sheeran testified that chord progressions in pop music are quite limited and played examples on his guitar to the bemusement of the jury. He even promised to quit music under oath if he lost the trial over what he perceived to be an increase in copyright-infringement suits that demean pop-music writing. In the past, Sheeran was accused of cribbing aspects of the song "Amazing" for own hit "Photograph" in 2016 and reached a settlement with the songwriters by crediting them on the song. His second copyright trial came in 2017, when he beat infringement allegations over his earworm "Shape of You." Well, it looks like we're still going to be subject to upcoming releases named after punctuation marks or whatever the next symbol-obsessed concept is.
This post has been updated with a statement.