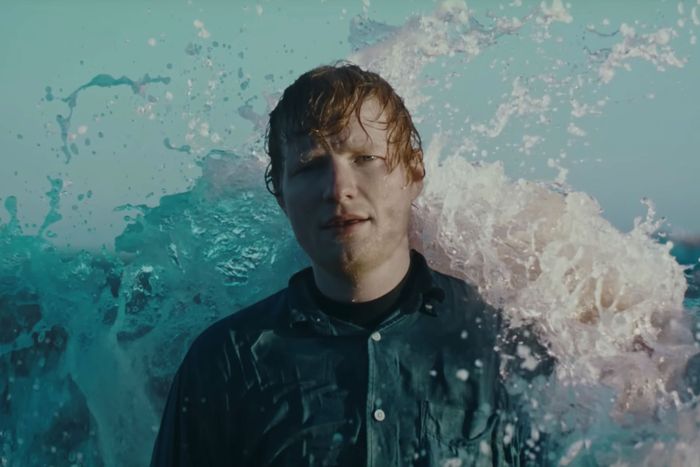 Sheeran's
Subtract
flips between devastating earnestness and saccharine overreach.
Photo: WMG
In February 2022, Ed Sheeran learned that his wife, Cherry Seaborn, was diagnosed with cancer while pregnant with their second child and that his best friend, Jamal Edwards — a savvy West London music fan who founded SBTV, an outlet for new artists that helped break Dave, Stormzy, and Sheeran himself — passed away at 31. The timing was crushing: Sheeran had already made a massive work commitment, having announced the Mathematics Tour, a year of stadium engagements around the world to celebrate his quadriology of arithmetic-themed studio albums — 2011's + (Plus), 2014's x (Multiply), 2017's ÷ (Divide), and 2021's = (Equals) — through which the busker and loop-pedal geek transformed into a pop-culture phenomenon. The chase of appending modern production flourishes to his recursive folk-pop formula and telegraphing the tastes of an international audience at each step of a decade-long search for the median sound had rewarded him royally; now, he could either take time to heal with his family or tough it out and hit the road.
The rough months after the tragedy are the focus of – (Subtract), the closer in his mathematical-equation set and Ed Sheeran: The Sum of It All, a Disney+ docuseries following him from home movies and early performances to the compound heartbreak and healing that happened as he wrote, sang, and performed his way through the worst year of his life. Taken together, they make an intriguing examination of music's practical applications. "I have to write songs," Sheeran explains at one point. "Makes me feel better." You also feel the compromises made to strike a balance between the artist's intentions and the objective of molding deeply personal experiences into a successful product.
The doc offers fly-on-the-wall access to Sheeran and Seaborn's private conversations, poking into stolen moments before and after concerts where we can watch the singer-songwriter turning his chipper public face on and off. Debuting Subtract songs at a solo show in London's Union Chapel, he finds himself routinely overwhelmed, crying openly as he attempts to tell a crowd of strangers what Jamal meant to him. A number of the songs were written the day Seaborn's tumor was discovered. (It was successfully removed after the birth of their second daughter.) Backstage, Sheeran cries again, in pain and embarrassment — it's "really unusual to see him cry," Seaborn explains, by which point we've already watched it happen on a handful of occasions — before pulling it quickly together for a meet and greet. "Now I've got to pretend to everyone that everything's all good, and we're all gonna enjoy a glass of wine," he says as fans file in for a tantalizing slice of his time. Tension between opposing commitments and Seaborn's sense that Sheeran's not "programmed" to want to take the break from the work he's pouring himself into, and the moments where they forget about the camera's lingering eye and voice unfiltered feelings, make for one of the most intimate music documentaries in a very crowded field.
While The Sum of It All meticulously details the ways music has changed Sheeran's life for the better — most affectingly in his father's account of how learning the lyrics to Eminem's Slim Shady LP assisted with the stutter Ed developed as a child — Subtract showcases his methods as a performer as a way to inspire his fans. The fifth installment in a series of calculated pop gestures is a conscientious bookend to the early-adult soul-searching of Plus. It is the sound of that innocence crumbling. "We spend our youth with arms and hearts wide open," he sings in "End of Youth." "And then the dark gets in and that's the end of youth." Subtract dances around the line dividing devastating earnestness and saccharine overreach, sometimes digging deep for diaristic detail and sometimes settling for simplistic sentimentality. Fleshed out with help from the National's Aaron Dessner — they met through Taylor Swift, who worked with Dessner on folklore and evermore — the album surveys the fallout from Sheeran's misfortunes, pondering raw emotion, rash action, and immense sorrow.
The first four songs quickly separate Subtract from the genre explorations of the last few records, stripping back arrangements, but only so much. You've heard this sound: the rustic instrumentation and room noise in Equals's "The Joker and the Queen," the soulful intimacy of Divide's "Perfect," the production that makes Multiply's "Photograph" and "Runaway" feel both pared down and a little busy, the folk-bro and pop-star aspirations that commingle in Plus's "Small Bump" and "Lego House." His catalogue is a savvy synthesis of the catchy acoustic rock that carried predecessors like Damien Rice and Jason Mraz to fame in the aughts and the pop-rock records that sprouted out of the decade as it progressed, success stories like James Blunt, Snow Patrol, Keane, and Adele. Sheeran may have been dismissed as a magpie in the 2022 "Shape of You" copyright-infringement trial, but that didn't get him quite right. His songs aren't regurgitations; they're reductions and extractions. Though you can smell his inspirations, he seems careful, or at least savvily slippery, as his win this month in the suit over alleged similarities between Multiply's "Thinking Out Loud" and Marvin Gaye's "Let's Get It On" conveyed. Trapped inside a winning formula, drafting minor addendums to reach listeners beyond the scope of pop radio, Sheeran has a hard time surprising us (Cradle of Filth collaboration notwithstanding). His foot stays on the gas, gunning it toward the middle of the road.
Subtract is at war with the tendency to smother a record in the stuff most people would want to hear. It can't decide between the agonizingly personal and the comfortingly universal, which is a shame since the moments where it finds a balance are absolute tearjerkers. "Eyes Closed" with Fred Again …, Max Martin, and Shellback turns what used to be a breakup tune into a tender recollection of missing Jamal; "Boat" is about freezing on the English shoreline at night just to feel something that isn't anguish and then rediscovering your confidence; "Sycamore" is a first-person account of the hope and terror of facing childbirth and cancer treatment with a refrain that communicates the couple's resolve in just a handful of words ("But in our story, love in, love out / We are glorious)"; and "F64," a gutting 64-bar rap that tries to catch Jamal up on what life's been like without him, is a volcanic shower of simmering hurt: "Fuck's sake / Lately I've been crying so much my lungs ache / Teardrops all over my shirt like bloodstains / And I know to heal a heart, it must break."
But Subtract can also feel labored and inelegant. "End of Youth" needed a little more time in the oven. The chorus is a bit vague, too eager for application in hundreds of thousands of very different life circumstances. "Spark" oversells the nature theme that trickles into nearly every song — miles of references to oceans, embers, storms, beaches, and blue skies — though delivers one of the album's most striking images in its exploration of the aftermath of an argument: "We'll build a fire and torch our old lives / And hope the spark survives / Use words as kindling, light up the night sky / Let the memories take flight." "Curtains" is a trite and placid alt-rock song that could've been recorded in any year since 1995 but hooks with the reminder that a good reason to catch some sunlight on a bad day is that nobody can tell you've been crying after the tears dry. "Vega" kicks off with a stunning couplet — "Rain keeps beating on the rooftop, muddying the glass / But, God, I love the sound of heaven" — signaling a story a few degrees too potent for the drippy arrangements coating it. The missteps are frustrating; this guy can nail this kind of material.
The fifth maths album bears out how Ed Sheeran's work can be by turns almost annoyingly observant of the mechanics of the ballads, club bangers, and dancehall tunes currently on the charts, a habit that continues to draw out lawsuits he defiantly prevails in. But it's also deadly effective when he gets you in his sights. Ed's music endures not just because he understands what audiences are listening to but also because people really need the stuff. There should be songs about stifling tears in the bar because no one you know is around to talk you through your feelings, about the protracted battle to open the curtains and accept light into your day when you've been having a bad week. It's more admirable to struggle to talk through your problems than to pretend they're not happening. And too many artists seem to think that their job is to make people feel good, when the task at hand is only to make them feel.
Grief can close the distance between the present and the worst days of your life, collapsing weeks and months and years of restorative work, shattering the brittle peace we cobble together as we search for a new center of balance. It's difficult to plan around your day imploding on top of you, but everybody must. Death is the common experience — a truth Subtract tries to arrive at, even as it closes this long-running series at a fork in the road. Sheeran has just written a handful of his most pained and personal songs; going forward, he can break his patterns, or he can keep paddling apace, unchanging as multiplication tables, but useful, too, always in reach whenever you need a good hard cry.