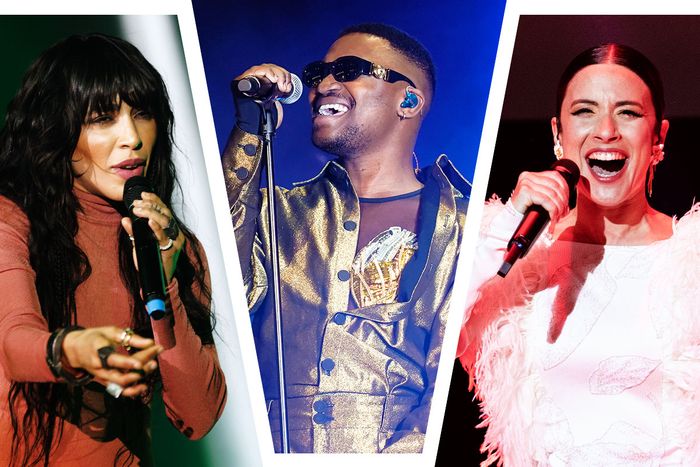 Eurovision class of '23: Loreen, Blanca Paloma, and Tvorchi's Jimoh Augustus.
Photo-Illustration: Vulture; Photos: Getty Images
It's Eurovision season once again. The yearlong buildup will culminate this coming weekend in a grand finale to pick the 2023 song contest's big winner. It's not traditionally an American sport, but thanks to the internet — and Adam Rippon coming to you live on Peacock and a 2021 Netflix movie starring Will Ferrell — the show has vaguely crossed over, giving us the chance to root for our favorites. (Please do not bring up NBC's flop attempt at launching an American Song Contest.) Also, for the first time in history, Eurovision has announced that nonparticipating countries will be able to vote. (How this will work fairly and if we in the U.S. are included has still not been officially announced, however. A FAQ about the voting change reads, "The full list of eligible countries will be published near the time of the event.") This year's festivities are being held in Liverpool, which stepped up to host after Ukraine won last year's contest and was unable to do so owing to the Russian invasion of Ukraine.
We're getting two rounds of live semifinals on Tuesday and Thursday, notably featuring an interval performance by my No. 1 favorite international superstar, Rita Ora. And then the grand finale airs live on Saturday; you'll have to do some time-zone math to figure out exactly when. As is tradition, let's travel through this year's offerings and see where they rank. This is a generalized mix of bookmaker's odds, fan reactions, and geopolitical assumptions based on past voting records (oh yeah, that is most definitely a thing).
The Fan Favorites
Sweden: Loreen
If Loreen takes the prize for Sweden, it'll be the second time she has won the contest, and she'll be the second singer in history to pull it off; Ireland's Johnny Logan won in both 1980 and 1987. (You could technically say he won it a third time when "Why Me?," a song he wrote for Linda Martin, won in 1992.) "Tattoo" isn't immediately as big of a banger as "Euphoria," Loreen's 2012 entry in Azerbaijan, which went on to hit No. 1 in many European countries and is my favorite Eurovision winner of all time. But she is highly favored — that is, if the 1.8-metric-ton "panini press" interactive screen she's performing under doesn't fall and crush her. (This will not happen, but it is something organizers were worried about when they were planning her stage show.)
Fun fact: Loreen entered Melodifestivalen 2016 as an attempt to qualify for Eurovision 2017 with "Statements," a song that shamed western leaders for calling out atrocities being committed in Syria despite their inaction. She lost in the semifinals.
Finland: Käärijä
Helsinki 2024? Could be. Käärijä (pronounced Kar-ria and said like this) is a Finnish rapper-slash-singer whose music combines rap, electronic, metal, and schlager and whose aesthetic combines a signature bowl cut and a bright-green ballroom-style bolero. "Cha Cha Cha" is a classic drinking song, declaring, "This exhausting week and the many long days are behind / There's only bar and piña colada on my mind." Finland is known for taking big swings, and this one is a made-for-Eurovision blast: weird, catchy, fun, and unapologetically European.
If the song isn't ridiculous enough for you, Käärijä and his team also released a reggae remix.
Fun fact: One of Käärijä's biggest influences is the German Neue Deutsche Härte band Rammstein (of "Du Hast" fame). He has a tattoo of the group's logo across his chest.
France: La Zarra
Canadian singer-songwriter La Zarra lives in France and already has a hit there with "Tu T'en Iras," which went platinum just last year. Now she's repping France with a moody song that fuses the chanson tradition with a bit of a Dua Lipa "Future Nostalgia" modern disco groove.
Fun fact: I laughed when I read that the head of the French delegation to Eurovision, Alexandra Redde-Amiel, told the CBC that La Zarra's song is "very Emily in Paris."
Spain: Blanca Paloma
If you can't get Rosalía, Blanca Paloma's "EAEA" is in the same realm, taking flamenco sounds and updating them with modern influences like synths. (Have you figured out that that clever fusion is exactly what Eurovision judges and voters love to see?) Paloma has said that the song is in honor of her grandmother Carmen, who introduced her to flamenco.
Fun fact: The last line of Paloma's official bio on the Eurovision website is "As a child, Blanca raised a duck in her bathtub." Cool!
Norway: Alessandra
Mononymous Alessandra was asked to be part of Melodi Grand Prix's songwriting camp after she competed on The Voice Norway, where she reached the live shows but didn't place. The camp is where she co-wrote "Queen of Kings," a #girlboss dance-pop banger that gives Skrillex on the Game of Thrones soundtrack. Most impressively, Alessandra has to hit a high-E whistle tone — and she does! Live! Each time! That alone should place her.
Fun fact: Being that Alessandra is both Norwegian and Italian, she released a version of "Queen of Kings" in Italian.
Ukraine: Tvorchi
Tvorchi's "Heart of Steel" is quite different from Ukraine's 2022 Eurovision winner: Kalush Orchestra's "Stefania." The latter was a much more traditional choice — and sung in Ukrainian — while "Heart of Steel" employs more contemporary sounds. During Tvorchi's (which means creatives in Ukrainian) performance, dancers wear gas masks while the song's lyrics declare, "Don't be scared to say just what you think / 'Cause no matter how bad, someone's listening."
Fun fact: Members Andrii Hutsuliak and Jimoh Augustus met while studying pharmacy at Ternopil National Medical University.
Israel: Noa Kirel
I have to admit I didn't really get why Israel was so highly favored by people until I saw a clip of Kirel performing the song's dance break during rehearsals. I understand now!
Fun fact: Kirel has appeared as a guest on the Israeli version of James Corden's "Carpool Karaoke," hosted by Nicky Goldstein.
U.K.: Mae Muller
This is one of the better songs the U.K. has submitted to Eurovision in years! Maybe it's excited to be pinch-hitting as host, or maybe the tide is turning in its favor. Mae Muller opened for Little Mix on tour, has already charted across the globe, and even once posted some controversial tweets dragging Boris Johnson. We stan!
Fun fact: Muller is the girl in the green dress from the music video for Mika's smash hit "Grace Kelly." She was 9 years old. (And coincidentally, Mika co-hosted last year's Eurovision Song Contest in Turin!)
Songs that will probably not win but that you should still listen to
Denmark: Reiley
Huge shocker: Justin Bieber sound-alike Reiley comes to Eurovision having already racked up 10 million followers on TikTok.
Croatia: Let 3
A rollicking anti-war song that specifically comes for Putin, calling him a psychopath.
Austria: Teya & Salena
Who knew that a song about being possessed by the ghost of Edgar Allan Poe could be so catchy?
Australia: Voyager
An electroclash-meets-metal song from a long-haired Australian Jax Taylor look-alike is a bold choice, but in Eurovision terms, it works!
Serbia: Luke Black
Luke Black is giving Gerard Way, but not necessarily in a good … Way.
Germany: Lord of the Lost
I can confidently say this is the worst entry of the year. And that takes skill.