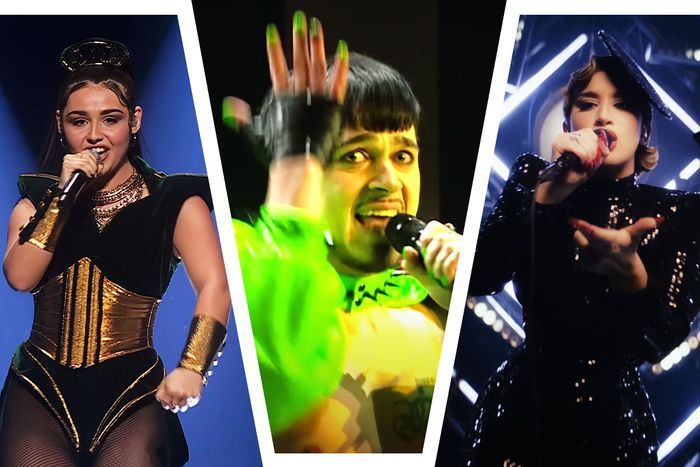 Norway's Alessandra, Finland's Käärijä, and France's La Zarra are all vying for the Eurovision crown, though only one is doing so in neon green.
Photo: Eurovision
The Eurovision song contest starts next week, bringing with it all the fanfare and grandeur that frenzied audiences have come to expect. On this week's episode of Switched on Pop, hosts Charlie Harding and Nate Sloan immerse themselves in the epic sonic landscapes of the six songs that have been anointed as Eurovision's odds-on favorites. You can read their analysis of those tracks below, and be sure to subscribe to Switched on Pop wherever you get your podcasts.
Nate: It's the beginning of May, so that can only mean one thing: Time for Eurovision, the International Song Competition where countries mainly but not exclusively in Europe submit songs to be performed in a live television spectacle. We are gonna do our best to get people hyped because there's really nothing like Eurovision. This year's finals are on May 13, and ahead of them, Charlie and I listened to the six contenders that oddsmakers have deemed most likely to win and discussed the musical qualities of the tracks.
Charlie: A couple of important disclaimers: This is purely musical analysis. Eurovision is a very visual form, but we intentionally avoided watching the videos in order to focus on the songs' musical integrity. And let the record show we are mere appreciators of Eurovision, not deep Eurovision heads, so we may miss some things.
Nate: We're gonna do those in order from No. 6 to No. 1, based on the likelihood that bookmakers have given each song of winning. The odds may change by the time of broadcast, but here's where they stand now.
Alessandra, "Queen of Kings" (Norway)
Odds of winning: 4 percent
Charlie: I don't think I've ever heard a mashup like this: Renaissance-style melody with a building EDM instrumentation. It's really funny. The melody feels like it's ancient.
Nate: It's giving Game of Thrones techno.
Charlie: Exactly. I love the feel, especially when we get the 12/8 bass line at 0:49. It's such a cliche of EDM that I love every time I hear it — it takes me back to deadmau5's 2010 album 4x4=12. Or we could take a more recent example such as the song "Call Me" by Gabry Ponte with R3HAB and Timmy Trumpet, a cover of a Blondie classic. I feel like it's a whole new genre. Electro Renaissance.
Nate: deadmau5 goes to Westeros. It's worth noting that "Queen of Kings" also has a specific vision of women's empowerment.
Charlie: Yeah, it flips the cliche of king of queens to queen of kings — and the intensity of that drop at 0:49 emphasizes the power of the femininity in the song.
Nate: As does the whistle note Alessandra gives us about two minutes in.
Charlie: That is a beautiful moment. Oh, I love whistle tone.
Nate: That's one way to declare your power: "Let me hit this ridiculously high, otherworldly note."
Blanca Paloma, EAEA (Spain)
Odds of winning: 5 percent
Nate: The first thing that jumps out is the way this song takes a traditional Spanish genre like flamenco and gives it this 21st-century update with these electronic beats and synthesizers. It feels indebted to the recent work of Rosalía, among others. These are the moments in Eurovision when you're able to make this compelling pop-music statement that connects to your country's tradition and heritage.
Charlie: Yeah, and you get to hear pop music that goes outside the standard styles of pop singing. In this case, we're hearing all kinds of microtonalism moving outside major and minor scales with these beautiful bends in the vocal. It's something that draws from flamenco styles of singing and has a much longer heritage in the Arab musical influences that were brought into Spain centuries ago.
Nate: In addition to those microtonal vocal touches, the rhythm is characteristic of flamenco — percussive, driven by propulsive hand claps, polyrhythmic, intricate. We're not flamenco experts, but suffice to say, the rhythmic complexity here is stunning. I imagine the live performance of this is gonna be spectacular as dancers build off those rhythms.
La Zarra, "Évidemment" (France)
Odds of winning: 5 percent
Charlie: Very cinematic.
Nate: That's a very dramatic start and then we go into this more traditional French style. And then if we keep listening, we get an entirely different sonic landscape, four on the floor. What are you making of this — the split personality of this track?
Charlie: It's representing multiple kinds of French identity and classic French musical styles, just as Spain is bringing its own musical flavor. We're hearing two important genres in the world of French music. The opening reminds me of the essential French genre the chanson, which people associate with someone like Edith Piaf. You could take a song like "Non, je ne regrette rien," where you get the orchestral elements and then everything sort of shrinks down to highlight Edith's voice.
Nate: I'm also hearing the same kind of approach to vibrato in both of those singers, Edith Piaf and La Zarra. It's very characteristically French to me.
Charlie: So we get this traditional song style to begin with and then we go into French disco. I often think of Italo disco as the more famous European disco scene, but French disco was a big thing, and obviously birthed French House. It reminds me of a Dua Lipa song, but so much of Eurovision is the blending of traditional with contemporary.
Nate: Totally. And France needs a banger of this magnitude because they haven't won in 45 years. There's even a moment in the song where Lara kind of speaks to the nation. She asks France, "Did I manage to sing the greatness of France?" She's asking, "Am I doing us justice?"
Charlie: It wouldn't be Eurovision without a bit of national pandering, but that is a great moment.
TVORCHI, "Heart of Steel" (Ukraine)
Odds of winning: 7 percent
Nate: We've made it to last year's winner, Ukraine, with a new band for this year: TVORCHI and their song, "Heart of Steel." One of the first things I noticed is how different this is from the Ukrainian entry that won last year, the Kalush Orchestra and their track "Stefania." That song used traditional harmonies and instrumentation. This is more in line with contemporary electronic music.
Charlie: Though, like "Stefania," it's also tackling the ongoing conflict in Ukraine. According to the BBC, the song was produced after the group had been watching videos of the siege of Mariupol, and we can hear that sense of conflict in the chorus. The lyric talks about having a heart of steel — and in that siege, soldiers were camped out in a steel plant. The sounds of future bass I'm hearing are appropriate because you have these sort of like air raid, sirenlike rising sounds, and you have this bass, which is kind of out of time and unpredictable. The rhythm is very disjointed. It pulls and pushes and is never quite in time. It's disorienting, it's discomforting. They're capturing this historical, somber moment appropriately in the production of the song.
Käärijä, "Cha Cha Cha" (Finland)
Odds of winning: 16 percent
Charlie: Really big shift in vibe.
Nate: Now this is why I watch Eurovision.
Charlie: There's a big heavy-metal scene in Finland, but here it's blended with other electronic elements. I'm getting a Kraftwerk-like bass line, mixed with an anthem trance lead sound that is reminiscent of Alice Deejay's "Better Off Alone," plus the sort of thrash-metal style of Metallica's guitar playing. You put those in a cauldron and stir and you get "Cha Cha Cha."
Nate: You forgot to mention the Rage Against the Machine–style vocals and then the chorus response, those "cha cha cha"s in the background. This is like a football anthem. It has all those elements you said and then it's got this kind of interactive part to it, a participatory section. Then, halfway through we get something even more bizarre — a little hyperpop excursion.
Charlie: I love that auto-tuned moment. It's such a ridiculous contrast to the RATM-style spoken vocal earlier. We go into pure pop, a singalong-in-the-stadium vibe.
Nate: "Cha Cha Cha" has a little something for everyone.
Loreen, "Tattoo" (Sweden)
Odds of winning: 45 percent
Nate: Some important background here: Loreen won Eurovision in 2012 with her entry "Euphoria." She is a proven contender, and seems poised to perhaps be crowned yet again. Her voice is spectacular.
Charlie: Absolutely. This song is in many ways a textbook on how to make a Eurovision hit. A Eurovision song is a different kind of track than what we might be writing today to win over the algorithm on TikTok. You need to embed your hook in someone's mind with one listen only, and "Tattoo" uses some clever techniques to guarantee you'll remember it. There are basically just two melodies in the entire song: At the beginning, we get a synthesizer line and then when we get to the pre-chorus it's the same melody — but it feels so different, since the first time you heard it, it was this very muted, plucky synth line. It doesn't have any of that grandiose rising emotive quality that the vocal picks up in the pre-chorus. You've already heard that melody, and it's drilling itself into your ear.
The same thing is true of the main hook: The verse and the chorus are almost the exact same melody, but the chorus shoots an octave higher. It has way more energy. It's a flex. The song is ostensibly two melodies that we keep hearing back to back to back. There's some other stuff in there too, of course. But that is the thing about this song: It's so simple, and yet in the way that it's orchestrated to build and build and build, it swells and every moment feels new. But actually you've heard it all before.
Nate: Now, Charlie, Loreen is the bookmaker's pick, but what about you? We just listened to six phenomenal tracks. Which one would you vote for?
Charlie: I mean, we've got EDM Westeros, we've got some beautiful flamenco coming from Spain …
Nate: … we have French disco meeting the traditional chanson. But Charlie, I think we both know what our pick is, right?
Charlie: I do love Ukraine, but this year it's "Cha Cha Cha."
Nate: "Cha Cha Cha." That's what we're gonna be singing.