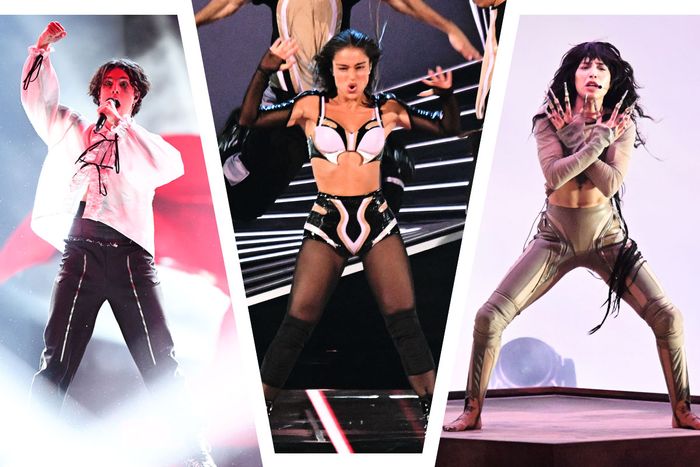 Serbia, Israel, and Sweden's entries in the 2023 Eurovision Song Contest.
Photo-Illustration: Vulture. Photos: Anthony Devlin/Getty Images
Forget King Charles's coronation. For fans of precision-tooled pop, elaborate stage production, and voting reveals which provide more high drama than a Succession box set, this week's most important event across the pond is undeniably the 67th Eurovision Song Contest. Standing in for last year's winners Ukraine, the United Kingdom, specifically Liverpool, will be hosting the whole shebang for the first time since 1998. The semifinals are on Tuesday and Thursday, and the Grand Final is on Saturday, May 13, all streaming on Peacock.
But which of the 37 competing countries are most likely to take home that iconic glass microphone? And which are most likely to hear the hosts apologetically declare null points? From rotten Romanian rock to sublime Swedish synth-pop, here's every 2023 Eurovision contender, ranked.
37. "D.G.T. (Off and On)," Theodor Andrei (Romania)
Theodor Andrei, formerly a member of Romania's answer to The Voice Kids, claims he wanted to compete with the type of song his homeland had never entered before. Well, the 18-year-old has certainly achieved that — just probably not the way he intended. "D.G.T. (Off and On)" is sleaze rock with the emphasis on the sleaze ("I'm begging you, I'm on my knees / Take your clothes off / Step on me") performed by an out-of-his-depth teen who succumbs to every cliché in the front man handbook. It's hard to imagine anyone spinning their chair round for this.
36. "Tell Me More," TuralTuranX (Azerbaijan)
Oh, dear. Once guaranteed to serve up a bona fide banger, Azerbaijan has this year decided to send a couple of Ed Sheeran wannabes with about as much charisma as a Eurovision-branded tea towel. Performed by identical twin brothers Tural and Turan Bağmanov, "Tell Me More" begins promisingly enough with an intriguing answerphone message narrative device and a jangly acoustic riff which may evoke Rachael Leigh Cook's staircase reveal in She's All That. But the pair then attempt to challenge Jack Harlow's recent second-best-white-rapper claims and fail miserably.
35. "Duje," Albina and Familja Kelmendi (Albania)
Like so many of this year's entrants, Albina Kelmendi found fame on The Voice, winning Albania's fourth season in 2014. Unlike her fellow talent-show graduates, however, she's brought her nearest and dearest along for the ride. Yes, that's her brother, two sisters, mother, and father providing various degrees of stage presence and vocal quality on an Über-dramatic track about the hardships of keeping a united family. The truly real struggle, though, is making it through all their histrionics. At least their poor neighbors are getting a few weeks' respite from all the caterwauling.
34. "Watergun," Remo Forrer (Switzerland)
For the third year running, Switzerland has sent a sad-boy ballad with this one sitting somewhere in between the compelling theatrics of Gijon's Tears' near-winner "Tout l'univers" and the dreary wailings of Marius Bear's flop "Boys Do Cry." Remo Forrer auditioned for his victorious third season of Switzerland's The Voice with a rendition of Lewis Capaldi's "Someone You Loved." And that appears to have set the blueprint for his Eurovision entry, although "Watergun" isn't actually another lovelorn plea but a call-to-arms about "powerlessness in the face of conflicts in this world." Without a semi-final jury vote to fall back on, this may be powerless to avoid an early exit.
33. "Bridges," Alika (Estonia)
A veteran of the TV talent-show circuit who has appeared on The Voice Baltic and the Estonian part of the Idol franchise, Alika Milova certainly has the pedigree to represent her country on the world stage. Unfortunately, despite the recruitment of Eurovision-winning songwriter Wouter Hardy (Duncan Laurence's "Arcade"), she doesn't have the song. "Bridges" is the kind of meandering piano ballad you instantly forget about the moment its final overwrought note has played out. The weary sighs Milova emits during the pre-chorus suggest even she's aware it's a lost cause.
32. "Break a Broken Heart," Andrew Lambrou (Cyprus)
One of several countries who have gone against type this year, Cyprus have dropped the Balkan dance-pop and gone for a defiant post-breakup anthem sung by — shock horror — a man! Andrew Lambrou, who finished seventh in last year's Australian selection final, delivers an impressive octave-spanning performance as the wounded soul: various TikTok clips have proven he can replicate those soaring "wooh"s in a live setting, too. But he's hampered by a generic, overblown production which veers from the melodrama of early Sam Smith to the chest-beating antics of Imagine Dragons.
31. "What They Say," Victor Vernicos (Greece)
At just 16 years old, Victor Vernicos is the youngest entrant of 2023 and the youngest in Greece's intermittent Eurovision history. Vernicos wasn't even born when Helena Paparizou gave the country its one and only victory in 2005. As with Switzerland's Remo Forrer, Vernicos is obviously a fan of brooding British singer-songwriters with a somewhat relaxed approach to diction. (Good luck making out more than a few of its heart-on-sleeve sentiments.) But with its multiple shifts in rhythm, including a stadium-rock handclap finale, the self-penned and self-produced "What They Say" is at least a little more sonically inventive than all the other maudlin ballads.
30. "Mama ŠČ!," Let 3 (Croatia)
Let 3's "Mama ŠČ!" is practically unratable. It's performed by an outfit whose controversial history includes staging a fake suicide by firing squad, getting arrested for performing naked live onstage (and then issuing a "corked anuses" defense), and exhibiting a four-meter-tall statue across Croatia called "Grandma's penis." Its atonal "chorus'" sounds like a half-dozen different YouTube tabs playing at the same time. And it's an anti-Putin song (albeit a cryptic one due to Eurovision's nonpolitical stance) in which their Stalin-lookalike front man barks, "Mommy bought the tractor / Mommy kissed the moron." You can't imagine anyone voluntarily listening to this outside the contest, but you definitely won't forget it.
29. "Blood and Glitter," Lord of the Lost (Germany)
Industrial metalers Lord of the Lost recently reached pole position on the German album chart for the first time in their 16-year career. It's safe to say the Hamburg five-piece won't be repeating the feat at Eurovision with its title track. "Blood and Glitter" will no doubt wake up those who've drifted off during the four-hour musical marathon. But Lordi did the whole "Eurovision goes shock rock" thing bigger and better. In fact, apart from a brief burst of screamo vocals, the track has the whiff of an '80s Bon Jovi B-side.
28. "Like an Animal," Piqued Jacks (San Marino)
Italian quartet Piqued Jacks sound like they may have been formed to capitalize on the raucous glam-rock success of 2021 winners Måneskin. But the Italian quartet, who beat "Blue" hitmakers Eiffel 65 during San Marino's exhausting selection process, have actually been around since 2006. Despite some dodgy Spinal Tap–esque lyrics ("You have, you have a snake eyes / With the hips, with the sex that could paralyze"), the spirited "Like an Animal" should win them plenty of new fans. But in a semi-final with two superior guitar bands, they're unlikely to progress.
27. "Future Lover," Brunette (Armenia)
Despite finishing a lowly 20th place, Rosa Linn's "Snap" became the surprise international breakout hit of last year's Eurovision, even charting inside the "Hot 100" thanks to its prominence on TikTok. There's already a social-media angle with its follow-up: The lyrics of "Future Lover" were apparently compiled from various Tumblr and Pinterest posts. But don't expect lighting to strike twice with Armenia's latest entry. Far removed from the pretty folk-pop of its predecessor, Brunette's "Future Lover" is an uncompromising, anxiety-ridden affair which appears to have taken its cues from early FKA twigs.
26. "Echo," Iru (Georgia)
Irina "Iru" Khechanovi has already enjoyed victory at Eurovision: She was a member of the Georgian five-piece Candy that won the slightly icky junior version back in 2011. While their entry was a sugary burst of girl-band Eurodance, Iru's return is a highly dramatic — and slightly shouty — piece of avant-pop which appears to have gotten lost in translation (sample lyric: "This feeling is Lord"??). There's a lot going on here, from the John Barry–inspired strings to the restless rhythms which could have escaped from an Arca album. Props for not playing it safe, but Iru won't be making another acceptance speech.
25. "Power," Diljá (Iceland)
From the slightly terrifying industrial techno of S&M merchants Hatari to the irony-drenched alt-pop of Daði Freyr, Iceland have recently become renowned as Eurovision's most subversive nation. Even last year's gentle folk number was at least performed in their native tongue. Sadly, their 2023 entry is as generic as they come. Former Got Talent graduate Diljá delivers a powerful Sia-like vocal, but the drum-and-bass-lite production never truly gets going and the self-empowering lyrics ("Go on, spread your wings and fly away") sail a little too close to Hallmark-card territory. You may well find yourself shouting "Sing Ja Ja Ding Dong."
24. "We Are One," Wild Youth (Ireland)
Wild Youth's dedication to bringing unity and peace with "We Are One" was firmly tested in April when their creative director was discovered to have made inflammatory remarks about the trans community. To their credit, the quartet immediately severed all ties and issued an immediate apology. Unfortunately, this behind-the-scenes drama is far more interesting than their entry, a generic U2-esque call-to-arms which poptimists will find as welcoming as an unsolicited iTunes giveaway. The four-piece haven't helped themselves by accompanying such characterless pop rock with a video in which they've all covered their faces with masks.
23. "Burning Daylight," Mia Nicolai and Dion Cooper (Netherlands)
Providing a respite from all the glitz and kitsch, "Burning Daylight" is the 2023 entry most likely to appeal to the "real music" brigade. Mia Nicolai and Dion Cooper were paired together by Duncan Laurence, the man who in 2019 brought the Eurovision microphone trophy home to Netherlands after a 44-year wait. The national hero also co-wrote this emotionally stirring duet which, unlike his winning entry "Arcade," keeps listeners waiting for the big Coldplay-esque moment of catharsis. But its performers' apparent lack of chemistry means it may struggle to connect with audiences at home.
22. "Solo," Blanka (Poland)
Blanka Stajkow released her first single while competing on Poland's answer to the Next Top Model franchise. And her second is roughly on a par with Tyra Banks's brief attempt to swap the runway for the recording studio — fun and frothy but completely disposable. Indeed, Blanka — who's had to stave off allegations of vote rigging following her shock victory in the Polish national selection — appears to be channeling Ace of Base with the summery cod-reggae throwback. While she's a rank outsider to win, "Solo" is surprisingly one of this year's most-streamed offerings.
21. "Heart of Steel," Tvorchi (Ukraine)
Ukraine has been one of the most consistent entrants since debuting in the contest in 2003, finishing runners-up twice and winning an impressive three times. Electronic duo Tvorchi, however, seem unlikely to follow in the footsteps of Ruslana, Jamala, and last year's victors, Kalush Orchestra. Sure, they'll no doubt have another strong sympathy vote in light of the country's ongoing political turmoil. It's a song about overcoming adversity member Andrii Hutsuliak penned during the siege of Mariupol, after all. But unlike their predecessors' bewitching cross between the Pied Piper and the Lonely Island, "Heart of Steel" doesn't sound particularly stirring.
20. "Due vite," Marco Mengoni (Italy)
Marco Mengoni shot to fame in Italy after winning the third season of The X Factor in 2009. And you wouldn't be surprised if Simon Cowell had a hand in his Eurovision entry, the kind of power ballad that seems designed to be performed over a shower of ticker tape. Mengoni, who has described "Due vite" as "the story of a relationship between the ratio and the unconscious," finished seventh while representing his homeland with a similarly melodramatic number in 2013. Despite being one of the strongest vocal performers in the competition, it's a position he may struggle to better.
19. "Soarele și luna," Pasha Parfeni (Moldova)
Pasha Parfeni has quite the Eurovision heritage. In 2012, he guided his homeland to an 11th-place finish. A year later he achieved the same position as co-writer of Aliona Moon's entry. And he briefly fronted the SunStroke Project, the two-time entrants who've become Moldova's biggest music export thanks to their insanely catchy 'saxobeat' sound. Parfeni actually pipped the latter in this year's national selection with this dynamic flute-led floor filler, the video and staging for which suggests Parfeni is now angling for a role in the third season of Yellowjackets.
18. "My Sister's Crown," Vesna (Czechia)
One of this year's most multicultural acts, Vesna are an all-female six-piece whose members hail from Bulgaria, Russia, and the country they're representing, Czechia. Their Eastern European roots can certainly be heard in "My Sister's Crown," a frenetic protest against gender inequality which fuses girl-power pop and hip-hop with Slavic folk. It's perhaps the closest this year's contest comes to last year's winner, although instead of breakdancing, the sextet serves up some well-choreographed marionetting. It's also the type of divisive Eurovision entry that could just as easily challenge for the crown as prop up the rear.
17. "Eaea," Blanca Paloma (Spain)
Blanca Paloma is currently fifth favorite to win the whole thing, perhaps something of a surprise considering how aggressively Spanish her entry is. Indeed, it's hard to see the new flamenco of "Eaea" picking up as many televotes as last year's "Solo," the Latin pop return-to-form which gave Spain its highest placing since 1995. While that was firmly in J.Lo-esque territory in both style and sound, this tribute to Paloma's late grandmother, Carmen, makes few concessions to the mainstream. Still, the multi-talent's commanding stage presence and impressive vocal acrobatics may well compensate enough.
16. "Ai coração," Mimicat (Portugal)
Portugal has established a reputation as the hipster's choice in recent years thanks to a string of alternative entries which have largely lacked anything approaching a discernible melody. The country has changed tact, however, for 2023, sending an infectious flamenco throwback which should get everyone shaking their castanets in unison. Singer Mimicat also sells the heck out of her three-minute cabaret show, no doubt overjoyed at finally getting to represent her country 22 years after her first attempt. Sure, "Ai coração" could have been lifted from any of the 66 contests which have gone before, but that's undeniably part of its charm.
15. "Promise," Voyager (Australia)
Australia's contract agreement guaranteeing Eurovision participation ends this year, meaning prog-pop-metal outfit Voyager could potentially be their final-ever entrant. At least they'd be going out with a bang. Indeed, having failed to qualify in 2021 and then sent everyone to sleep with last year's wail fest, the contest's gatecrashers appear to have rediscovered their mojo just in time. "Promise" throws everything from vintage Duran Duran to corny air-guitar-friendly solos and even a nod to Finnish masked metalers Lordi into a nostalgic melting pot that deserves to return the Aussies to the left-hand side of the final leaderboard.
14. "Stay," Monika Linkytė (Lithuania)
While its melancholic first verse suggests we're in for another by-the-numbers piano ballad, Monika Linkytė's "Stay" bursts into life with a triumphant chorus which could easily have been lifted from The Lion King musical. Linkytė, a runner-up on her homeland's second season of The Voice, finished 18th when she last competed for Lithuania alongside fellow talent-show graduate Vaidas Baumila eight years ago. Based around the native folk sutra "čiūto tūto" — a self-empowering call once used in ancient rituals — this charming, bilingual number deserves to place higher.
13. "Because of You," Gustaph (Belgium)
Having previously provided backing vocals for Belgian entrants Sennek and Hooverphonic, former Hercules and Love Affair member Gustaph finally gets the chance to take center stage himself. And boy, is he making the most of it. The flamboyant singer certainly has this year's biggest-hat award in the bag. And in the manner of his old outfit, "Because of You" is a muscular slab of '90s house you can imagine blasting over a late-night chatline ad. Accompanied by some self-help-101 messaging, the track isn't exactly subtle, but blatantly living his best life, Gustaph's enthusiasm is difficult to resist.
12. "Breaking My Heart," Reiley (Denmark)
The youthful-looking 25-year-old Reiley almost got disqualified from the competition after news emerged he'd first performed the effervescent, falsetto-voiced "Breaking My Heart" at a South Korean festival outside the official Eurovision window. Thankfully, the competition's first ever Faroe Islander was allowed to retain his place and potentially kick off the second semi-final in style. Combining the auto-tuned theatrics of Imogen Heap with the confessional pop of Troye Sivan, this sweetly sung relationship tale is the track most likely to win TikTokers' votes. Indeed, don't be surprised to hear this playing over the animated doodles in the forthcoming second season of Heartstopper.
11. "Aijā," Sudden Lights (Latvia)
Riga quartet Sudden Lights apparently wrote their Eurovision entry as a lullaby designed to distract listeners from the horrors of the world. It's therefore surprising to hear that "Aijā" isn't a gentle folk-pop ditty but a twitchy, time-signature-shifting affair which borrows from Kid A era Radiohead, the anthemic indie rock of Biffy Clyro, and the soaring prog-pop of Muse. Maybe "lullaby" means something different in Latvia? "Aijā" may be just a little too idiosyncratic to connect after just one listen, but it's yet further proof Eurovision has now transcended its super-kitschy roots.
10. "Queen of Kings," Alessandra Mele (Norway)
Having previously sent an anonymous wolf-masked duo with a comedy song about bananas, Norway revert to more traditional Eurovision fare for 2023: an unashamedly OTT female-fronted dance-pop anthem. Performed by Alessandra Mele, a finalist on the country's most recent season of what else but The Voice, the propulsive "Queen of Kings" possesses a similar tribal quality to Ruslana's 2004 winner "Wild Horses." Indeed, if Xena: Warrior Princess ever gets the reboot treatment, then it already has a theme tune in waiting. But while it will easily qualify, it may get lost alongside the other Scandi big hitters at the main event.
9. "Unicorn," Noa Kirel (Israel)
Noa Kirel is no doubt chomping at the bit to get on the Eurovision stage: She was first announced as Israel's performer last July. At least that's given the multiple–MTV Europe Music Award winner some time to nail her entry's whirlwind of styles. Sharing a co-writer with 2018 winner Netta's "Toy," "Unicorn" lurches from dramatic neo-classical and playful tropical pop to thumping Eurohouse and frenetic K-pop over the course of three energetic minutes. It should sound exhausting, but somehow the whole thing hangs together well, with Kirel even finding the time to introduce a new word ("femininal") into the Eurovision lexicon.
8. "Carpe Diem," Joker Out (Slovenia)
Angular guitars, indie-disco beats, deliberately disheveled haircuts. Joker Out have such a Meet Me in the Bathroom vibe, it's a surprise to learn they were barely out of diapers when the early '00s NYC scene was in full swing. In a year packed full of dance-pop bangers, the five-piece's traditional guitar-band setup will undoubtedly stand out. They've already attracted the attention of Elvis Costello, recently collaborating with the new-wave icon on a track called, erm, "New Wave." In fact, you wouldn't bet against "Carpe Diem" returning Slovenia to the Top 10 for the first time since 2001.
7. "Dance (Our Own Party)," The Busker (Malta)
With only one Top 10 finish over the last decade, Malta have mixed things up for 2023, sending a male-fronted act for the first time in ten years. The Busker's moniker would suggest they've gone down the earnest acoustic troubadour route. But "Dance (Our Own Party)" is instead a joyous funk-pop affair complete with knowingly ridiculous rhymes ("I feel better, in my sweater / Gaga Radio, is this a song you know") and a sax hook that would make Kenny G proud. It won't give Malta their first-ever win, but it's undoubtedly this year's most obvious party-starter.
6. "I Wrote a Song," Mae Muller (United Kingdom)
After two decades of hurt, the United Kingdom finally restored some Eurovision pride last year with Labrador-in-human-form Sam Ryder's throwback to the classic rock of Queen and Elton John. Instead of looking to their rich musical heritage, the hosts have this year adopted a more Gen Z approach. In fact, the Dua Lipa–esque dance-pop of "I Wrote a Song" sounds like it was tailor-made to start a TikTok craze. Mae Muller, who's already scored a "Hot 100" hit with Neikid and Polo G, appears to be the perfect foil, too, her spoken-word middle eight treading that fine line between camp and cringe.
5. "Samo mi se spava," Luke Black (Serbia)
The man born Luka Ivanović adopted his showbiz surname to represent the 40 days of mourning he underwent over the apparent "death of the Serbian music scene." You won't be surprised, therefore, to hear that "Samo mi se spava" is positively dripping in melodrama. The brooding electro number was inspired by the alienation Black experienced during the pandemic, which perhaps explains the "Wake up, sheeple" sentiment and the elaborate staging in which he battles a giant robot controlling everyone's dreams. It's a Eurovision-meets-anime spectacle not a million miles away from Grimes at her commercial best.
4. "Évidemment," La Zarra (France)
Canadians can enjoy a taste of what's to come, having just learned that they'll be getting their own Eurovision. The artist born Fatima-Zahra Hafdi will no doubt be hoping to follow in the footsteps of fellow Quebecer Celine Dion, who won the contest for Switzerland when she was just 20 back in 1988. She's certainly got the confidence, vocal abilities, and stage presence required, while the slinky Gallic disco-pop of "Évidemment" is far more universal than France's usual, resolutely French fare. La Zarra's adopted nation finished second in 2021 and then second from bottom in 2022, but expect this to place closer to the former.
3. "Cha Cha Cha," Käärijä (Finland)
The act most likely to get Fox News viewers foaming at the mouth, Käärijä won the Finnish selection sporting an luminous-green, chest-exposing, latex-padded bolero jacket while harnessing a ballroom troupe in a routine that sat somewhere between the nightclubs of Berlin and Dancing With the Stars. So far, so Sam Smith. But whereas the latter's sound rarely correlates with their new outlandish aesthetic, "Cha Cha Cha" is a relentless techno thumper every bit as arresting as its singer's pudding-bowl haircut. While the juries are unlikely to reward such a melody-free entry, the televote could see this challenge for the top.
2. "Who the Hell Is Edgar?," Teya and Salena (Austria)
It's the most pressing question of this year's Eurovision. Who the hell is Edgar? Luckily, as the chants of "Poe" suggest, we soon learn the ghost that's suddenly possessed this year's Austrian entrants belongs to one of the literary world's most macabre minds. Teya and Salena's thumping Eurodance should be the sort of gimmicky nonsense that only really works in the confines of Eurovision. But there's also substance to their deadpan style, with the pair sneaking in a clever anti-Spotify protest ("Zero, dot, zero, zero, three / Give me two years, and your dinner will be free") in among all the operatic wails and David Brent–esque moves.
1. "Tattoo," Loreen (Sweden)
Returning to the contest 11 years after triumphing with all-time great "Euphoria," former Swedish Idol finalist Loreen is now aiming to join Ireland's Johnny Logan in the extremely exclusive club of two-time victors. According to the bookmakers, every other nation might as well not bother turning up. "Tattoo," a dramatic blend of strobing synths, sweeping Middle Eastern strings, and thunderous beats, does indeed sound like an instant runaway winner. And the staging, which essentially sandwiches the thick-fringed singer between two giant, slowly rising LED screens, only heightens the "wow" factor. Eurovision fans should perhaps already start planning their trips to Stockholm for 2024.