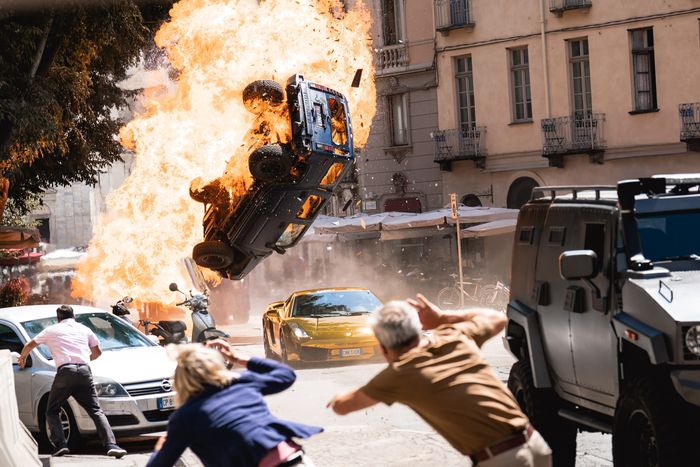 How will our friends get out of this scrape?!
Photo: Giulia Parmigiani/Universal Pictures
Warning: This post spoils many plot details of Fast X.
Fast X is the franchise's first movie to stop with a daunting cliffhanger, but it stays true to the series' tradition of ending with a barbecue. Only it's Dom Toretto's family who is on the grill, engulfed in balls of fire, some of them (or at least one) finally vanquished by science.
Jason Momoa's fun-loving and flamboyant villain, Dante Reyes, just wants to watch the Toretto family burn. He enacts his calculated vengeance, splitting them up after framing the clan as Vatican-bombing terrorists. Roman (Tyrese Gibson), Tej (Chris "Ludacris" Bridges), Ramsey (Nathalie Emmanuel), and Han (Sung Kang) flee to London, where they get some supplies from Han's would-be killer, Shaw (Jason Statham), before he leaves to protect his mum, Queenie (Helen Mirren). Letty (Michelle Rodriguez) is now imprisoned at a black-ops site, later revealed to be in Antarctica, but maybe she can get help from Brie Larson's Tess (who works for the secret world-order group the Agency) and a former family enemy, Cipher (Charlize Theron). Meanwhile, former F9: The Fast Saga villain and spiritually healed Uncle Jakob (John Cena) travels to a safe house in Portugal with Dom's kid, Little Brian (Leo Abelo Perry).
There is one reunion at this installment's end, and it's between Dom and his son. After teaching him to lean into fear, he baptizes Little Brian in the fires of his heroism, dodging two colliding 18-wheeler gas trucks (orchestrated by Dante) by driving down the side of a dam being chewed up by a colossal explosion. The car then lands in the water below, and we see Dom and Little Brian swim out. Although Dante is then seen exploding the dam, there's just no way this is the end for either Dom or Little Brian. Fast X is a film made for Vin Diesel, and Little Brian has basically been prepped since birth to one day take the wheel. Don't be surprised if we see them in the next film dodging debris by using a car door.
The Portugal showdown also proves to be a trap for Roman, Tej, Ramsey, and Han, who are inbound on a plane borrowed from Shaw and hope to reunite with Dom at the safe house. Once the quartet gets close to landing and is able to get a radio signal through to Dom, it's too late to heed his warning to turn back. Aimes (Alan Ritchson), who until now has been helping transport Dom and his car to face Dante, fires a rocket from a mountainside and shoots down the plane with Roman & Co. inside. Turns out Aimes's disses to Agency co-worker Tess about the family ("It's like a cult!") weren't said with love, and he has been working with Dante since the beginning.
But what we do and don't see at this moment is important. We only really see Roman react to the plane's impending crash. And usually when Roman freaks out (such as when he previously launched into space, for example), it's followed with a punch line. In F9: The Fast Saga, a lot of those lines were self-aware quips about his, Tej's, and Ramsey's apparent immortality. The plane explosion plays out like we're being primed for more Roman-grade comic relief, except this time there's a two-year wait between the setup and payoff (at least — studios, pay your writers).
Fast X also plays this moment slyly by only showing us the damaged plane going around the corner of a mountain and a cloud of smoke over Aimes's shoulder. But the Fast franchise's established physical logic (or lack of it) gives us reason to believe our four heroes likely escaped and survived. They could have jumped out of the plane in their cars, for example, as Dom did earlier in Fast X. Or, better yet, cars with parachutes, as many of them did at the beginning of Furious 7. And there's no way they'd kill Han yet again after resurrecting him only one movie ago, after his earlier assumed death in Fast & Furious 6.
That these guys will likely survive is bad news for Jakob, who is probably toast after sacrificing himself and his cannon-car to explosively thwart some bad guys. His final moments in Fast X, a farewell to brother Dom before tumbling into a fiery mess in slow motion, affirm that. If we look at this film as the first in a potential trilogy, essentially a table setter, then it needs to clear some space. The easiest sacrifice for this franchise would be to off its most recent villain, who has now paid his dues by making amends and spending time babysitting Little Brian. And with the mid-credits re-introduction of Dwayne Johnson's Hobbs at the end of Fast X, it's easy to see Cena being swapped back out for another burly teddy-bear type.
But apart from the franchise's physical rules, there is also its emotional logic to consider. The series is too sentimental to so unceremoniously push Han, Roman, Tej, and Ramsey off the stage. And because family is forever, these movies would always rather say "See you again" to their seemingly dead characters, as they did with Han and again when Letty was resurrected in Fast & Furious 6. Fast X honors that tradition: Right before the film's credits, we learn that Gisele (Gal Gadot), as she shows up to rescue Cipher and Letty, actually survived the events of Fast & Furious 6. Naturally, Gisele is commandeering a submarine, a possible callback to the finale of The Fate of the Furious. How quickly can a submarine travel from Antarctica to Portugal? We might just find out.
Thanks to Ramsey's hacking, we also get a glimpse at others targeted by Dante: Queenie, Rico Santos (Don Omar), Leo (Tego Calderon), and Monica Fuentes (Eva Mendes), all familiar faces from past Fast installments. And there are even more action figures who could emerge from the series' toy box, like Han's ass-kicking prodigy, Elle (Anna Sawai), or Cardi B's lead agent, Leysa, both introduced in F9: The Fast Saga and nowhere to be seen here. Hell, even Jesse from The Fast and the Furious could come back. The Toretto cause will need all the help it can get against the shadowy assassins who have offered to hunt down Dom's family.
As of now, the IMDb page for Fast X: Part 2 (please, please, Vin Diesel, keep that title) is blank with cast information. And in interviews, director Louis Leterrier has teased the "hard, harsh decisions" he and the team have made about which characters survive. Still, expect a whole lot more fiery reunions than funerals in the next two installments.