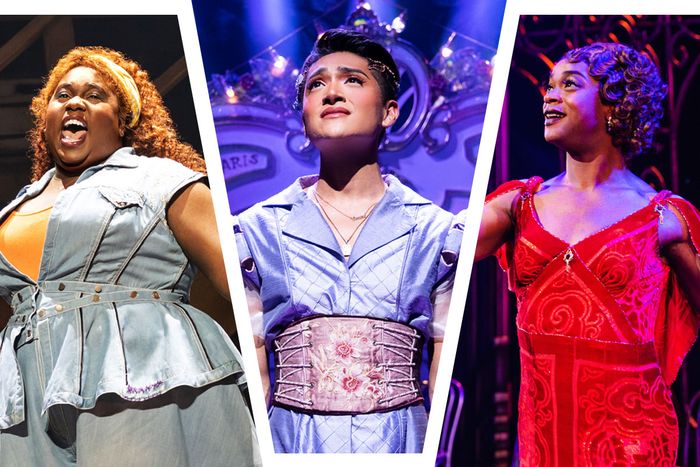 Alex Newell in
Shucked,
Justin David Sullivan in
& Juliet
, and J. Harrison Ghee in
Some Like It Hot
.
Photo-Illustration: Vulture. Photos: Mathew Murphy & Evan Zimmerman; Marc J. Franklin
The Tony Award nominees announcement come out this morning, and, as they have been 75 times before, performers' categories will be divided by gender: Actors compete against actors, actresses against actresses. Less prestigious shows like the Independent Spirit Awards have done away with those categories, but in the Triple Crown of Acting (Emmys, Oscars, Tonys), the binary endures. In total, there are eight performing categories (four each in musicals and plays: Lead Actor, Lead Actress, Supporting Actor, and Supporting Actress). This year, the fact that these categories do not encompass the full Broadway community has been laid bare as three nonbinary actors were forced to make choices that they never should have been asked to, because the performance categories should not be gendered.
The nonbinary actor Alex Newell, who is starring in Shucked, is up for Supporting Actor in a Musical. J. Harrison Ghee of Some Like It Hot is competing as a Leading Actor in a Musical. Justin David Sullivan, from & Juliet, elected not to put themselves up for a nomination at all, saying that they'd have to deny their gender to do so.
Other theater honors have, like the Spirit Awards, already chucked out the binary, in at least one case long ago. The Distinguished Performance Award at the Drama League Awards has been gender-neutral from its beginning in 1935, and this year the Drama Desk Awards opted for gender-neutral performance categories for the first time. The precedent has already been set.
There are, admittedly, legitimate concerns about equity if the categories are combined. Because quite a lot of canonical plays are male-dominated, it's easy to imagine, for example, a year when men sweep the acting categories. (The Drama League Awards have ended up with a significant imbalance, in which women have won eight times since 2000.) There's still reason to hope that this won't happen, given that the Drama Desk nominations, newly genderless, were pretty equitably distributed this year (Newell and Ghee were both nominated). But what matters even more is that upholding a gendered system is not a solution to a problem with gender systems — it's a Band-Aid. The systemic issues causing the theater-making system to be male-dominated are the same ones not wanting to acknowledge nonbinary existence. We shouldn't capitulate to one part of the patriarchy in order to uphold one current solution.
What nobody wants to do is just declare a Best Performance and cut the number of acting awards in half, a worry that has come up when the topic of genderless awards has been broached with actors previously. But that doesn't have to be an issue. The Tonys, alone among the major awards, are in the unique position of being able to use gender-neutral categories to solve two problems rather than just one. Today, although Best Musical and Best Revival of a Musical are separate, the actors in those shows compete directly against one other. Same for Best Play and Best Revival of a Play. But the job of creating a new role on Broadway and the job of reinterpreting an already established one are different. This season, for example, Annaleigh Ashford (Mrs. Lovett in Sweeney Todd) will likely be up against Victoria Clark (Kimberly in Kimberly Akimbo), but their challenges were completely different. Ashford had the job of both creating a singularly Ashfordian version of Mrs. Lovett in the shadow of Angela Lansbury and Patti LuPone, whose performances linger in the cultural memory of tens of thousands of theatergoers. Clark had to originate the musical version of Kimberly, a teenager suffering from a disease that causes her to age several times faster than average. Putting them head-to-head not because of their jobs but because of their gender is backward thinking, and it doesn't reflect contemporary Broadway's heavy dependence on revivals. Yes, there's the potential problem of not enough contenders if there are only a few shows in one category in a given year (the list of play revivals, for example, is sometimes thin), but the Tonys have dealt with various production droughts in the past, and it worked out okay. Awards are inherently unfair. Some years have stronger competition than others, sometimes someone wins not for a performance but for a career-long body of work, and the taste of the voters can be all over the place. Still, if the goal is to preserve some version of a meritocracy, it's time to think about prioritizing the nature of the work over the gender of the performers.
"There's a kid in the middle of nowhere who's sitting there living for Tony performances," Neil Patrick Harris sang in "Bigger," the opening number of the 2013 Tony Awards. "I might reassure that kid, and do something to spur that kid," he continued, "'cause I promise you all of us up here tonight, we were that kid." That moment, the climax of the biggest and best opener the show ever had, has long been a guiding principle for the Tony Awards as a whole. Yes, the Tonys are sealed off by their very nature (theater is local, but not everyone can get to New York, and it's expensive when you do) but they're often uniquely inspirational, because they are a rare national moment of connection for the widespread community of theater kids — many of whom are queer and isolated. In 2023, it's anachronistic that the Tonys continue to believe that they honestly speak to the same kids Harris talked to a decade ago. He claimed to want to "reassure that kid," but it's high time that the Tonys acknowledge that "kid" is a gender-neutral term.