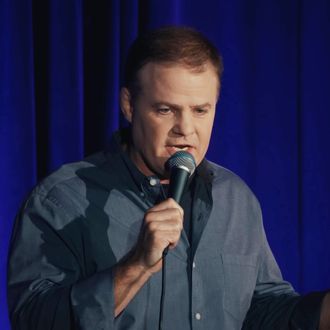 He knows his peanut butter.
Photo: Nateland Entertainment
No comedian has ever earned the right to make a joke about peanut allergies quite like Greg Warren. In his new YouTube special, The Salesman, the comedian calls a hypothetical kid with a peanut allergy a "faker" — territory so cliché that even the special's director and executive producer, Nate Bargatze, has done stand-up mocking it. You'd be forgiven for assuming Warren, a veteran comedian who's appeared on Late Night With Seth Meyers and The Late Late Show With Craig Ferguson, takes the obvious route to get to this punch line. But as he explains in the special, he's not someone's out-of-touch uncle complaining that peanut allergies are a modern affliction of a soft generation. He's a former Procter & Gamble employee who spent ten years selling Jif peanut butter, and he remains devoted to the product.
This is the central theme of The Salesman, shot in Lexington, Kentucky, the home of Jif's production plant. (Despite appearances to the contrary, this special is not Jif spon-con.) Warren showcases his continued loyalty to the brand early on, roasting rival peanut-butter company Peter Pan like it's the guest of honor at the Friars Club. "Their mascot is a boy who refused to grow up," he says. "Maybe he couldn't grow up because he was malnourished — because he was eating that garbage peanut butter named after a cartoon character!" He pauses for a moment before continuing, "Listen, I'm going to talk a lot about peanut butter." It's not an exaggeration. Warren has jokes about everything from the layer of oil in organic peanut butter to the experimental peanut-butter flavors he dislikes to the differences between crunchy and creamy. "I always felt guilty because we charged the same for crunchy as we did for creamy," he says. "The crunchy — we didn't finish making that! The crunchy guys are probably getting off work at noon, and the creamy guys are still smashing up peanuts at 5:30. The savings should have been passed on to you!" Just when it seems like he's about to run out of steam, he assures the audience he'll return to the subject later.
After a detour about his journey into stand-up and experiences with holistic medicine, Warren makes good on this promise. He begins doing crowd work, asking people in the audience what kind of peanut butter they eat at home, with jokes at the ready for each response. "Ma'am, you have COVID," he tells one audience member who volunteers that she likes the taste of Skippy. When someone says they simply don't eat peanut butter, his peanut-butter-obsessed brain can't abide it. He begins listing off a series of "excuses" people sometimes offer to rationalize this decision. "'My son has a peanut allergy, we don't keep it in the house,'" he mocks. "Well, we did a lot of research at Procter & Gamble, and we found out that your son is a faker!"
The Salesman is the product of a comedian who spent a decade in the peanut-butter trenches, thinking of original angles and deepening his observations. And as Warren explains in the special's final peanut-butter joke, he considers this level of dedication a must. "Remember when Reese's all of a sudden said, 'We're a peanut butter'?" he laments. "I'm sure they were thinking, We're a candy bar with peanut butter as a main ingredient, how hard could it be to be just peanut butter? Real hard, Reese's! You gotta find out what it's like to stand on your own. You don't have chocolate to hide behind over here! We're not playing trick-or-treat games, we are feeding families in this aisle! Just be a candy! That's what you are! You don't see Ring Pop trying to get in the jewelry business." You know the old adage "Write what you know"? The Salesman is that in a nutshell. (Sorry.)