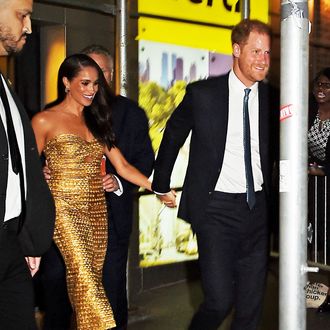 Prince Harry and Meghan Markle.
Photo: MEGA/GC Images
Meghan Markle and Prince Harry have accused the paparazzi of dangerously pursuing them in Manhattan on the evening of May 16, involving the estranged Duke and Duchess in a "highly aggressive" and "near catastrophic" car chase, according to a spokesperson for the prince, multiple outlets report. Riding together with Markle's mother, Doria Ragland, their encounter with the paparazzi "resulted in multiple near collisions involving other drivers on the road, pedestrians, and two NYPD officers," the statement read, adding that their alleged pursuers drove on the sidewalk and ran two red lights while they tailed them for two hours. "While being a public figure comes with a level of interest from the public, it should never come at the cost of anyone's safety." That evening, the pair made an appearance at the Ziegfeld Ballroom for the Ms. Foundation's annual gala, where Markle received their Women of Vision Award presented by founder and feminist leader Gloria Steinem. As for the photos taken during the chase, the couple's spokesperson asked people not to share the images. "Dissemination of these images, given the ways in which they were obtained, encourages a highly intrusive practice that is dangerous to all in involved," the statement finishes.