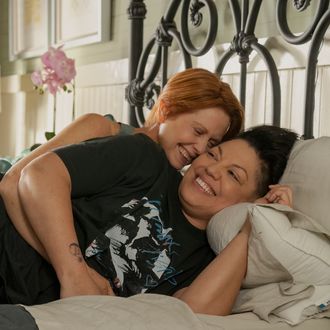 Get yourself some Che.
Photo: Craig Blankenhorn/HBO
The era of "Netflix and chill" is gone. It's Max's time to shine, baby! And in the early days of the Warner Bros. Discovery collaboration, the brilliant team at the streamer formerly known as HBO Max wants your attention not on to the programs rapidly disappearing off the platform or the writers demanding a fair contract but something that really matters: which WBD property you want as your profile picture on the app. On May 23, the streamer fully shifts to Max-dom, and with it comes "an expanded list of profile avatars, allowing users to customize their profiles by choosing from a collection of more than 350 beloved characters from iconic programming."
Some people might think this is stupid and pointless. And it is! But, speaking as somebody who has gotten compliments on their "Jennifer Lopez in Marry Me" profile picture on Peacock, the character a person chooses could indicate a lot about their personality (or lack thereof). So if you're going to "Max and mingle" or whatever you call it these days, watch carefully to see which profile your mysterious Hinge match chooses. Here are the red-flag profile pictures to watch out for. (And, for the record, green flags include Connor Roy, Ted Allen, Beast Boy, and anything from Aqua Teen Hunger Force.)
Property Brothers (either one): Maybe not an entire red flag, but they will only do missionary and work in real estate, which is so incredibly boring that it counts. 🚩
Steven Universe: If they're above the age of 19, I hate to say it, but red flag. 🚩
Dr. Melfi (The Sopranos): Mommy kink! 🚩 (Unless that's your thing, which, rock on.)
Anything from TLC: The shows and characters available for profile-dom include four separate iterations of 90 Day Fiancé, Dr. Pimple Popper, a woman from Sister Wives, and something called The Family Chantel. If there were MILF Manor pictures available, maybe this would bear more good will (I would love an April Jayne flick), but if you choose this over, say, the entire Hayao Miyazaki catalogue, it really evokes some questions about the type of content your friend, lover, or college roommate who shares your account identifies with. 🚩🚩
Portia (White Lotus season two): I went back and forth for a while trying to figure out which White Lotus season-two character is objectively the worst. (The Di Grasso men are definitely up there too.) 🚩🚩
Kendall Roy (Succession): Are you emotionally prepared for a water sign in your life? Mansplaining is imminent. 🚩🚩
Roman Roy (Succession): This person either has an "UWU babygwirl" type connection with Roman or agrees with his terrible stances. Either way, not good! 🚩🚩🚩
Lawrence (Insecure): Imagine sitting on someone's couch about to "Max and chill," and they pull up their account and the profile picture is Lawrence.
🚩🚩🚩🚩
Pickle Rick (Rick and Morty): 🚩 🚩 🚩 🚩 🚩
Che Diaz (And Just Like That …): A red flag for some. But for others, all systems go!