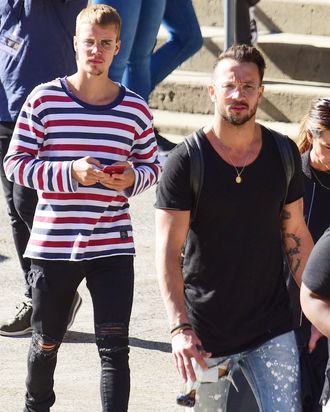 Hillsong Church was once known as a place where A-listers went to say "Amen." But in the wake of multiple scandals involving church leaders and controversy over some of its beliefs, the global megachurch is no longer a favorite among celebrities — in fact, stars like Justin Bieber and Chris Pratt have felt it necessary to publicly clarify that they do not associate with Hillsong. FX's four-part docuseries, The Secrets of Hillsong, out now, explores the ways that the Christian church allegedly covered up misconduct, fostered an abusive and discriminatory environment both inside and outside the services, and more. Infamous leather-jacket-wearing pastor Carl Lentz is one of the many interviewees in the documentary, which expands on reporting from a 2021 Vanity Fair exposé. Here's a guide to what you need to know about Hillsong, its scandals, and its most faithful followers.
So what is Hillsong Church?


Founded in 1983 in Australia, Hillsong grew to become a megachurch with locations in 30 countries. The New York Times once described Hillsong as the "leading edge of cool Christianity." Services are known for feeling like a mix of a sermon and a pop concert — you may be familiar with their hit worship songs like "Shout to the Lord," "Oceans (Where Feet May Fail)," and the Grammy-winning "What a Beautiful Name." Lentz, former pastor for Hillsong NYC, wore brands like Gucci and Supreme while speaking to packed congregations. Famous attendees could reportedly reserve their spots in a special section. "People say we cater to celebrities," Lentz told GQ in 2015. "And I say, yes, we do. Celebrities deserve a relationship with God. Celebrities deserve a place to pray." The church's site states that globally, an average of 150,000 people attend every week. However, the Hillsong press office clarified to the Times that the number is a pre-pandemic estimate. It's possible that the figure has dropped, given that many locations have since closed — while the church once had 16 locations in the U.S., its site currently only lists six.
How did it become so controversial?
In November 2020, Lentz was fired for "leadership issues and breaches of trust, plus a recent revelation of moral failures." Lentz, who was arguably Hillsong's most famous American pastor, has confessed that he had cheated on his wife, Laura, with their family's former nanny, Leona Kimes (though he has denied her allegations of sexual abuse and since claimed that he was sexually abused as a child). He joins a list of Hillsong pastors that have resigned or been fired following accusations of sexually abusing young boys, concealing said abuse, breaching the church's moral code, engaging in extramarital affairs, sexually abusing or raping women, bullying, evading taxes, and using church donations to fund lavish personal lifestyles. The FX documentary also includes allegations of racial discrimination within the church from several Black women, as well as reporting about allegedly exploitative treatment of volunteers.
Hillsong has additionally faced criticism for some of its conservative attitudes. According to the Daily Beast, LGBTQ+ congregants were allegedly referred to conversion therapy for years until the church distanced itself from the practice in 2011. Former Hillsong pastor Brian Houston stated in 2015 that gay people cannot take active leadership roles, noting that the church welcomes everyone to attend but does not "affirm all lifestyles." Lentz previously called abortion "sinful."
Which celebs have been linked to Hillsong over the years?
Justin Bieber was famously close with Lentz, even briefly moving in with the pastor in 2014. Lentz also baptized Bieber, who, for his part, did a lot to raise the star power of Hillsong: Bieber attended the church with his ex Selena Gomez, rumored ex Hailee Steinfeld, and wife Hailey Baldwin Bieber. Per People, other celebs who have attended Hillsong services include Vanessa Hudgens, Austin Butler, Nick Jonas, Bono, Kevin Durant, Tyson Chandler, and Kyrie Irving. Several members of the Kardashian-Jenner family also have history with the church: Kendall, Kylie, and Kourtney reportedly were all spotted at services. Kim Kardashian and Ye's wedding was officiated by a pastor who, while not part of Hillsong, was described as a "great friend of our church family." According to a previous Discovery+ docuseries, Jay-Z, Oprah Winfrey, Hugh Jackman, and Lenny Kravitz were also part of Hillsong's famous flock.
Wait, didn't Chris Pratt also go to Hillsong?
Pratt has denied this, despite Entertainment Tonight's 2017 report that the actor attended a Hillsong service after his divorce from Anna Faris. After Pratt discussed his religious beliefs on The Late Show With Stephen Colbert in 2019, Elliot Page tweeted, "Oh. K. Um. But his church is infamously anti lgbtq so maybe address that too?" Pratt responded on Instagram that the church he attends opens its doors to all, but did not actually name the church in the post. In 2022, Pratt told Men's Health that he has never been to Hillsong and doesn't know "anyone from that church." He instead confirmed that he attends Zoe Church in Los Angeles, though not exclusively. The megachurch was founded by Chad Veach, a pastor who previously spoke at Hillsong conferences. According to Men's Health, Veach executive produced a 2017 film that "equated 'sexual brokenness' with 'same-sex attraction.'" Veach also told the New York Times in 2018 that he modeled the youth-oriented megachurch in part after Hillsong.
Are celebs avoiding Hillsong now?
It looks like it, because we're no longer getting frequent paparazzi shots of celebs on their way to Hillsong churches. It's still difficult to guarantee that the scandals have stopped any stars from attending, since it's possible that they could just be ducking cameras. Justin Bieber, at least, definitely seems to have moved on. TMZ reports that he and Lentz had a falling out in 2018, two years before the Hillsong pastor was fired for a "revelation of moral failures." In January 2021, Bieber confirmed on Instagram that he attends the megachurch Churchome. But Churchome still has its connection to Hillsong. It was reportedly one of dozens of churches that paid to be part of the Hillsong Family, though Churchome told Christian Post it cut ties after Hillsong pastor Brian Houston resigned in March 2022.
According to Yahoo, Bieber declined to be interviewed for The Secrets of Hillsong. "We certainly reached out to [former celebrity members] and I think you can kind of understand why they didn't want to talk in regards to this because they, too, felt like they were victims as well, you know?" Stacy Lee, who directed the docuseries, said. "[Justin] so publicly was affiliated with Carl and I think there's a sense personally for, you know, anyone who's placed a lot of trust publicly in someone — when that person falls I don't think it can necessarily reflect positively on your own decisions for being associated with them."
What happened to Carl Lentz?
Lentz, meanwhile, celebrated his 20th wedding anniversary with his wife this month. His family relocated to Florida due to the increased press attention from his 2020 scandal, and the documentary shows him working a desk job at an advertising company. In March 2023, Transformation Church's executive pastor confirmed that Lentz had accepted a position as a strategist for the predominantly Black church located in Tulsa, Oklahoma. Lentz added on Instagram that his role is to provide "perspective and insight," and that he is not preaching or "overseeing people." In the FX documentary, he criticized Hillsong's leadership for the way it has handled other controversies involving leadership. "Most of the time, it serves everybody to push everything down. You just push it as far under the rug as you can," he said. "We choose narrative over truth and that leads to absolute disaster, because the truth doesn't go anywhere just because you cover it up."