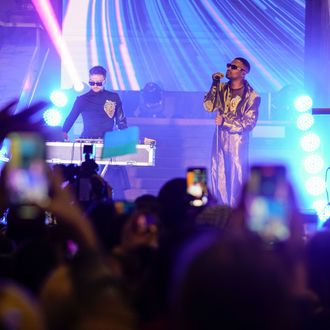 Andrii Hutsuliak and Jeffrey Kenny of Tvorchi, who will represent Ukraine at Eurovision.
Photo: Global Images Ukraine via Getty Images
It's that time of year again: the Eurovision Song Contest. The semifinals of the nearly-seven-decade program of music, dance, and spellbinding showmanship begin next Tuesday at Liverpool Arena in the U.K., where entrants from 37 countries will compete to see who can deliver the most showstopping performance. Will we see anything as powerful as Montenegro's Slavko Kalezić's 2017 rendition of "Space"? As defiantly metallic as Finland's Pertti Kurikan Nimipäivät playing "Aina Mun Pitää" in 2015? That we don't know; anything can happen at Eurovision, from dancing in some of the most blindingly reflective materials known to man to posting letters onstage that spell out genitalia in front of a live, international audience.
What we do know is that this year's many performances will have a lot to live up to and promise to be comparably nuts. You'll be able to watch whether you're in Europe or in the United States: This year's Eurovision Song Contest semifinals and final will air live on Peacock Premium. (Peacock Premium, by the way, costs $5 per month if you're not already a subscriber.) Here's the schedule:
• First Semifinal: Tuesday, May 9, at 3 p.m. ET/noon PT:
• Second Semifinal: Thursday, May 11, at 3 p.m. ET/noon PT
• Grand Final: Saturday, May 13, at 3 p.m. ET/noon PT
If you'd like to prepare, check out the supercut below of this year's entries, including performers from the U.K. and Ukraine, or read up on the show's most memorable performances. Some of them may or may not involve doing coke on live TV.