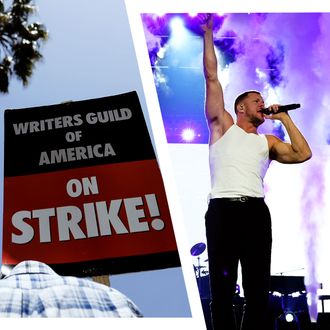 The writers' strike is becoming… radioactive.
Photo: Illustration: Vulture. Photos: Getty Images
A new ally has entered the dragon's den. The band from every baseball game ever, Imagine Dragons, shared their support for the WGA writers' strike on Tuesday when front man Dan Reynolds joined the picket line performed a concert at the picket line outside of the Netflix HQ in Hollywood. Clips from picketers began circulating online of Reynolds and the band's guitarist, Daniel Wayne Sermon, standing on a green bench with a microphone, ready to perform for the crowd. They performed four songs — "Believer," "Radioactive," "Enemy," and "Whatever It Takes" — for the writers who have been on strike for a week and a half. "I never realized that these songs are all so appropriate," Reynolds joked during the set. During the band's time on the picket lines they let the music do the talking, but once the performance was over, Reynolds explained why they came out to support. "[Writers] deserve to be compensated, so we just wanted to support the cause," Reynolds told actor Atif Hashwi when asked what motivated them to perform. Vulture has reached out to Imagine Dragons' reps for comment, but in the meantime, they are here doing whatever it takes to support their fellow artists.