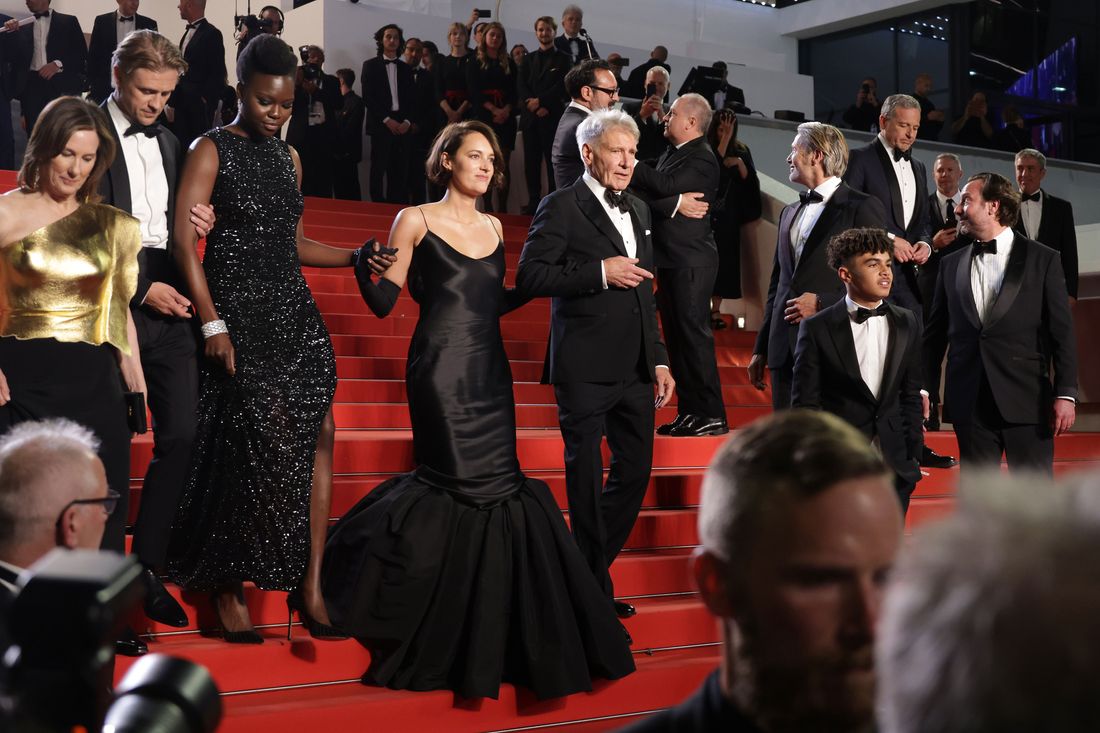 The cast of
Indiana Jones and the Dial of Destiny
at the film's Cannes premiere.
Photo: Pascal Le Segretain/Getty Images
If the act of getting into Cannes parties were a video game (nobody do this), here's how the levels might break down in order of sheer difficulty: level one, fest-sponsored happy hours and lunches open to anyone with a press badge; level two, beach parties hosted by various alcohol sponsors, smaller films playing at the fest, and trades; level three, hotel and/or beach parties hosted by distributors like Mubi, A24, etc.; level four, hotel and/or beach parties hosted by Hollywood-movie-starry films playing at the fest; level five, annual or biannual celeb-studded events at extra-bougie venues, like the Vanity Fair party and the Kering Women in Motion dinner; level six, private, esoteric villa parties located somewhere up in the hills overlooking Cannes; level seven, yacht parties. I've only ever made it as far as level six — last year, I was invited on a yacht, but moments before I was due to embark upon it, it was suddenly and mysteriously illegal for it to dock (I can't expand further on French yacht law).
This year, I spent several evenings vacillating between levels three (where you see your friends and colleagues and actually have fun), four (where Harrison Ford looks you in the face, very briefly, before a security guard asks what you are doing in VIP), and five and six (where the French people at the door Pretty Woman you until you show them the inexplicably large physical invitation you had to walk 30 minutes to pick up earlier that day and then had to carry around in your hands all afternoon because it's too big to fit in a purse — an act of purposeful debasement designed to test both your willingness and your loyalty as a future party attendee).
My first party was Mubi x the Match Factory at Plage 3.14 (level three), where I immediately got into the long line to pee and witnessed a delightful exchange between our country's two foremost John C.'s: Reilly, who is on the Cannes jury, and Cameron Mitchell, who is leading the Queer Palm jury. "John?" said John C. Reilly, reaching out to shake John Cameron Mitchell's hand. "Hi. John Reilly. We haven't met before, but you know lots of friends of mine. Jane Adams, Jennifer Jason Leigh?" Mitchell asked Reilly which films he'd liked, and Reilly replied, not unkindly, "I'm on the jury, so I can't say." When Mitchell went into the bathroom, I felt the need to fill a silence being experienced only by me. I told Reilly I liked his jaunty chapeau. He looked startled by my presence and expressed gentle confusion about the co-ed bathroom situation, but when we met back up at the sink, he showed me how to use the faucet, which was a confusing automatic that appeared manual. I also spotted writer-director Davy Chou, hugged the lovely auteur Isabel Sandoval, and left early because I was due a few steps down the Croisette at the Indiana Jones and the Dial of Destiny party (level four).
Fascinatingly, I was not granted access to the premiere of Indiana Jones, but I was invited to the after-party, a situation that implied a fresh and existentially complex Cannes side level that I have not yet assigned a number. The line ran down the block, and so did the crowd of French people shrieking "Harrison!!!" When I finally got in, I spotted a person I knew, and we decided to see if we could get into the VIP area, where all the big celebrities always hide at these parties so they don't have to, for example, let civilians compliment their hats. We strolled in, faux casually, and immediately found ourselves face to face with Harrison Ford, who looks fantastic for a man of his age and number of plane accidents. Nearby, a pregnant Karlie Kloss chatted cheerfully with Bob Iger, maybe about landing her future child some kind of Disney+ original streaming series. Mads Mikkelson and Martin McDonagh meandered around the room, the latter there to support Phoebe Waller-Bridge, who I hear is in the movie, but it's hard to say for sure because, again, I have not seen it.
The biannual Vanity Fair x Prada party (level five) is an event I dreamed about attending as a young child trying to sound out "Hôtel du Cap-Eden-Roc" while snipping photos of Leonardo DiCaprio from People magazine's coverage for my personal collage wall. Both times I've attended the VF party, it's been pouring rain; this year, there was the added excitement of a looming "avalanche warning." Several superyachts circled the Hôtel du Cap-Eden-Roc (you have to type its name in full every time or the effect is lost), one of which, as I was told by another partygoer in the know, belonged to comic-book supervillain Jeff Bezos — yes, the very same $500 million superyacht adorned with the visage of his lover. "They had to dismantle the bridge in Rotterdam for Bezos's Lauren Sanchez yacht to get through last week," the knowledgeable partygoer explained. This person also told me Bezos's security was "scouting the party" to make sure it was crowded to his liking (crowded enough for people to have to pee in bottles?) before he would disembark from his floating lair. I didn't see him at the party, but he did eventually deem it crowded enough to show up, and, perhaps inspired by the mortal threat of the avalanche warning, he shortly thereafter proposed to Sanchez.
People I did run into included playwright and The Sweet East star Jeremy O. Harris, who told me he was staying in a house with ten people, including The Idol star Rachel Sennott, whom I then ran into in the bathroom, which careful readers will notice is an important thematic constant for me. Harris expounded poetically on how seeing each Cannes film was like getting figuratively fucked in a variety of colorful ways ("It was long and slow, but then at the end, I came," etc.). I also saw Mia Wasikowska, Harris Dickinson, and Diana Silvers. Silvers joked that she'd asked Dickinson, star of last year's Palme d'Or winner, Triangle of Sadness, if seeing Bezos's yacht was traumatizing for him. Pedro Almodóvar's Spanish hunk Manu Rios tore up the dance floor. Looking on throughout the night were The Idol's Sam Levinson, Da'Vine Joy Randolph, and Hank Azaria, plus Alexa Chung, Storm Reid, Alfie from Emily in Paris, Robert De Niro, and Hari Nef, who told me I would "laugh so hard" when I see who she's playing in The Idol. (She plays a journalist who writes celebrity profiles for Vanity Fair.)
The next night, I went to Kering's Women in Motion gala (level five), a yearly event celebrating women and the various motions thereof, that this year honored Michelle Yeoh. It is hosted by Salma Hayek's billionaire French husband, François-Henri Pinault, at Place de la Castre, a church–museum–historical monument overlooking the city, which you must walk up approximately 1 million steps to reach. As Newton's Law of Women in Motion dictates, a woman in motion remains in motion at constant speed and in a straight line unless acted on by an unbalanced force, e.g., the heels she is forced to wear to walk up a hill to get to the Women in Motion gala and the subsequent French security guards who ask her what the hell she's doing there, does she even have an invitation, Oh, you're holding it there in your hands, okay, fine. When I personally reached the top, one of those French security guards looked at my shoes and applauded me. When I saw him on my way back down the stairs at 1:30 a.m., I asked who exactly he was guarding the stairs for, and he said there were a lot of "important political people" at the party. I asked if he had ever had to fight anyone on the stairs and he said, "Just you," and faux-punched me right above my boob.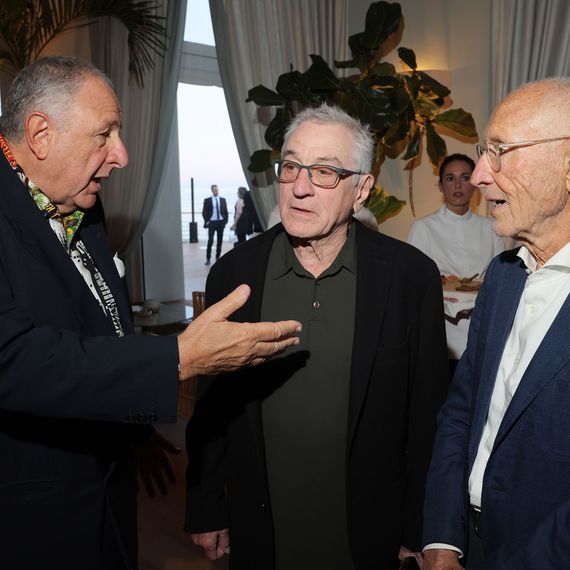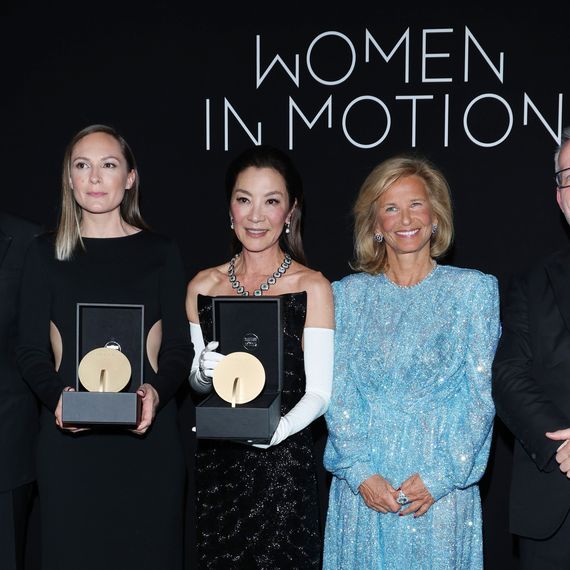 At the cocktail portion of the gala, I bumped into 2021's Palme d'Or winner, the dazzlingly talented writer-director Julia Ducournau, who wore a short black Prada dress and very impressively held a long, thin cigarette wobbling between her lips for many minutes as she spoke. She chatted happily with me about writing her next film but refused to talk about any movies she'd seen at the fest because she too is on the jury. In the leitmotif bathroom line, I saw Charles Melton, who's getting a lot of attention here for his impressive turn as Julianne Moore's much younger husband in Todd Haynes's May December. Carla Bruni and Hayek sauntered in shortly after. Hayek made a little joke to Bruni, of which I only heard the punch line, something about plastic surgery, and the two of them burst out laughing, one of several motions for women previously approved by the gala.
Pinault gave a speech in which he mentioned "Iranian women fighting to defend their democracy," specifically shouting out last year's Best Actress winner, Holy Spider's Zar Amir Ebrahimi. Festival director Thierry Frémaux, who sat himself right next to DiCaprio at dinner, made several references in his speech to how he could not get Leo to be on a Cannes jury, no matter how hard he tried and for how many years. Leo smiled. Yeoh said some lovely words, including a Virginia Woolf quote: "There is no gate, no lock, no bolt that you can set upon the freedom of my mind." I wrote this down as a reminder of how I could go on to anyone's yacht at any time if I really wanted to. Throughout the night, Rossy de Palma, Sylvie from Emily in Paris, and Harris (also Grégory from Emily in Paris), among many others, stopped by Lily Gladstone's table in a steady stream to congratulate her for her genuinely incredible performance in Martin Scorsese's Killers of the Flower Moon. When I spoke to her, she seemed happy but totally exhausted. "I have a thing after this," she said wearily, in near disbelief. "A photo … " It was 1 a.m. She shook my hand and called me Jennifer.
Exactly 24 hours later, I was at the after-party for The Idol (level four), which began at 12:30 a.m. and for which HBO provided post-premiere shuttles from the Palais since its nightclub venue was relatively far from the Croisette. The party was elaborate and intense, its vibe very midtown Manhattan bottle service. A quote from the show — "Hello, angel," which the Weeknd's Tedros unfortunately says to Lily-Rose Depp's Jocelyn when they first hang out — was emblazoned on the front of the Palm Club in neon lights. Inside, a gigantic sign read, "You should be having way more fun," which is another quote from The Idol that felt like a targeted personal insult as I had to spend much of the party sitting in a corner writing about the premiere of The Idol. At the center of the venue, shaped like a gladiatorial gauntlet, the Weeknd stood behind the DJ booth and implored everyone in the crowd, many of whom were indeed filming him DJ-ing on their phones, to get off their phones. Behind him, Depp smoked and danced surrounded by the rest of the cast, and at one point I saw Julia Fox giving Laura Palmer realness in a sheer, plasticky white gown, white makeup, and black lipstick. When I left, someone handed me a record of "Double Fantasy," the Weeknd's song from The Idol that is about something or other.
Before I caught the strep throat that was going around the fest this year and had to retire young from the game, I stopped by my last party, the Airmail x Warner Bros. Discovery bash (level five), which was intriguing due to its backstory: Graydon Carter, now of Airmail but once of Vanity Fair, used to throw the Vanity Fair Cannes party each year to great effect (see: my personal collage board) before he left the magazine in 2017. This new party, it would seem, wasn't not thrown for the purpose of trying to throw a better party than Vanity Fair's. "May the best man or woman win," said Carter when asked about this hyperniche Bravo-core rivalry. "They are doing theirs with Prada, and we're doing ours with Warner Bros. so it will have a different feel to it."
The party's other backstory is just as absurd: Warner Bros. Discovery CEO David Zaslav was co-hosting the lavish event to celebrate Warner Bros.' 100th anniversary, while back in the States, its writers — many of whom are certainly responsible for the movies that were being projected in an hour-long compilation loop directly onto the pool throughout the party — were striking in hopes that they might make enough money to afford to keep writing movies while paying for food and housing. Nobody brought this up at the party in my earshot despite the fact that Zaslav's recent actions (which as of this week include removing individual credits on Max, née HBO Max, née HBO Go, née HBO Now) may soon cause all three unions to strike. I saw Zaslav out of the corner of my eye, darting around like some white-haired phantom, at least ten times, always in conversation with a different but equally famous person.
This party was held at the same place as the Vanity Fair party — Hôtel du Cap-Eden-Roc — and featured many of the same details tweaked just slightly or not at all: the same entryway mirror painted with the publication's logo, the same bartenders, the same passed apps that nobody ate, many of the same guests, the same yachts floating ominously in the near distance. The cumulative effect was surreal, as though no time had passed since the first party, where we had all become trapped for eternity like the oblivious bourgeoisie in The Exterminating Angel, punished for our greed by an angry god and doomed forever to eat small portions of fries with no plates and watch Alessandra Ambrosio take selfies with her friends in the bathroom. Or perhaps that avalanche actually had engulfed us all at the Vanity Fair party and now we were locked together in limbo, waiting for it to become crowded enough that Bezos might disembark from his superyacht and decide which of us was entering heaven or hell.
But no, it couldn't be, because the weather was much better at this party, and probably as a result, more celebs showed up: much of The Idol's cast, Scarlett Johansson and Colin Jost, Sting and Trudie Styler, Rebel Wilson and her wife, Boy George, and, of course, Leo and Martin Scorsese, who walked into the party relatively early and at a very fast clip, with Leo putting up his hands and asking photographers not to film him while also vaping furiously. As they walked in, a random man turned to me and said loudly, "Leo." Marty and Leo were escorted to their own little private area outside in the back, where security guards turned away any well-wishers who were not of the rank of De Niro, Jason Statham, Rosie Huntington-Whiteley, and an as yet unknown baby who was suddenly crawling all over De Niro (thus not his own baby, who was born one mere month ago). Leo spent most of the night on his phone.