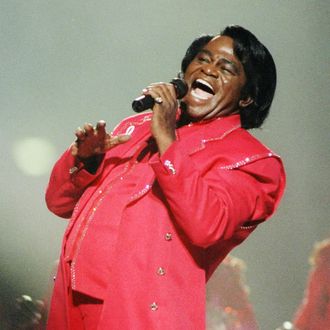 James Brown.
Photo: Al Bello/Getty Images
The Fulton County district attorney's office is busy. Between investigating Trump and indicting Young Thug's rap collective YSL, it must also deal with new questions surrounding the death of James Brown. A woman is suing the district attorney's office for losing evidence that she says could prove he was murdered. According to a new report from CNN, Jacquelyn Hollander, a circus singer who worked with Brown in the past, has been pressing the DA to find evidence she provided in 2020 that has since disappeared under the office's watch. After she volunteered items over to the district attorney, prosecutors opened an inquiry into Brown's 2006 death from congestive heart failure at an Emory University hospital in Atlanta. A year after she dropped off the evidence, prosecutors determined there was "an insufficient basis for the initiation of a Grand Jury investigation" and did not look into the Godfather of Soul's death any further. The evidence Hollander provided went missing in the years after prosecutors closed their inquiry. Hollander did receive some of the items in March, though much of it remained MIA, including a stiletto believed to be worn in the hospital room on the night of James Brown's death. Assistant chief of evidence William Chris Clark said "one would expect" there to be an evidence log in an email to CNN; "however, there are no other documents concerning the property."
In January, Hollander sued the current district attorney, Fani Willis, in Fulton County Superior Court demanding documents related to the inquiry, together with "any and all property and evidence." Despite the requirement to respond to the filing within 30 days of receipt, Willis did not get back to Hollander until May 8, after Hollander's attorneys filed a motion for default judgment. Attorneys for Willis told the judge the late response was due to "excusable neglect." It was Justice Liaison William McCombs who was served and "instead of hand-delivering the summons and complaint to the appropriate team member, it was emailed." "Consequently, the email was missed and an answer was not filed timely," deputy district attorney Dexter Bond swore in an affidavit. The office's former legal counsel Don Geary and deputy district attorney Jeff DiSantis did not respond to CNN's request for comment, nor did Willis. Must really have their hands full with Trump.