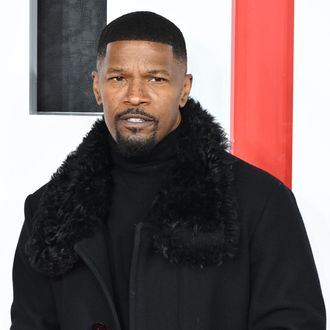 Foxx.
Photo: Karwai Tang/WireImage
Corinne Foxx, the daughter of Jamie Foxx, says the actor is currently out of the hospital, after he was hospitalized on April 12 following what they called a "medical complication." "Sad to see how the media runs wild," she said in a post on her Instagram Story. "My dad has been out of the hospital for weeks, recuperating. In fact, he was playing pickleball yesterday!" In fact, he's doing well enough that he and Corinne will be co-hosting a game show together, called We Are Family, premiering in 2024, according to Deadline. What medical condition exactly is still unclear, but TMZ claims that it was serious enough that family members who were out of town came to the hospital. Foxx made his first statement on May 3, almost a month later, on Instagram. "Appreciate all the love!!!" he wrote. "Feeling blessed." As Foxx remained hospitalized, friends and celebrities have been sent their well wishes, while Hollywood decides how to move forward with his active projects. His upcoming film, Back in Action, has resumed production with doubles, per reports on April 18. The Foxx-hosted game show, Beat Shazam, will move forward with a replacement host while the actor and musician recovers, Fox, the network behind the show, announced on May 3. Below, what we know about the actor's condition.
Why is Jamie Foxx in the hospital?
Per TMZ, Foxx had been working in Atlanta on a film with Cameron Diaz and Glenn Close called Back in Action. Foxx has said that he begged Diaz to do the project, her first since Annie in 2014. "We just begged and pleaded on my knees, like, 'Just give the people one more again,'" told Daily Pop in August. "We love her, we've been waiting on her, and this is just gonna be fantastic." Two days after being photographed on the set of Back in Action, Foxx suffered the aforementioned "medical complication." According to his daughter Corinne Foxx, he is already doing better thanks to "quick action and great care." She added, "We know how beloved he is and appreciate your prayers. The family asks for privacy during this time."
How is he doing?
On the pickleball court, you mean? "I have heard that he's doing well," Tiffany Haddish told Entertainment Tonight at Tiffany and Co.'s reopening on April 27. "We have a lot of mutual friends that are keeping me updated. I've been praying really hard for him." Sources, including Nick Cannon, said Foxx was "alert" in the days prior to Haddish's update: "He's still in the hospital and doctors are running tests but he's awake and alert." A source told People on April 21, "They're keeping him under observation."
CNN reported that Georgia doctors were still trying to determine what led to his medical complication. "They are running tests and still trying to figure out what exactly happened," a source told CNN on April 17. In the meantime, friends sent Foxx prayers and well wishes when news of his hospitalization arrived. "Get well and back to yourself SOONER THAN LATER! God willing," LeBron James tweeted. "A @iamjamiefoxx appreciation post," Kerry Washington wrote in a tweet. "Sending you all the love and prayers my movie huzbin." At Martin Lawrence's Hollywood Walk of Fame ceremony on April 20, attendees sent kind words to the star. "I hear he's doing better … My prayers go out for him every night and just wishing the best for him, one of the best that we got in Hollywood," Lawrence said. "Not only one of the best entertainers but a good person." Tracy Morgan and Steve Harvey reiterated Lawrence's sentiment.
What's the status of his current projects?
Fox's Beat Shazam, the game show hosted by Foxx and his daughter Corrine, has begun filming its new season without its hosts, TMZ reported on May 3. The network has moved forward with replacements for the show, which went into production just days before the Oscar-winning actor's hospitalization. The film Back in Action, co-starring Cameron Diaz, paused filming in the immediate aftermath of Foxx's medical emergency but has since resumed production with two doubles standing in for Foxx — one for stunts and one for photography. Additionally, Corinne Foxx teased some coming news on her Instagram story, saying, "We have an exciting work announcement coming next week too!" Which, it turns out, was the announcement of a game show that Foxx will be hosting with Corinne, titled We Are Family, according to Deadline. That won't premiere until 2024, so it gives Foxx plenty of time to recover some more, both on and off the pickleball court.
This is a developing story.