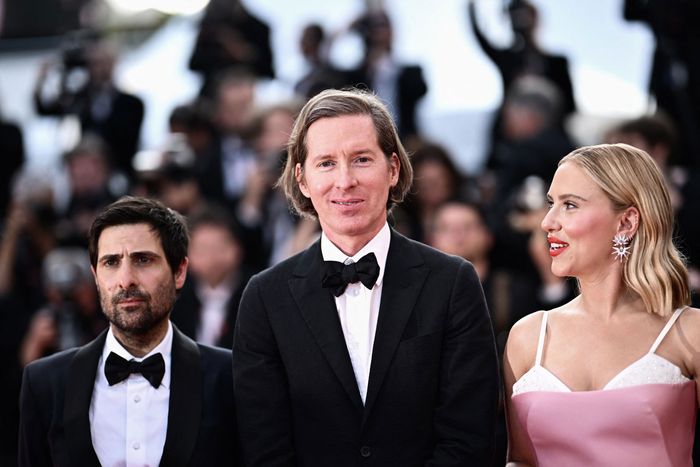 One of the great pleasures of
Asteroid City
is reflecting on how this duo's collaboration has changed over the decades.
Photo: Loic Venance/AFP via Getty Images
"I was 17. He was the first person that wasn't in my family and was over the age of 20 that actually asked me a question and cared what I said." That was how Jason Schwartzman recalled meeting Wes Anderson so many years ago. Speaking at the Cannes press conference for Asteroid City yesterday, the actor added, "He was curious about what I was interested in."
One of the great pleasures of Anderson's new film, at least for those of us who have followed their careers, is reflecting on how this duo's collaboration has changed over the decades. Schwartzman's feature debut came in Anderson's acclaimed 1998 film, Rushmore, in which he played the precocious but underachieving high-schooler Max Fischer, a character who became instantly iconic, at least among a certain subset of viewers.
The actor has appeared in many of the director's subsequent films (and has even co-written a couple of them), but Asteroid City feels like a full-circle moment. In Rushmore, Max was matched against Bill Murray's Herman Blume, a melancholy, middle-aged, overwhelmed father and Vietnam veteran. Murray was 48 at the time of Rushmore; Schwartzman is 42 now, and Anderson himself is 54. In Asteroid City, Schwartzman is Augie Steenbeck, a melancholy, middle-aged, overwhelmed father; he's not a veteran (unlike many of the dads in the film), but he is a war photographer and has seen his share of horrible stuff.
It was moving to watch the actor and director talk about their work at some length during the press conference. Anderson, who was 29 when Rushmore came out, also marveled at how young Schwartzman was when they first worked together and how long their collaboration has lasted. ("Longer than I would like to think," the director said with a chuckle.) He recalled that with Rushmore, Schwartzman shared some similarities with the character of Max. "We were using you as you existed in a lot of ways," Anderson said, addressing his friend and colleague directly. "You were different from the character, but you had so much that connected with the character that we could put in it."
Anderson's style has evolved over that period, becoming more precise, mannered, and elaborate (Rushmore is practically neorealist compared to Asteroid City), and both his casts and his themes have widened. Many actors have come and gone from his company. But Schwartzman has remained a constant. And in some ways, he has evolved as well. There has always been a streak of nervous calm in Schwartzman's performances for Anderson — depending on the movie, it can read as sadness or deadpan or sad-deadpan — but it gains great complexity and tenderness in Asteroid City, in which he's actually playing two interrelated characters. Given the film's framing device, Augie turns out to be a fictional figure being portrayed by an (also fictional) actor named Jones Hall in 1955. Jones is somewhat boyish, a far cry from Augie, the grieving and confused dad. A running idea throughout the film is Jones's questions and anxiety about how to properly convey Augie's sadness; it's part of Asteroid City's evocative connection of scientific curiosity with attempts to understand the human soul.
This, too, feels like a reflection of Anderson and Schwartzman's relationship. At the press conference, the director said he now marvels at Schwartzman's level of preparation, much of which Anderson doesn't get to see. "Jason came with me to the set in costume whether he was in a scene or not," he said of the Asteroid City shoot. "But I realized, at a certain point, that I had no idea of the work you'd done and the preparation you'd done."
He recalled that, at one point, he asked Schwartzman if he could film a scene that wasn't on the schedule for the day. "I asked you to do a scene that we had not planned to do, and you were not meant to work that day. Suddenly I said, 'Could we go do this? We can do it right now.' And you said, 'I need an hour because of my stuff.' And I realized he had a ritual of tasks that he was doing to prepare that I had no knowledge of! They were absolutely crucial to the character he was playing that I was enjoying him play so much." Anderson continued, noting how far Schwartzman has come from their early days together: "How totally different it is, this person who was a teenager and now has command of his craft and his medium in a way that I wasn't even aware of."