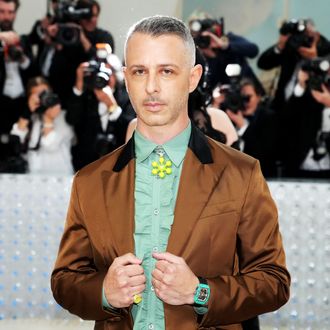 Willa would eat this up.
Photo: Jeff Kravitz/FilmMagic
"The truth is that my father is a malignant presence, a bully, and a liar," Jeremy Strong as Kendall Roy said in the Succession season-two finale, getting into his whistleblowing bag. "And he was fully personally aware of these events for many years and made efforts to hide and cover up." Now, Strong is back at it, this time onstage, starring as Dr. Thomas Stockmann in a new version of Henrik Ibsen's An Enemy of the People on Broadway, directed by Fun Home's Sam Gold and with a revised script by Amy Herzog (4000 Miles). Herzog also just adapted Ibsen's A Doll's House for Broadway, in a production starring Strong's friend and defender Jessica Chastain. "Jeremy Strong is a soulful and transformational actor who disappears into every performance he gives," reads the first few lines of Strong's page-long (single-spaced) bio in a press release. The production will have a 16-week limited engagement beginning in early 2024. Strong plays a scientist who discovers that a small Norwegian spa town's water supply is tainted and causing illness among spa practitioners, and runs up against a local government that doesn't care. From there? He blows that whistle, baby.