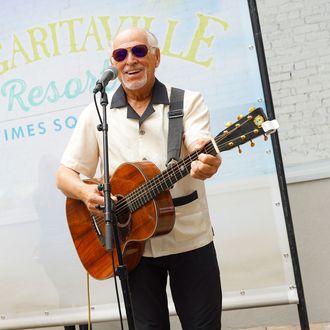 Margaritaville's mayor is OOO.
Photo: Sean Zanni/Patrick McMullan via Getty Images
Jimmy Buffett is not currently in Margaritaville, but instead stuck in a hospital in Boston. The singer had to cancel a May 20 concert with the Coral Reef Band in Charleston on May 18 due to a medical emergency. "Two days ago, I was just back from a trip to the Bahamas, thawing out from the California 'winter tour,' and chomping at the bit to get to Charleston," Buffett wrote in a post to his fans on Twitter. "I had to stop in Boston for a check-up but wound up back in the hospital to address some issues that needed immediate attention. Growing old is not for sissies, I promise you." Buffett then promised to be back on the road as soon as possible to meet up with the Parrot Heads of Charleston (a.k.a. "The land of She-Crab Soup). "Thank you for all your prayers and thoughts, your amazing years of loyalty, and just remember, 'NOT YET!'" he added. Okay guys, we have now got to make sure Jimmy Buffett is famous by midnight as a thank you for all the years of getting "Cheeseburger in Paradise" stuck in our heads.