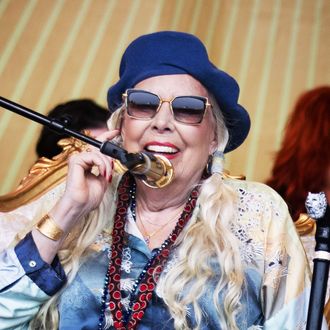 Records go round and round and round, in the circle game.
Photo: Douglas Mason/Getty Images
After returning to the stage last year, Joni Mitchell is returning to record stores too. The singer-songwriter's historic surprise set at the Newport Folk Festival will be released as a live album by Rhino Records. At Newport comes out July 28, just over a year after the performance, which took place July 24, 2022. (If you'd rather see Mitchell live before then, she's readying her first headlining concert in over 20 years at the Gorge in Washington on June 10.) Brandi Carlile, who orchestrated the surprise appearance, co-produced the record alongside Mitchell; the "Joni Jam" crew featured in the set also includes Wynonna Judd, Marcus Mumford, and Lucius, among many other musicians. Director Cameron Crowe, a professional Joni Mitchell fan, captured the performance in the liner notes. "Within minutes, the news had rocketed around the globe," he wrote. "Mitchell was back, sparkling with enthusiasm, delivering a tender and passionate set of 13 songs, ending with a joyful sing-along of 'The Circle Game.'"
You can stream Mitchell's live take on "Both Sides Now" today — just not on Spotify since she removed her music last year. Yeah, we'll take all four sides of this record now, please.