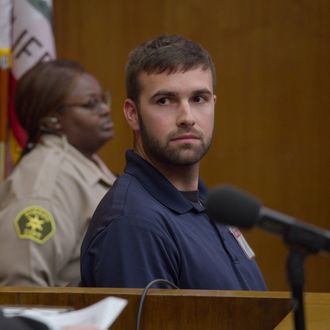 This is not a prank.
Photo: Courtesy of Amazon Freevee
Bailiff Nikki, call the audience back into the courtroom: Jury Duty is in session, again. A cast-commentary edition of everybody's favorite long-term prank show is coming to Amazon Freevee. The new version will feature commentary from the trickster (director Jake Szymanski) and the trickee (Ronald Gladden). We've also got some of the actors on the list, including Mekki Leeper (Noah), Cassandra Blair (Vanessa), Maria Russell (Inez), and James Marsden (James Marsden). But for those who want a more 4-D option to show their Jury Duty love, Freevee is also releasing a line of Jury Duty merch, which is great, but it doesn't include any chair pants or judges' robes, which is less great. Both the merch and the commentary edition of the series will be released on June 1, upon which date we will be jumping on the bed for joy (and … other things). Bailiff Nikki? You can see the audience out now.