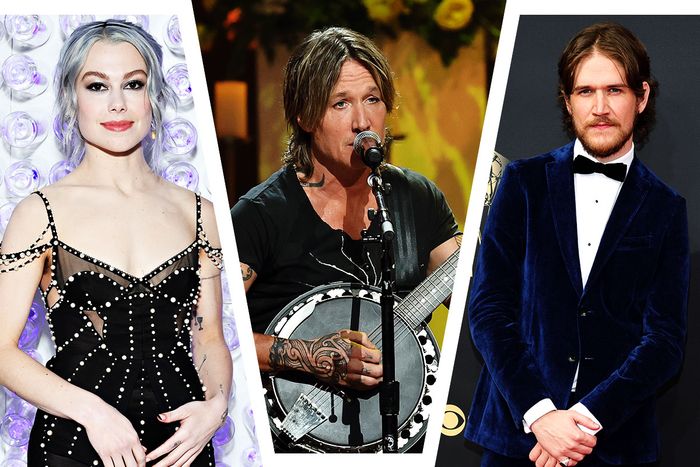 Photo-Illustration: Illustration: Vulture. Photos: Getty Images
It was an unassuming night on Taylor Swift's Eras Tour. "The Best Day" was expected to be a surprise song for Mother's Day, there was no barricade drama, and no one had to meet anyone in the pouring rain. However, a storm did arrive on May 16 when Keith Urban, who attended Sunday's concert with AMC Queen Nicole Kidman, posted a Tik Tok congratulating his pal Tay on her performance from the VIP tent. However, what he didn't notice was tour opener Phoebe Bridgers and her rumored boyfriend Bo Burnham seemingly kissing in the back of the video. Or maybe he did notice and posted the video anyway; after all, Burnham did diss him with "The Country Song" back in 2019.
The comments in the video were filled with fans trying to figure out what was going on behind Urban and Kidman's dancing. "Is anyone gonna talk abt phoebe bridgers and bo burnham in the back," wrote one commenter. "Keith is in his deuxmoi era," wrote another. Will this mean the VIP tents will undergo a no-smooching rule, a.k.a. will this be the "Last Kiss" before another relationship gets exposed? We are currently in the Speak Now (Taylor's Version) era, so long live romance!