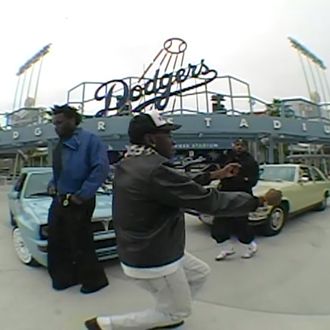 See you at Dodgers stadium.
Photo: pgLang
Kendrick Lamar and Baby Keem created a safe space for Tyler, the Creator to announce his annual music festival, Camp Flog Gnaw Carnival. The upcoming festivities return for their ninth installment on November 11 and 12 at the usual venue: Los Angeles' Dodger Stadium. The official lineup has yet to be announced, but previous years saw the likes of SZA, Solange, Ms. Lauryn Hill, and Mac Miller grace the stage. Advance tickets will be available starting Friday, June 2, at 12 p.m. PT. Maybe we'll all be shaking ass to "The Hillbillies" at CFG this summer.
Kendrick and Keem wanted to make something fun, something for summertime, something for the girls to get ready and party to. The cousin duo, who previously collaborated on the tracks "Savior" and "Family Ties," released their new track "The Hillbillies" on May 30 with an unserious Neal Farmer–directed music video filmed entirely on VHS. Keem and Kenny steal from '90s aesthetics and homemade music videos — the title card looks like the menu graphics for a video game, and the rest of the video is shot on a fisheye lens. Their adventures include traipsing around private jets and hotel rooms, showing off their drip, and doing little dances for the camera over a beat that samples Bon Iver's "PDLIF." Shots in London are juxtaposed with shots both in and outside of L.A.'s Dodger Stadium, where Kendrick, Keem, and Tyler camp out with their classic sky-blue Beemer and a beige Bentley. At the end, Tyler flashes a Camp Flog Gnaw pin. Go stink.
This post has been updated.