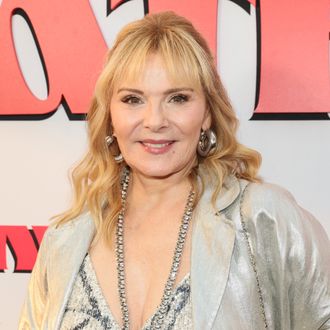 Photo: Dia Dipasupil/Getty Images
HBO audiences were clearly jonesing for Samantha, because Warner Bros. Discovery has driven the dump truck of money up to Kim Cattrall's house. Just how much it cost them to get Cattrall into And Just Like That … is not known. What is known, however, is how the "reunion" was filmed. According to Variety, Cattrall worked on one scene in New York without speaking to the other four stars of the show or showrunner Michael Patrick King. In and out, clean and precise, a contract kill.
But what are the contents of that one solo scene? Will it be a one-sided phone conversation, like Variety claims? Boo, don't be boring. Or some jazz scatting? Now we're cookin'. Maybe Sarah Jessica Parker get CGI'd in like Jeff Garlin on The Goldbergs. Or she could steal Che from Miranda. Podcast hosts often have very persistent PR behind them. The possibilities are endless, especially if you let whimsy be your guide.