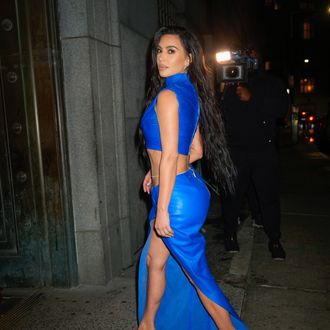 Kimberly Kardashian.
Photo: Gotham/GC Images
Kim, there's people that are striking. Kim Kardashian reportedly crossed the Writers Guild of America picket line to film the upcoming season of American Horror Story. "Sad to report that Kim Kardashian crossed our midtown picket line today," WGA strike captain Warren Leight tweeted on May 31. "Ushered past us into a freight elevator in her chauffeured Escalade. Writers aren't keeping up, but Kim Krossed Our Line." He later added that, though working actors are required to act through June 30, which means she is not scabbing (or, in her case, skabbing), Kardashian had leverage that she did not use. "We set up a line, she was driven past it into a waiting freight elevator," Leight told the Daily Beast. "Building security guard put on a bulletproof vest, which seemed over the top."
AHS creator Ryan Murphy has shown his support for the striking writers by contributing to a $1.7 million relief fund. The upcoming 12th season of AHS, which itself has been to the bargaining table when fans unionized, is subtitled Delicate and will be based on Danielle Valentine's novel of the same name. The show has been filming in New York since April, according to The Hollywood Reporter. The WGA previously shut down production on the season on May 3, according to WGA member Kaitlin Fontana. Vulture reached out to Kardashian and FX for comment. If the reality star's a SAG member, maybe she'll be seen striking a pose on the front lines for its potential strike?