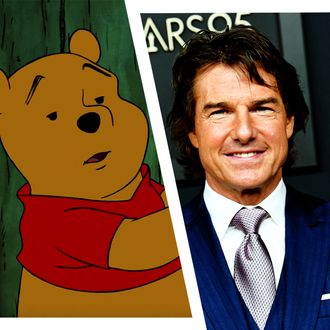 He's probably a Barb.
Photo: Disney/Getty Images
By command of the king, the earl marshal is directed to invite Madame Nicki Minaj to be present at the Abbey Church of Westminster on the 6th day of May, 2023. Which is what the rapper allegedly read when she opened her invitation to the coronation of Their Majesties King Charles III & Queen Camilla, according to a post on the British Royal Family's official website under the news tab. That is to say, Prince Harry's pa, who likes to do headstands naked in public, is having a little bash to formally name himself the king following the death of his mother, Queen Elizabeth II, last September. Despite the event seeming outside the realm of our business here at Vulture, King Charles's notable guests have made the archaic pomp and circumstance our business. Below, all the relevant details about the upcoming affair, including celebrity guests, Bears, and performers.
Who was the earl marshal directed to invite?
Nicki Minaj agreed to attend after the king's entourage appeared in front of guests' homes with a scroll and commanded their presence at His Majesty's coronation. Actually, Minaj just tweeted, "I'll be attending the coronation. Thank you. Stream #PrincessDiana until I land 🇬🇧 scones on dekk
Whole lotta gang sh!t 🤧." The announcement seems more geared to promoting her new track than a serious announcement about her plans to make an appearance at an old man's tea party. Either way, the confirmed guest list includes the Royal Family so far (i.e., the man who devoted quite a few pages of his memoir to his penis troubles will show up. Meghan Markle and their children are decidedly not coming, per a Buckingham Palace press release). And maybe Nicki Lewinsky.
The streets have said that British pop stars Adele, Ed Sheeran, and Harry Styles all declined invitations, but that didn't mean the Royals didn't book anyone. (They didn't take any of Vulture's suggestions, though. Taylor Swift deserved the slot!) Katy Perry will regale us with her cotton-candy worlds, while Lionel Richie, Andrea Bocelli, and Take That each have a set. Sir Bryn Terfel, Freya Ridings, and Alexis Ffrench round out the bill. On April 28, Variety reported that Tom Cruise, Nicole Scherzinger, and obvious British royalty Winnie the Pooh would also attend the king's coronation concert.
How can I watch it?
The king's coronation commences May 6 at 11 a.m. British time, or 6 a.m. ET, and all the big U.S. networks will have live coverage, including ABC, NBC, CBS, Fox News, and CNN. For those watching online and via streamers, check out livestreams from the New York Times, Paramount+, Hulu + Live TV, Fubo TV, Sling TV, Sky News YouTube channel, Britbox, and, of course, BBC. (BritBox subscribers who get the service through the Apple and Amazon channels stores will only be able to watch the coronation on their apps after the livestream ends.) As for the Coronation Concert on May 7? That one is a little tricker for Americans to tune in to, as it's only streaming on BBC channels like BBC One and BBC Radio so far. Alternatively, you can simply watch the funny clips and catch all the memes on Twitter.