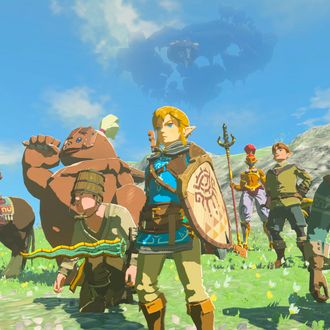 $70 x 10 million. You do the math.
Photo: Nintendo
Money is somewhat hard to come by in The Legend of Zelda: Tears of the Kingdom. (That sweet, expensive set of armor seems more out of reach than millennial home ownership.) However, the game itself seems to have no problem raking in the rupees. Nintendo of America announced on May 17 that Tears of the Kingdom had sold more than 10 million copies worldwide in just three days.
That staggering number makes Tears of the Kingdom the fastest-selling game in the Zelda franchise, and it's already the 18th best-selling game for the Nintendo Switch of all time. Much like Link when he's blasted out of a canon, Tears of the Kingdom's rank will only go higher. Breath of the Wild, the previous game in the Zelda series and current best seller in the franchise, has sold 29.81 million copies in the six years since it was released in March 2017. Breath of the Wild is number four (for now) on the best-selling Switch games list, sitting below Super Smash Bros. Ultimate, Animal Crossing: New Horizons, and Mario Kart 8 Deluxe, which tops the Switch standings with 53.79 million units sold.
Tears of the Kingdom's sales are even more impressive because it's a Switch-exclusive game. Most other crazy-fast sellers, like last year's best-selling video game, Call of Duty: Modern Warfare II, are available on multiple platforms. Modern Warfare II made $800 million in sales in its first three days (so more than the roughly $700 million Tears of the Kingdom brought in), but it was available on PCs, PlayStations, and Xboxes. For a console exclusive to sell this well this fast is fairly unprecedented.
(The best-selling video game ever, across any platform, is Minecraft, which has sold a jaw-dropping 238,000,000 copies. It's a whole other sort of beast than Zelda, though, especially because the mobile version of Minecraft costs a cool $6.99 compared to Tears of the Kingdom's $70 price tag.)
Perhaps it shouldn't be surprising, given that Tears of the Kingdom was the highly anticipated sequel to Breath of the Wild, widely considered to be one of the best video games of all time. Reviews for Link's latest adventure have been overwhelmingly positive, so it will no doubt sell millions more copies.
Still … three days! To reference a different Zelda game, imagine selling 10 million copies of something in the time it takes for Majora's Mask's scary moon to crash into the world.