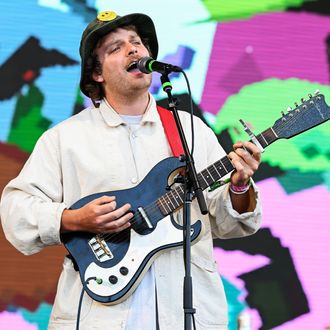 Brr.
Photo: Steve Jennings/WireImage
Mac DeMarco's salad days really are gone — at least if the salads are cold. The indie singer-songwriter bizarrely revealed in a new interview that he has given up eating "cold foods" as part of a health kick. DeMarco told the Associated Press the change came at the recommendation of his acupuncturist. "He says no cold foods, so there's not going to be any more cold foods," DeMarco explained. "No cold water, only hot water. And steak." Yes, this man is heating water every time he wants a drink! Abstaining from cold foods seems to be a semi-popular recommendation in the acupuncture world, judging by the results on a Google search about why cold foods are bad. When the body digests foods that are cold, it has to warm them up first, which some think is a bad thing to slow digestion. Burton Moomaw, an acupuncturist in North Carolina, writes on his website, "For optimal health keep your digestive fire hot by keeping your food and drink warm." Vulture makes no such endorsements.
Of course, though, humans have adapted to digest cold foods in the first place and have been eating things cold for a long time without issue. Never mind that many great things are cold, such as ice cream and sushi! Along with giving up cold foods, DeMarco told the AP he has ditched nicotine, alcohol, and caffeine — all admirable changes worth supporting. "I don't like being beholden to things like that, you know?" he said. "As humans, we got to have water, you got to have shelter, you got to have food. That's enough things to be trapped by." Along with being trapped by having to heat your water.