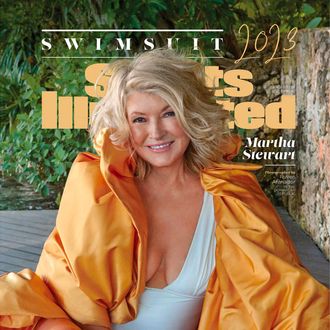 Martha Stewart, sex symbol.
Photo: Sports Illustrated
Martha Stewart is known as many things: a homemaker, a prisoner, a cannabis connoisseur/friend of Snoop Doggy Dogg. Now she can add sex symbol to that list. Stewart is one of four models to cover this year's Sports Illustrated Swimsuit Edition, alongside Megan Fox, Brooks Nader, and Kim Petras. At 81, she is, she notes in her interview, the oldest woman to ever cover the issue, but she's mostly unbothered by the age part. "When I heard that I was going to be on the cover of Sports Illustrated Swimsuit, I thought, Oh, that's pretty good, I'm going to be the oldest person I think ever on a cover of Sports Illustrated," Stewart says. "And I don't think about age very much, but I thought that this is kind of historic." Historic additions to teenage boys' spank banks are to be celebrated!
Also historic is the presence of Kim Petras on the covers. The Grammy-winning singer is the second out trans woman to cover the issue following 2021's cover star, Leyna Bloom. "I think what you do is the most important thing, not what your gender is," Petras says in her interview. Well, what she did here was serve, and, for that, we are thankful.