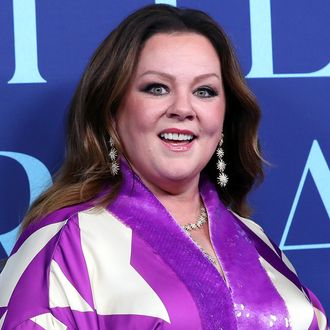 Ursula.
Photo: Lisa Maree Williams/Getty Images
Melissa McCarthy may be playing the pinnacle of villainy as Ursula in the upcoming adaptation of The Little Mermaid, in theaters May 26, but that doesn't mean she wants villains behind the scenes. In an interview with The Guardian, McCarthy describes her experience on a set that was run so villainously that it made her "physically ill." "There were people weeping, visibly so upset by this one person," she remembers about the person in charge. "And I think that's why the manipulation worked, because to get to me, this person would fire people I loved, which kept me quiet. It was very effective." Luckily, it led to her knowing how to take charge. "Then one day, I was like, 'It stops today!' I just kept saying to them, it stops, it stops," she says. "And I know now I'll never keep quiet again."
It was a lesson she not only learned but is now teaching. In a new Glamour profile, her co-star Halle Bailey, who plays Ariel, recounts learning from McCarthy how to handle herself on set. "When I watched her go on set, she was like, 'This is what I want,'" Bailey recalls. "Seeing another woman come in there, command space, and own her power and know who she is as an individual was really inspiring." In fact, she's now emulating it. "At the end of the film, when we wrapped, I had learned how to speak up for myself," she describes. Don't underestimate the importance of BoDy LangUAGE speaking up for yourself.