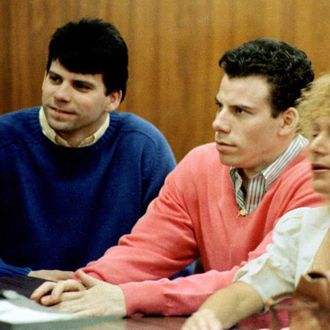 Lyle and Erik Menéndez.
Photo: Mike Nelson/AFP via Getty Images
Ryan Murphy is done combing through Court TV archives to find his next true-crime subject. The second season of Netflix and Murphy's hit anthology series, Monster, will follow the real-life story of the Menéndez brothers, convicted in 1996 of murdering their parents. Monsters: The Lyle and Erik Menéndez Story was announced on May 1 with a video that contains the 9-1-1 call a sobbing Lyle made on the night his parents died. Netflix plans to release an accompanying documentary that promises unprecedented access to the brothers, according to a press release. The murders occurred in 1989, when José and Mary Louise "Kitty" Menéndez were fatally shot in their Beverly Hills home. Months later, police began investigating the brothers for their role in their parents death. Erik broke down and confessed to his psychologist, who told his mistress Judalon Smyth. The brothers were convicted only after they were tried together and sentenced to life in prison without parole. Court TV's coverage of their first trial served as a precursor to our true-crime-obsessed culture today. Lyle and Erik remain incarcerated. Murphy's latest fictionalized dive into true crime will air in 2024.