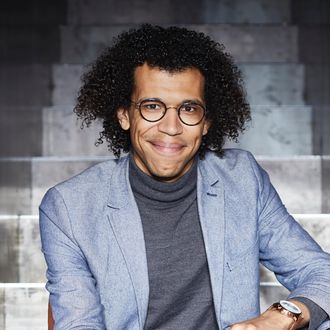 Jonathon Heyward, new music director of the (soon to be formerly known as) Mostly Mozart Festival.
Photo: Courtesy of Lincoln Center
Say good-bye to Mozart, mostly. This summer, Louis Langrée wraps up his 21-year run as music director of the Mostly Mozart Festival and its orchestra. Starting next year, 30-year-old Jonathon Heyward will begin a three-year contract at the head of an orchestra with a new profile as Lincoln Center's summer ensemble. The festival itself will end its 53-year run, and at least some of its activities will be absorbed into a unified panoply of events. In the name of breaking down silos and broadening audiences, a classical-music tradition will have to fight for its place in an evolving artistic landscape.
Heyward, who recently made his New York Philharmonic debut and will conduct the Mostly Mozart Orchestra in Schumann's "Rhenish" Symphony this summer, recently became the first Black music director of the Baltimore Symphony Orchestra. In this additional position, he will help Lincoln Center in its ongoing rebranding project, led by artistic director Shanta Thake, to fill the campus with a smorgasbord of genres so that nobody feels left out. It's an all-embracing approach that elides the difference in mission between the commercial-entertainment machine and an institution that uses philanthropic dollars to support less capitalistic artistic pursuits. Lincoln Center's leaders promise that the summer ensemble will have a significant, but as yet undefined, role in that transformation. It may even perform some regular old classical music.
Change comes gradually, then all of a sudden. Over the course of the past several decades, Mostly Mozart evolved from a diet of light classics into a sometimes sprawling series that treated its namesake composer more as a starting point than a consistent theme. This made historical and intellectual sense. Mozart was a widely traveled musician, an influence sponge who incorporated French dances, Italian operas, band music, vaguely Turkish military marches, and assorted other styles into his scores. That range made him the ideal presiding spirit for a far-reaching, often inquisitive festival and a good program companion for many contemporary works. One of Langrée's first concerts paired the Indo-Persian ensemble Ghazan with Mozart's celebrated Requiem.
This summer's finale continues in that vein. A new work by jazz trumpeter Amir ElSaffar leads into a performance of Mozart's C-minor Mass. In another concert, anchoring Lincoln Center's Korean Arts Week, composer Soo Yeon Lyuh's Dudūrim shares a program with a Mozart flute concerto and Beethoven's Symphony No. 7.
But the change in nomenclature and focus suggests that this is not enough. It projects a sense that there's something out-of-date and out of step about the symphonic tradition, a fustiness that Mozart presumably embodies and now needs to be cleansed. The rebranding is not just about new possibilities — it's a deliberate de-emphasizing of a history that many people treasure. Thake and Heyward are taking on a tricky challenge: how to manage an artistic revolution while being good stewards of the past.