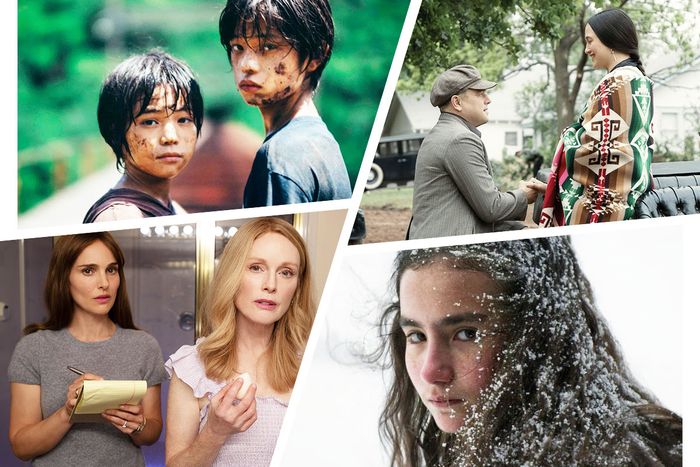 All the movies (and one TV show) we're excited to see at 2023's Festival de Cannes.
Photo-Illustration: Vulture; Photos: Cannes
Last year Top Gun: Maverick premiered at the 2022 Cannes Film Festival and went on to save cinéma. This year, the fifth Indiana Jones movie is angling to become the franchise installment to debut on the Croisette and proceed to lure all four quadrants of the audience into theater seats. But of course there's more to be seen in France in 2023: Martin Scorsese's latest (reuniting him with Leonardo DiCaprio), Todd Haynes's latest (reuniting him with Julianne Moore), Pedro Almodóvar's latest (reuniting him with cowboy subject matter), Jonathan Glazer's latest (reuniting him with demented romance). Here are the 12 films (and one TV show) we can't wait to see at the Festival de Cannes:
1.

A Todd Haynes–Julianne Moore Collaboration
May December
For their fourth trick (after Far From Heaven, Wonderstruck, and Safe), Julianne Moore and Todd Haynes present their accordingly twisted take on the Mary Kay Letourneau story. Moore stars as Gracie, a woman whose relationship with her now-husband Joe (Charles Melton) "inspired a national tabloid obsession" 20 years earlier. As the two prepare to send their children off to college, a famous actress named Elizabeth (Natalie Portman) temporarily moves in to "study" Gracie before she goes on to play her in a movie based on said tabloid drama. Of course, the couple begin to "buckle under the pressure" of the whole thing. Natalie Portman as Julianne Moore: Somehow Haynes always knows exactly what the culture is calling for.
2.

Martin Scorsese's Latest Epic Drama
Killers of the Flower Moon
Little has been revealed about Martin Scorsese's epic drama, but we know it won't be a straightforward adaptation of David Grann's riveting account of the Osage murders of the 1920s, in which Native Americans were systematically killed for the "head rights" to their oil-rich Oklahoma land. Grann's central character is Tom White, a by-the-book Federal agent who led the investigation; Scorsese's central characters are Ernest and Mollie Burkhardt (Leonardo DiCaprio and Lily Gladstone), a married couple whose troubled, odd relationship was one of several uncovered by the case. (Jesse Plemons plays White.) That suggests a far more twisted and intimate story than a mere procedural. But the story is profoundly rich whichever way you look at it — part marital drama, part period epic, part Western, part gangster movie — and at that length, it's not hard to predict that Scorsese will go all out.
3.

Nuri Bilge Ceylan on the Big Screen
About Dry Grasses
The Turkish director Nuri Bilge Ceylan is one of the great filmmakers of our time, and ever since he started coming to Cannes he's almost never left empty-handed. (His previous picture, 2018's marvelous Wild Pear Tree, was the sole non-prize-winner among his six titles to premiere in competition at the festival, but that might just have been because he'd already received practically every award; his film before that, 2014's Winter Sleep, won the Palme d'Or.) Ceylan started his career as a photographer, and his films are incredible to look at. In recent years, his work has gotten longer and more ambitious, and he's even allowed some political commentary to sneak its way into his immersive Chekhovian tales. One of the pleasures of a festival like Cannes is the opportunity to see visually striking (if commercially marginal) work on the big screen.
4.

The Next Euphoria
The Idol
Euphoria's perma-provocateur Sam Levinson and the Weeknd have mind-melded to bring us The Idol, an upcoming HBO series that's already been scrapped in its near-entirety, remade using the Weeknd's own home as a set, and embroiled in preemptive controversy about its subject matter and tone. Lily-Rose Depp plays Jocelyn, a pop star who has a nervous breakdown and cancels her tour, then meets Tedros (played by the Weeknd), a "self-help guru and head of a contemporary cult," who sets out to rehabilitate her career and also brainwash her. The two fall in love and into a dynamic that Rolling Stone described as "torture porn," but Levinson describes as the story of "what happens when a pop star falls for the wrong guy and no one speaks up." Is it neither? Is it both? Either way, as Levinson's wife and producing partner, Ashley Levinson, told W Magazine about their life together, we'll "never be bored."
5.

An ACID Treat
In the Rearview
When people talk about the "Cannes Film Festival," they're often really talking about several different festivals that occur at the same time. Some of those secondary festivals, like Director's Fortnight and Critics' Week, often feature breakout titles of their own. One side fest that doesn't get talked about nearly enough, however, is ACID (Association for the Distribution of Independent Cinema), which features a selection of films from less-established filmmakers. One of the films at this year's ACID, Maciek Hamela's In the Rearview, is especially promising. It's a documentary about the war in Ukraine that trains its camera on the ever-changing passengers of a van ferrying families and others out of the war zone. In their own way, each group tells its story — some garrulous, some shy, some grieving, some in extreme medical distress. We've already had a number of documentaries about the war in Ukraine, including some very good ones. But we've definitely never had a movie quite like this.
6.

Pedro Almodóvar's Brokeback Mountain
Strange Way of Life
Nearly 20 years ago, Pedro Almodóvar was offered the chance to direct Brokeback Mountain but declined, saying he was "doubtful he'd have the freedom to make the decisions he wanted." Now we finally, blessedly get to see the decisions he would have made in his own gay cowboy movie, Strange Way of Life. It's a 30-minute short starring Pedro Pascal and Ethan Hawke as two men who "reunite after 25 years apart" in order to "untangle their complicated romantic history." He'll premiere Strange Way of Life — his second English-language short, after his Tilda Swinton–starring The Human Voice — at the festival, followed by a Q&A.
7.

The Fifth Indiana Jones
Indiana Jones and the Dial of Destiny
Big studio blockbusters premiering at Cannes have had a mixed history. Mad Max: Fury Road and Top Gun: Maverick both screened on the Croisette … but so did Solo and The Da Vinci Code. The fifth Indiana Jones film, however, comes with a twist. It's showing at Cannes a whole month before it actually opens, which suggests confidence on the part of the studio and the filmmakers. As just about everyone knows by now, this latest entry in one of Hollywood's great movie series sees James Mangold (3:10 to Yuma, Logan, Ford v. Ferrari) taking over directing duties from Steven Spielberg. What's that going to look like? Both are filmmakers who place character above spectacle, but Mangold is a tougher action director. In the past, his sequences have tended to be more streamlined and grounded in the real world. Will that translate to the free-wheeling, swashbuckling, fantastical world of Indiana Jones? And how will an aging Harrison Ford (who also appears in a de-aged version of himself in the movie, based on the trailers) look picking up the whip and fedora one last time?
8.

Another Unsettling Mia Wasikowska Movie
Club Zero
Jessica Hausner's work lives in the realm of the uneasy, the unknowable, and the uncanny: a woman takes a job at a hotel and realizes her predecessor has mysteriously disappeared (Hotel); plants take on mysterious, perhaps supernatural qualities (Little Joe); a man searches desperately for a romantic partner who wants to join him in a suicide pact (Amour Fou). Club Zero, the Austrian writer-director's fourth film to play at the festival, sounds just as unsettling and strange. Starring Mia Wasikowska, the film follows a "teacher at an elite school who forms a bond with five students, which takes a shocking turn," specifically as it relates to "a new subject she calls 'conscious eating.'" Her students begin to reduce their food consumption until things, as they are wont to do, get out of hand.
9.

A Decade Later, New Jonathan Glazer
The Zone of Interest
It's been ten years since Jonathan Glazer made a new movie. Under the Skin came out in 2013, and there was a nine-year gap between that and Birth (2004). The director works slowly, methodically, and whatever he makes, good or bad, is always striking and challenging. So now he's gone and made a movie of Martin Amis's acclaimed, demented 2014 Holocaust romance. The adaptation is reportedly a loose one, but the imagination does run wild at the notion of Glazer's fondness for stylization connecting with Amis's ornate prose and elliptical narratives. This could be both a work of art and a discourse burner.
10.

A Kore-eda Monster Movie
Monster
Cannes and Hirokazu Kore-eda have had a long and happy relationship: The Japanese auteur has premiered five of his last nine features at the fest, one of which won the Palme d'Or (2018's Shoplifters), another the Jury Prize (2013's Like Father, Like Son), and another Best Actor (Song Kang-ho in last year's Broker). Monster, his latest, stars Sakura Andō as a "mother who confronts a teacher after noticing disturbing changes in her son's behavior." This time around, he's adapting a screenplay from Yuji Sakamoto and collaborating yet again with Shoplifters's Sakura Ando, who stars as the mother in question. He's also got a new score from the recently and dearly departed composer Ryuichi Sakamoto.
11.

A Room 666 Sequel
Room 999
At the 1982 Cannes Film Festival, Wim Wenders set up a camera in a hotel room and had the directors present at the fest come in and talk individually for ten minutes about whether cinema was dying. The result was the documentary Room 666, one of the great cinephile time capsules: Everyone from Steven Spielberg and Susan Seidelman to Rainer Werner Fassbinder and Werner Herzog offering their thoughts on the art form and its future at a time when it seemed to be in decline. Cinema survived, as did questions about its demise. So now director Lubna Playoust has repeated the same basic concept. The speakers this time include James Gray, Baz Luhrmann, Claire Denis, Ruben Ostlund, and others. Many of them (including Wenders) will be present at the festival this year and sure to discourse further. For a particular type of film nerd, this is basically our Avengers.
12.

The Return of Catherine Breillat
Last Summer
Catherine Breillat, known for her boundary-pushing, controversial French films about women and sex and taboo, hasn't made a movie since 2013's Abuse of Weakness, a loosely autobiographical work about a filmmaker who has a stroke and is manipulated by a con man. Last Summer follows Anne (Léa Drucker), a "brilliant lawyer" who's married with kids but "engages in a passionate relationship" with her husband's son from a previous marriage, "putting her career and family life in danger," as one might imagine. This one should make a nice companion piece to Todd Haynes's May December. 
13.

Cate Blanchett Playing a Renegade Nun
The New Boy
Co-produced by Blanchett's Dirty Films, The New Boy is directed by Warwick Thornton, who won the Camera d'Or in 2009 for Samson & Delilah. It's a "story of spiritual struggle and the cost of survival" about a 9-year-old Aboriginal orphan who arrives at the monastery of the aforementioned Cate Blanchett's renegade nun and "disturbs the delicately balanced world" over which she rules (one assumes renegade-ishly).