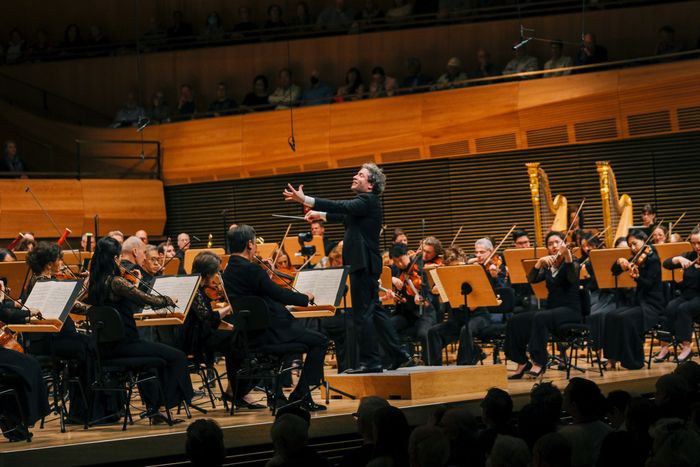 One pleasant perk of being an orchestra conductor is that you get applause simply for showing up. Audiences have been cheering Gustavo Dudamel ever since he was a teenager, so he may have been unimpressed with the roar that greeted his first appearance as the New York Philharmonic's future boss. But what he got, both before and for a full seven minutes after leading Mahler's Symphony No. 9, was more than routine adoration; it was the sound of an orchestra, and an audience, eager to be led and hungry for conviction. Aspirations to equality fall away in a big symphonic performance, one of the few acceptable displays of ceremonial heroics that a democratic society allows. The person holding the stick summons immense music as if by magic, funneling the efforts of 100 players into a burst of signature sonic glory. Dudamel enacts this wizardry well and at the same time creates a further illusion: He appears to be a greater conductor than he really is.
This past weekend's megapreview suggested that the Dudam-era at the Philharmonic (which doesn't officially begin until 2026) will offer plenty of excitement. His Mahler's Ninth crackled and heaved. He tinged tragic passages in velvety black. The brass glared like a reflection off a skyscraper's skin. The landscapes of Mahler's imagination —the Alpine vistas against which the composer's conceptions of fate, exaltation, and acceptance play out — had the crisp, outsized brilliance of a digital billboard. The score's million details spangled the surface, all competing for simultaneous attention. If you listened beneath that glittering crust, though, the impression of clarity dissipated.
The 90-minute symphony begins with a slow tread and quiet flutters coalescing into melody. You can feel the piece composing itself, waking to anxious, existential questions. It's often described as an adieu, since Mahler wrote it shortly before his death in 1911. I prefer to hear it as an opening to a century of violence and revelation, a composer intuiting a world he wouldn't witness. I'm not sure how Dudamel sees the work, because what I heard during much of the performance was an action-movie sequence of high-intensity flashes, one packet of astonishment after another, forming a narrative that became increasingly hard to follow.
The greatest Mahler conductors match the composer's depth of field, the ability to evoke a receding sonic panorama in all its complexity and haze. Listen, for instance, to the way Bernard Haitink opens the same work in his recording with the Royal Concertgebouw: an utterly relaxed tune riding updrafts above misty tremors, a muted horn like a figure walking on a distant road, glints of sunshine in the English horn, a tempo that moves and changes like a light breeze —and then that onrushing twister on the horizon, bringing seriousness and death.
That first big bang comes less than three minutes in, and in concert Dudamel cranked up the shock level so high that I wondered if he had left himself any leeway for the rest of the evening. Maybe David Geffen Hall's bright new acoustics took him by surprise and he found that the usual flick of a baton produced more kick than he expected. Or maybe he just likes to gun the engine.
I sympathize with his impatience. The classical-music world cultivates long transitions that leave time for conductor, orchestra, and hall to settle into rich communion. The atmosphere changed even just over the course of the concert, and the final movement, with its hushed exhalations and long fade-out, did achieve glimmerings of wonder. They were just enough to suggest that Dudamel will eventually be able to achieve just about anything he wants with the New York Philharmonic — so long as he decides what that is.