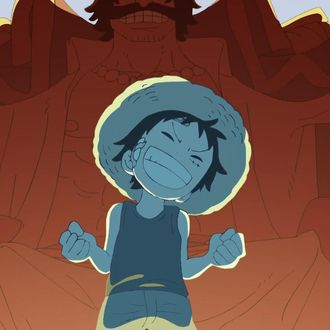 One Piece
.
Illustration: Toei Animation
Ready to set sail into the frightening waters of "Beloved IP Adaptations"? The upcoming live-action Netflix adaptation of the manga series One Piece will officially debut in 2023. Not a very specific date, but it's not the only crumb Netflix sprinkled on the path to One Piece for fans of the manga (and there are many, given that it is, according to Netflix, the most-read manga of all time). Monkey D. Luffy, played by Iñaki Godoy, gets his live-action spotlight in new character art. So far, cast members include Emily Rudd as Nami, Mackenyu as Zoro, Taz Skylar as Sanji, Jacob Romero Gibson as Usopp, Kirkwood as Captain Morgan, Celeste Loots as Kaya, Alexander Maniatis as Klahadore, Craig Fairbrass as Chef Zeff, Steven Ward as Mihawk, and Chioma Umeala as Nojiko, as well as McKinley Belcher III (Ozark), Morgan Davies (The End), Aidan Scott (The Kissing Booth 2), Vincent Regan (300), Jeff Ward (Marvel's Agents of S.H.I.E.L.D.), and Ilia Isorelýs Paulino (The Sex Lives of College Girls).
Executive producers include writers and showrunners Matt Owens (Luke Cage) and Steve Maeda (Lie to Me) as well as Marty Adelstein (Teen Wolf), Becky Clements (Snowpiercer), and, most importantly, Eiichiro Oda — creator of the original 1997 manga. Luffy, whose body gains the properties of rubber, explores the world with the Straw Hat Pirates in search of the treasure known as "one piece." It was previously adapted into an anime, which premiered in 1999. Holding out hope for Netflix's latest anime live-action, but given the history, it might be a stretch.