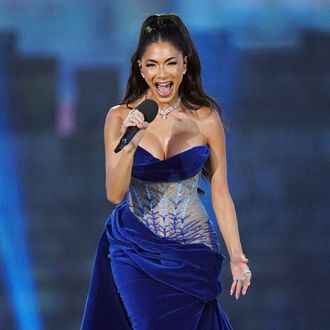 Photo: WPA Pool/Getty Images
It's an old gay adage that only a true diva can play a true diva, and Sunset Boulevard's Norma Desmond may be the truest diva of them all. She's the liar, the bitch, and the slutty wardrobe (meaning a wardrobe filled with turbans, of course). She has been played by icons like Gloria Swanson, Patti LuPone, and Glenn Close and inspired shady-diva moments like LuPone trashing her dressing room after finding out that Close was replacing her. And now, a new diva has entered the ring! The Pussycat Dolls alum and professional reality-competition judge Nicole Scherzinger will play Norma in an upcoming London production of Sunset Boulevard directed by Jamie Lloyd (of 2023's A Doll's House). The production will open in September 2023.
Sharp, gay eyes may recall that Sunset Boulevard is an Andrew Lloyd Webber musical and that Scherzinger and Lloyd Webber have some drama. In 2016, she pulled out of the Broadway revival of Cats and Lloyd Webber, being a petty queen, was, to paraphrase Nicki Minaj, that bitch who had a lot to say about her in the press. "I'm furious, because I really believe she's the most fantastically talented girl and I went out on a limb to get her for the London Palladium here, and it makes me look like an absolute twot with them all," Lloyd Webber told The Economist Radio, according to The Guardian. "But never mind, there'll be another girl on Broadway and Nicole will not get her Tony award." However, in a press release about the upcoming production, he does make it sound like they've patched some stuff up: "Nicole is one of the finest singers I have worked with, and I can't wait to get started on this exciting show with her and the rest of this brilliant team." We just hope Scherzinger takes a page from LuPone and remembers that drama at Sunset Boulevard in London is always good fodder for a memoir.