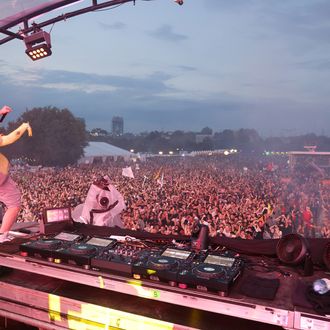 Electric Zoo, scene of the crime.
Photo: Taylor Hill/Getty Images
The NYPD has some champagne problems. A couple of detectives have been charged with stealing champagne while working at last year's Electric Zoo. Manhattan district attorney Alvin Bragg announced the indictments on May 15 — more than nine months after the electronic music festival. Per a press release, three detectives who were on narcotics-enforcement duty allegedly stole two unopened bottles of champagne from an unattended table in the VIP area. They were later caught when the people who'd ordered the champagne followed them to a security checkpoint. Jonathan Gonzalez and Wojciech Czech were charged with grand larceny in the fourth degree and criminal possession of stolen property in the fourth degree, both felonies, for handling the bottles. Gonzalez got an additional charge of misdemeanor official misconduct for using his police status to bypass a security guard. The third detective, Warren Golden, was charged with official misconduct for not stopping the theft. What's more, the champagne in question was none other than Ace of Spades, Jay-Z's brand. The two bottles reportedly cost $2,900, which is way above in-store retail. Blame those outrageous festival prices!