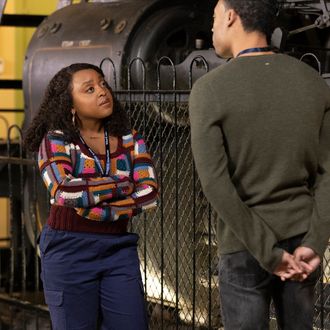 Abbott Elementary
was nominated for a Peabody in Entertainment.
Photo: Eric Liebowitz/ABC
After the MTV Movie and TV Awards transformed into a clip show and with the Tonys currently figuring out how to — in theatre terms — put on a show in compliance to the WGA rules, more and more award shows are adjusting their programming due to the 2023 WGA writers' strike. Just days after announcing their nominees, the 2023 Peabody Awards canceled their in-person ceremony in solidarity with the ongoing strike. "As an organization dedicated to honoring the most compelling and empowering stories in broadcasting, streaming, and digital media, we recognize and respect the position that many of this year's Peabody Award winners find themselves in," wrote the organization in a statement on their website. "Canceling the ceremony is extremely disappointing as this year's 39 winners are immensely talented and have brought forth powerful stories that deserve to be celebrated." It would've been the show's first in-person ceremony since 2019 and the first time the show would've taken place in Los Angeles. Among the winners of a Peabody this year included Abbott Elementary, Andor, Los Espookys, and We Need to Talk About Cosby. Maybe next year, we can be lucky enough to get a Janelle James acceptance speech.