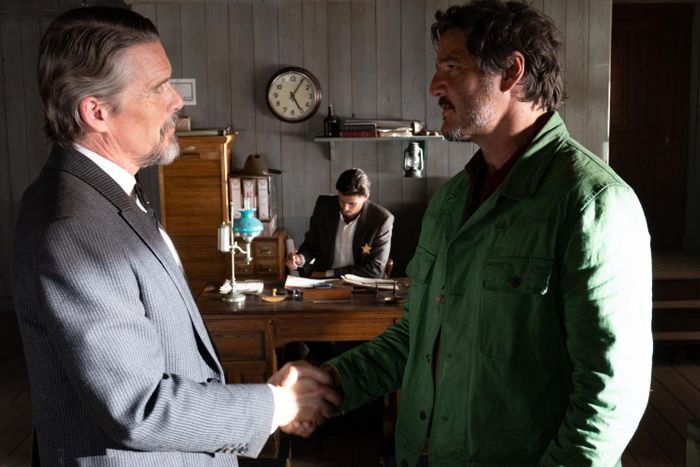 "Perhaps I should do it," the director said after Pedro Pascal and Ethan Hawke lit up Cannes with their sexy cowboy short.
Photo: Mubi
Nearly two decades ago, Pedro Almodóvar was offered the chance to direct Brokeback Mountain but declined, saying he was "doubtful he'd have the freedom to make the decisions he wanted." At Cannes this afternoon, audiences finally got to see his answer to the gay cowboy movie at the premiere of Strange Way of Life, a 31-minute short starring Ethan Hawke as a sheriff named Jake and Pedro Pascal as a cowboy named Silva who, 25 years after a hot love affair, reunite in the desert under mysterious circumstances.
Almodóvar's second English-language short after his Tilda Swinton–starring The Human Voice, Strange Way of Life is fun and soapy, classically Almodóvarian in its sensuality, bright color palette, and cheeky sense of humor. It's instantly clear that this isn't going to be your grandfather's hetero-spaghetti Western: We first meet Silva as he strides into town on a horse in a bright green jacket, an appropriately anachronistic choice from costumer and producer Anthony Vaccarello of Yves Saint Laurent. (Pascal's Cannes entrance drew hoots and hollers from the crowd, as did many of Almodóvar's answers at the post-screening Q&A.) Mere minutes later, Silva is seducing his erstwhile lover Jake, once a fellow gunslinger but now the sheriff of Bitter Creek, over dinner and drinks.
"Don't look at me like that," says Jake. "How do you want me to look at you?" replies Silva. Silva makes flirty reference to a "red scarf" of his that Jake has kept in a drawer all these years, "All Too Well" style. (Perhaps on some level Almodóvar was hearkening back to the original gay cowboy, Jake Gyllenhaal, owner of said scarf, or perhaps I have not slept in three days.) Suddenly, Jake is kissing Silva's neck, the screen fades to black, and the film reopens on Pascal's post-coital bare butt.
In the post-screening Q&A, Almodóvar spoke about his choice to avoid an explicit sex scene between the two, focusing instead on the eroticism of their conversations and his oft-returned-to themes of desire and passion, but he did describe their off-screen tryst as "orgiastic." He also noted how he took inspiration for Strange Way of Life from various modern Westerns, including Kelly Reichardt's First Cow and Jane Campion's The Power of the Dog, but took things further and gayer than Campion did: "The lead character's sexuality is kind of ambivalent," Almodóvar said about Benedict Cumberbatch's closeted cowboy. "But they didn't fuck."
Fucking and the suggestion thereof is indeed peppered throughout Strange Way of Life. Silva tells Jake he's come into town to see a doctor about his bad back; after the two spend the night furiously boning, Jake accuses Silva of very apparently lying about his ailment. "You cured all my ailments," says Silva, smiling. After the two men get into an argument over the actual reason for Silva's visit — an old-school Almodóvarian plot twist — Jake points a gun at Silva. Silva calls his bluff, asking how he would explain "the dead man in your bed still smelling of cum" to his fellow lawmen. Both men storm off into the desert to have a loaded gay think, and both end up reminiscing about that time all those years ago that they went down to Mexico, got drunk with "some whores," and fucked for two months straight. ("I remember every one of those 60 days," Silva says dreamily at one point.)
Those Mexico scenes — centering on younger versions of Silva and Jake played by Jason Fernández and José Condessa, whom Almodóvar gestured at onstage and described as "beauties, but also good actors" — are delightfully funny and unapologetically sexy. The young gunslingers shoot a barrel of wine, bathe in it, then begin furiously making out and clawing at each other's tight little gun belts. The female sex workers shrug and leave. "We're not wanted," says one. Later, back in the present day, as the two men contemplate betraying one another (I won't spoil whether they do), Silva sputters at Jake, "You have no heart. You just like to fuck."
Hawke, for his part, demonstrated plenty of heart at the post-screening Q&A, where he recalled receiving Almodóvar's email to star in the film, which shot last summer in Almería, Spain, on a set built by Sergio Leone for Man with No Name. "I went for a walk. I felt I must have done something right in my life to get this email," he said. "To participate in a Western that wasn't pretending to be old — a lot of contemporary westerns feel like they're imitating old movies. Almodóvar, everything he does in his life is new."
While Strange Way of Life is explicitly about desire, Hawke added that for him, acting is always about receiving positive attention, about the act of being wanted. "The whole experience of performance — the second you take out a camera — there is some act of love that's happening. You're saying, 'These people are important and worthy of time.' The movie is about desire, but that's always what I'm doing. It was just exciting to have someone like [Pascal and Almodóvar] who cared so much." He went on, grinning. "I like to be wanted. If it happens to be an extremely attractive, talented man, even better. I like everybody to love me."
Near the end of the Q&A, Almodóvar and Hawke addressed a question about whether they thought Jake and Silva would make it as a couple in the long run. Hawke said unequivocally yes; Almodóvar pondered a few possibilities out loud (including a version of the story in which the men run off to Mexico and a murder is committed, but the two still harbor unquenched lust for one another regardless). Almodóvar wondered aloud whether he should turn the short into a full-length feature. "I should probably make it," he mused. The crowd applauded in agreement.