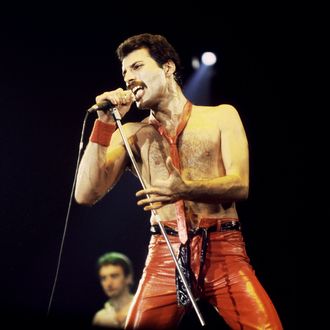 Freddie Mercury.
Photo: Paul Natkin/Wire Image
Have you heard of this crazy little thing called money? Queen is preparing to sell its music catalogue for a record-breaking $1 billion, CNN reports, which would set it up to be the most expensive catalogue sale in history. A source tells CNN that a deal is "well underway" and "expected to close within one month" to Universal Music Group, though Disney Music Group, which currently owns the catalogue, told CNN in a statement that it had "no plans" to sell. While sales in the $100 million–plus range have become common in recent years for prolific legacy musicians (Bruce Springsteen commanded $550 million for his masters and music publishing, Bob Dylan got $300 million for his music publishing, and, recently, even a band like Genesis had a $300 million touch), this would be the first time such a deal would eclipse the billion threshold thanks to Queen's enduring dominance on the classic radio and stadium anthem circuits. Hits such as "Bohemian Rhapsody," "Don't Stop Me Now," and "Under Pressure" also continue to get mileage on Spotify with users of all ages with five of the band's songs reaching the coveted billion-stream threshold. Bohemian Rhapsody certainly didn't hurt.
Should the deal go through, it would be split four ways between surviving members Brian May, Roger Taylor, and John Deacon as well as the estate of Freddie Mercury, who died in 1991. Speaking with Vulture last year about the value of certain music catalogues, George Howard, a strategic consultant and distinguished professor of music business and management at Berklee College of Music, said that these sales tend to be overvalued as an exit strategy for musicians. "I think generally the prices are inflated because it's very much a seller's market, where everybody thinks these catalogues are both sort of sexy and can be securitized and de-risked," he explained. "Unless they find new ways to exploit them, that's what they're betting on." But still, have you ever done "Another One Bites the Dust" at karaoke? So worth it.