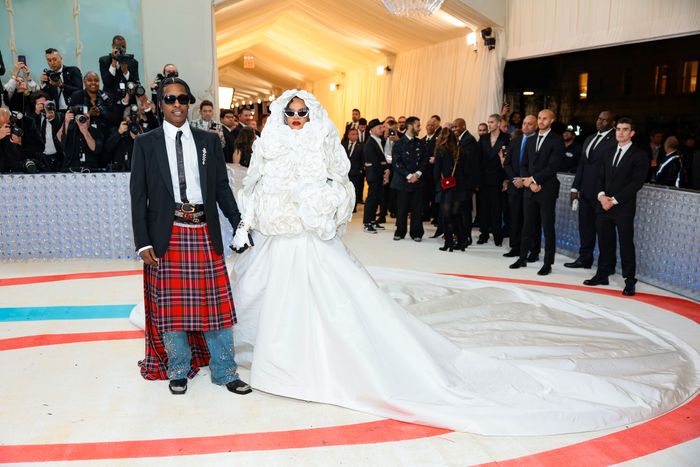 Rihanna and A$AP Rocky at this year's Met Gala.
Photo: Dimitrios KambourisVogue/Getty Images for The Met Museum/
Much like R9, Rihanna and A$AP Rocky were thought to be missing in action at this year's Met Gala. However, after all the ties and collars (for humans and for cats) have been tucked away inside the museum, the stars have finally made it inside the venue. Rihanna wore a long white bridal gown with slicked-back hair and white glasses with false eyelashes when she arrived on the carpet. Rocky opted for a white button-up with a tie and a plaid skirt paired with sparkly bedazzled jeans. Earlier, RiRi was spotted wearing a long, brown fur coat from Fendi's Fall 1997 collection when she was seen stepping out of her hotel.
The couple and their child were spotted arriving at their hotel in New York City earlier this evening as other attendees made their way to the gala. Well, technically, Rocky was spotted running through the crowd of people and jumping over the fence by the hotel entrance. However, at the final hour (no, really, Derek Blasberg and Chloe Fineman were really stretching for time on the red carpet), Vogue said good night to its live carpet coverage and called it without Rihanna and Rocky's arrival. However, despite not having their official grand entrance, the couple still found a way to be center stage at the gala. If only Rihanna could deliver us R9; hey, we'd even take it late.