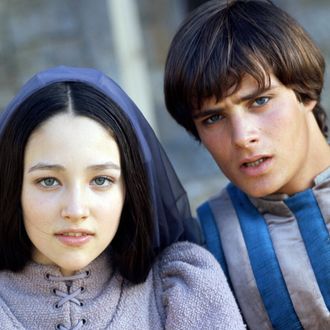 Photo: Silver Screen Collection/Getty Images
Los Angeles Superior Court judge Alison Mackenzie said on Thursday that she will
dismiss Olivia Hussey and Leonard Whiting's lawsuit against Paramount for allegedly sexually exploiting and distributing nude images of minors, according to The Hollywood Reporter. The pair accused late director Franco Zeffirelli of pressuring them to perform nude in the 1968 movie Romeo and Juliet — Whiting's buttocks and Hussey's bare breasts are shown — despite initial assurances that the underage teenagers could wear flesh-colored garments. The $500 million lawsuit also alleges that some of the nudity in the final cut was filmed without their knowledge or consent. Hussey and Whiting say they have continued to experience mental and physical distress over the incident.
Mackenzie's tentative ruling states that the scene in question isn't "sufficiently sexually suggestive" enough to be deemed illegal, and that Paramount's distribution is protected under the First Amendment. Hussey and Whiting's lawyer, Solomon Gresen, reportedly plans to appeal. He said that he doesn't believe there is any constitutional protection for nude images of minor children in film, and wants to file a new complaint in California federal court based on a 4K restoration of the movie released in February 2023. (Gresen argued that would reset the statute of limitations.) "We waited going on 55 years for justice," Hussey and Whiting said in a joint statement. "I guess we'll have to wait longer."