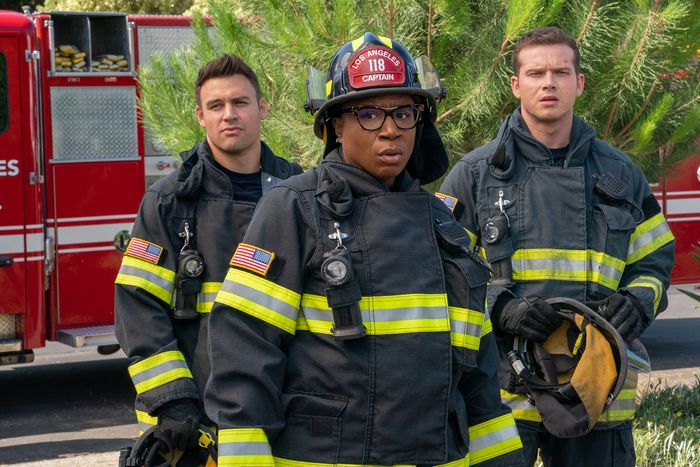 Ryan Murphy's hit drama 9-1-1 will jump from Fox to ABC next season, even as spin-off 9-1-1: Lone Star will continue to air on the Rupert Murdoch-owned network, Vulture has learned. The move is yet another sign of the changing economics of network television: Even though 9-1-1 is easily Fox's most-watched show, and part of a franchise, execs opted against doing a deal for a seventh season because the increasingly steep cost of licensing 9-1-1 from Disney-owned 20th Television was hard to justify given the network's lack of an ownership stake in the series. By contrast, Disney–and by extension ABC– has many good reasons to keep 9-1-1 on the scene.
For one thing, while the syndication market isn't nearly as lucrative as it was even a decade ago, a hit procedural such as 9-1-1 can still make money in TV afterlife, and indeed, the show is already doing just that. In addition to international sales, NBCU-owned USA Network began airing the series last year, as did local TV stations. The more episodes in 9-1-1's library, the more incoming revenue to Disney over the long-term syndication life of the show. But while 9-1–1 has been in production for six seasons, it has never made more than 18 episodes per season, and will only have 95 episodes in the can when its Fox finale airs on May 15. Adding another season or two into the mix will result in a much better (and profitable) syndication package.
The move also means that ABC is now getting a very successful series for its primetime lineup: 9-1-1 is currently averaging more viewers than any current Alphabet scripted program and is on par with the network's top-rated shows in the key demo of adults under 50. Obviously, whether that will continue to be the case when it moves networks is an open question: Magnum, P.I. has lost about one-third of its audience since shifting from CBS to NBC this season. However, ABC in general tends to reach more viewers on a given day than Fox, particularly in the 8 p.m. hour, when its programs get a boost from local stations airing Wheel of Fortune and Jeopardy. There's a good chance it will continue to do nearly as well on ABC. What's more, Disney will also now be able to keep all the ad revenue 9-1-1 brings in on the company's Hulu platform, rather than sharing it with Fox. Hulu also has streaming rights to back episodes of 9-1-1.
And then there's the talent relations benefits. There's been intense speculation for months that Disney Entertainment co-chair Dana Walden wants to reunite with Murphy by signing him to an overall deal at the Mouse House once his current five-year pact with Netflix expires later this year.  Murphy, who began working with Walden when he signed with 20th in 2006, no doubt wants 9-1-1 to continue for at least another year or two, both for the sake of his cast and fellow producers as well for the profits he reaps from a hit show. Making sure one of his profit engines keeps humming certainly won't hurt that effort (though Disney also has multiple franchises from Murphy chugging along nicely at FX.)
The downside for Disney is that bringing 9-1-1 to ABC will substantially increase the cost of the network's overall primetime schedule at a time when all broadcasters  are looking to reduce their annual content spends by adding more inexpensive unscripted series or lower-budget scripted originals. It might also make it harder for newer shows to get a shot at the ABC primetime platform, particularly if the network decides to launch a third spin-off of 9-1-1 in a year or two (or opts to pick up Lone Star should Fox decide to move on from that show, too.) But given Disney's ownership stake in the franchise, and how difficult it is to create new hits in network TV these days, the move probably has more potential upside in the long-term, much as NBC's decision to keep Magnum alive has provided a nice boost to that network's schedule (and NBCU's bottom line.)
Similarly, there's actually solid logic behind Fox's decision to part ways with its No. 1 show. 9-1-1 was greenlit when Fox and 20th shared common ownership (with, ironically, Walden running both then, too.) Since the network and studio got divorced in the wake of the Disney purchase of Murdoch's entertainment assets in 2019, Fox has been charting a much more cost-focused primetime business model. It still has multiple scripted shows, but they tend to be a bit less expensive and, increasingly, are projects where Fox has a major ownership stake. With a star-studded talent roster that includes Angela Bassett, Peter Krause and Jennifer Love Hewitt, not to mention Murphy as an exec producer, a show like 9-1-1, wholly produced by an outside company, doesn't really fit the new Fox model. (The fact that 9-1-1 has seen its key demo ratings drop more than 25% this season also made the decision a tad easier for the demo-focused Fox.)
Instead, Fox is trying to create its own franchises built to reflect current economic realities: Last week it greenlit the John Wells-produced Rescue: Hi-Surf, which is essentially 9-1-1 on the beach. Fox Entertainment is co-producing the show with Warner Bros. TV, and execs at Fox are already describing it as a potential franchise for the network. Having 9-1-1: Lone Star around for at least one more season could help the network get its new series afloat.
It's worth noting that this is not the first time in recent history a Fox series has jumped to ABC after Fox decided to bail. Five years ago, American Idol joined ABC's lineup after a 16-season run on Fox, and while the industry consensus at the time was that Idol was past its prime, the show ended up being a strong performer for ABC. While its overall viewership on ABC is smaller— like almost everything on network TV these days— Idol ranks among the network's top unscripted series and is a reliable winter/spring tentpole. But Fox didn't suffer too much from losing Idol: It used the money it saved from paying for a show it didn't own to create new unscripted fare, including investing in a new franchise called The Masked Singer. That program is currently outperforming Idol among viewers under 50, and costs a lot less to produce.
In addition to Murphy, 9-1-1 is exec produced by Brad Falchuk and Tim Minear. Disney Television Group president Craig Erwich and Fox both issued separate statements Monday confirming their respective decisions and praising the show's cast and creators.